Sociology as a Social Science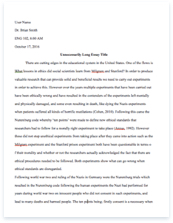 The whole doc is available only for registered users
A limited time offer! Get a custom sample essay written according to your requirements urgent 3h delivery guaranteed
Order Now
Sociology as a social science uses critical analysis and empirical investigation methods for an approach to probing questions arising from social concerns. An organization is a social unit structured and intended to carry out and pursue specific tasks. Therefore as an organizational leader, a sociological perspective has basically helped me better understand, social relationships, social behavior, social activities and social changes in an interconnected world (Perspective, 2020). In addition to that, it has helped me observe and obtain a better view of familiar, and unfamiliar social occurrences and thus understand and explain it better. In this study, we focus on the sociological viewpoint on human behavior, how theoretical paradigms of sociology can inform leadership and importance for understanding the global, diverse and interconnected world we operate in today.
Human behavior is formed by groups of people living in a society. From the interactions that take place within these groups, a sociological perspective is important to elicit who we are as individuals and why we behave the way we do. This implies that we primarily initiate behavior and we can as well change the social patterns of behavior if we choose to. It also helps us appreciate other people's viewpoints other than our own and the way these viewpoints were derived.
Sociological imagination also helps us to think and perceive beyond our limited experiences from mere thinking of our families, friends, and colleagues to connect ourselves to higher patterns of social thinking.
Theoretical paradigms of sociology forms a conceptual framework within which a society is guided into sociological imagination and research ('SOCIOLOGY: Theoretical Paradigms', 2020), It informs leadership on approach to social concern and issues in dimensions that a society is a system that is stable, changing, in conflict and as an interacting system.
The evolutionary theory outlines the stages and phases of the developmental cycle a society .undergoes; from simple to complex society as a result of patterns of changes. This helps in understanding our society develop and grow and adaptive strategies required to suit it.
A structural-functional paradigm views society as a complex system made of integrated parts that work together as one unit to promote the stability and cohesion of an organization. Groups in society must work harmoniously and in an orderly manner to promote social ethics. This evidently shows a society, is formed and directed by social structures.
The social-conflict paradigm envisions society as a conflicting society generated from inequality, struggle for power and wealth. This basically informs leadership that conflicts must arise in an organization and requires that understanding that from history it has been continuous and therefore always be prepared to deal with the conflicts that may arise.
From research findings, today, there are various social issues that are significantly affecting us globally which include pollution, violence, lack of education, unemployment, government corruption, terrorism, climatic changes affecting food security among others (Project, 2020).
The above issues are important for understanding the global, diverse and interconnected world we operate today, help us live in a diverse world with understanding different social factors affecting our everyday experiences and the functionality of the real world to identify flaws. The sociological imagination is therefore of great essence as far as them the interconnected world is concerned and developing an organizational leader.
Related Topics