Social referencing and Synchrony in infants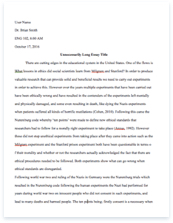 The whole doc is available only for registered users
A limited time offer! Get a custom sample essay written according to your requirements urgent 3h delivery guaranteed
Order Now
Social referencing is an imperative tool to any infant. Social referencing to an infant is when the infant is "seeking information about an unfamiliar or ambiguous object or event by observing someone else's expressions and reactions."(Berger, 2005, 185). These observations are in general acquired from mother, father, or caregiver. An infant will react differently to mother and father. I will talk about some of these differences.
The infant will act in response to their mother, differently from their father. Most young infants will want to comply with their mothers wishes. In an experiment, with infants and mothers, infants were ordered not to lay a hand on toys, within easy reach. Mostly, the infants complied with this instruction. This result was accomplished by the mothers, giving facial expressions or a tone in their voice. About half of fourteen-month-olds and virtually all twenty-two month olds obeyed their mothers, even when they were not observable to the children. (Berger, 186).
An infant will also use a father's reaction differently from their mother's. Worldwide the father's role is being recognized more, through social referencing and other ways, as being important to an infant's development (Berger, 186-187). The infant will normally have more physical play time with dad, more readily then mom. This will make the infant more enthusiastically to interact with strangers, if they see an approving look from dad.
Infants use distinct people for social referencing. The most essential being the mother and father. Although they use both parents, they will look to them in distinctive situations. This newly, developed cognitive skill will continue to develop as the child gets older, even into adulthood.
Synchrony is defined as "a coordinated interaction between caregiver and infant, who respond to each other's faces, sounds, and movements very rapidly and smoothly." (Berger, 180). This is an example of an activity and cognitive skill that both the caregiver and infant are involved. This skill is learned by the infant, from the caregiver, to benefit both parties involved.
This is an important building block for the child's development. It is a chance for the infant to better communicate with their caregivers. This benefit's the infant in numerous ways. The child will better be able to communicate if they are hungry, wanting a specific toy, or even being tired. It will also benefit from this cognitive later in infancy. The infant will better be able "to read other people's emotions and to develop some of the basic skills of social interaction, such as taking turns and paying attention…" (Berger, 181).
Other people benefit from this achievement, as well. The caregivers, whether it is mother, father, grandmother, etc. will quickly be able to understand what the child may possibly need. This is a huge advantage to the caregiver. With no solid, verbal communication happening between caregiver and infant taking place, new developments can now take place. A caregiver can now respond to the infant's needs and wants almost instantly.
Synchrony is a very important development in an infant's early life. Being able communicate instantly and nonverbally their wants and needs for an infant is advantageous. It will be the beginning of a skill that every person will continue to use for the rest of their life.
References
Berger, K. S. (2005). The Developing Person: Through the Life Span. (Sixth Ed.). New York, New York: Worth Publishers.
Related Topics