Social Mobility is changing America's Dream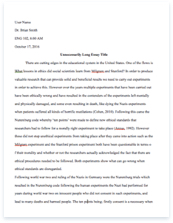 The whole doc is available only for registered users
Pages: 4
Word count: 808
Category: America
A limited time offer! Get a custom sample essay written according to your requirements urgent 3h delivery guaranteed
Order Now
What happened to the American Dream, how does social mobility affect it? For those who are trying to achieve the American Dream this is a complex question because they have not had the opportunity to be socially mobile in a positive way to achieve the American dream. The American dream is rapidly fading in America and the ideal perception no longer exists with shows like American Idol and America's Got Talent. The traditional definition of the American dream was success, fame and/ or wealth through time and hard work.
Today, the American dream is focused on pursuing materialist prosperity. Social mobility is when someone moves across the social class boundaries; this move can be up or down the social scale. When you combine the American dream today is affected by one's social mobility. America used to be a nation promoting from rags to riches the hard way. Shows like American Idol and America's Got Talent have both cons and pros due to their damaging effects to losing contestant path to the American dream and their opportunity to broadcast their talents on television.
Admittedly pop culture affects class/economics. For example, in season two of American Idol William Hung had hit "She bangs". The viewers watched as Simon told him, "You can't sing, you can't dance," William Hung showed an optimistic/ delusional attitude ("I already gave my best and I have no regrets at all," he said) and he became the hot topic of the season even though he wasn't the winner of season two. Then season three came and fantasia Barrino was chosen as the winner and the focus of American idol even after she won.
Obviously, that is a big difference in American standards. America's focus shifted from a bad singer to a single teenage mother with a need, looking for a way out of her struggle so that she could become the good mother that she wants to be to her daughter, as well as getting a better education. Some of the cons to American Idol are many people didn't want Fantasia to be the American Idol because she was less fortunate, she dressed poor, and she was a single mom who dropped out of school to take care of her daughter.
With all of these misfortunes she received bad publicity and many people did not favor her. For shows like American Idol and America's Got Talent, there are both cons and pros. The cons from a contestant's perspective when you think about it, they have approximately a 1 in 50 chance of winning in the beginning and the longer that that they stay the greater their chances are of becoming the winner, but ultimately the choice is up to America. Who does America love and believe has talent? That is the essential question.
The thing that I always wondered about was do the contestants win based on their talent, their life story, their personality or combination of things? It seems to me that the finalist are being chosen based on their talents if they stand out, then they get chosen based upon their personality but the biggest factor for America is their story because we are a people of empathy and sympathy. That is where the American dream comes in pop culture affects class and economics especially now the American dream is being transformed.
On American idol the people didn't really have a chance, either they had it or they didn't and their skills had to be perfect. On America's got talent it was constructive criticism that was tactful to help encourage them to change and get better to enhance their talents and abilities. That is the type of attitude to help achieve the American dream. For many contestants being on a reality television show it gives them an opportunity to at least have time to be known through their talent on television.
Even though a lot of people didn't win many of them have contracts, labels, movies, television shows and interviews. For example, Reuben Studdards won season two of American idol, and he was given a contract with RCA records but Clay Aiken was also given a contract based on his ability even though he was not the official winner. So, there can be ultimately more than one winner, and they can receive the same type of opportunity to achieve bigger and better things.
Finally, people from different walks of life can come together and compete for a common goal to be contestants and become the winner. The contestants build friendships and relationships; they also learn to support one another while dealing with the pros and cons of reality television shows like American Idol and America's Got Talent. With these show the American dream is fading due to the damaging effects that loosing contestants face on their path to the American dream and their opportunity to broad cast their talent on national television.
Related Topics