Should Huckleberry Finn Be Taught In Schools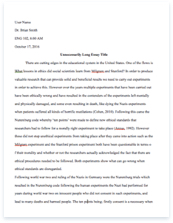 The whole doc is available only for registered users
A limited time offer! Get a custom sample essay written according to your requirements urgent 3h delivery guaranteed
Order Now
Should Huckleberry Finn stay in schools? If so, should it be moved to a higher level? Huck Finn is 13 year old boy who had no real family who had the most growing experiences. He traveled far and the longer he traveled the more mature he grew. The controversy between banning this book and not banning this book has gone on for ages. Huck Finn is definitely a read for a more sophisticated audience like college because their minds are not as easily influenced and they have their morals set. It does a great job at giving you a personal intake on how life was like back then for more than just one person. It also shows how they are uneducated with how things are spelt and the grammar, but some high schools struggle with that severely and this would not help their situation. If Huck Finn was to be taught in college hopefully the students have a better understanding of grammar and knowledge on how to spell.
Further to touch on the topic of maturity the book has some mature language and situations that college students would comprehend more. The book has the "n" word 219 times, which in high school there are many immature students that would have this ending badly. In high school their brains of what is right and what is wrong is still forming which is why they are considered minors. Adults have a better grasp about how things should be handled and interpreted. "The remedy is to refuse to teach this novel in high school and wait until college – or even graduate school – where it can be put in proper context" (Moore, L). The book touches on when racism was at its peak while showing that it is wrong and having Huck come to realize that. Jim, a runaway slave was with Huck at different levels of his maturity while showing him what is right and wrong. These instances changed Huck's viewpoint on slavery while Jim was becoming a father figure to Huck.
An equally important topic is the history this book offers. It gives an accurate feel to what it would be like from a different point is time. Yes there are other ways to show this, but this book already gives such depth and meaning while already in the curriculum. While reading the book it gives information that history classes fail to touch on. History class tells you what happened while Huckleberry Finn helps you feel what it was like to happen. The book always makes you think about more details then in movies because in movies they are already there given to you so you don't have much room left to imagine it yourself.
Another concern about when this book should be taught is that in high school our vocabulary is still increasing while still trying to comprehend all the different punctuations and uses of grammar. In college they may still be doing the same thing, but it has slowed down to where not every student will have a vocabulary list. If you have ever read the book one of the first things you notice is all of the misspelled words and incorrect punctuation. Reading is what children use to help them spell; as we get older we do not change that we just don't really think about it as we are doing it. The book is very hard to follow enough as it is, but trying to understand what the words are saying makes it even more difficult. As a result of having read this book and thinking through what the future of this book may hold, the best option would be to move this book to a more sophisticated level of readers who will be able to understand Twain's full potential for the book while maintaining their knowledge without it being damaged.
Related Topics