Seven Characteristics That Support a Good Project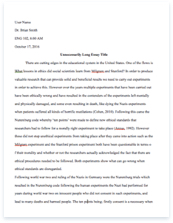 The whole doc is available only for registered users
A limited time offer! Get a custom sample essay written according to your requirements urgent 3h delivery guaranteed
Order Now
Chartered Institute of Building (Great Britain). (2014) asserts that if you interact with any designer, he/she may tell you that it is difficult to come up with a good project. This is because users of the final product have different tastes and preferences. What may appear good to one user may appear otherwise to the other. Therefore, it is paramount to incorporate these seven characteristics that I believe are the pillars of a good project. By putting this traits under consideration during the design process, you can be able to come up with a great product that is good to all the end users.
Unique
A good project should be something that has never been seen before in the market. Customized projects usually help you as a designer to avoid competition from other designers who offer the similar services to yours. In order to come up with a unique project spent some quality time brainstorming the problem at hand. Instead of spending time looking at other people's designs and stealing their ideas, it is advisable to brainstorm using a piece of paper and a pen. This will not only help you to come up with an outstanding project but also a project that meets all the customer's needs.
Visibility
Ensure that your project can be identified from a distance irrespective of whether someone is shown your entire project or part of the project. One of the best ways to ensure visibility is for you to establish a clear direction from the start. For instance, come up with a logo that you can identify yourself with and place it on every project you accomplish.
Manufacturing
During manufacturing, create something that will be memorable in people's minds. For instance, think of companies such as BMW and Apple, these companies are making memorable designs by incorporating their logos in all the products that they make. Therefore, as a designer, you should come up with a projects that will stick in people's minds. This will help people to thinks of you when they have a project that is under your area of expertise.
Timelessness
A good project is one that comes out with an end product that lasts for years and continue being effective to the user. The best way to ensure you project has incorporated timelessness as one of its traits is by avoid some current trends that blossom and die so quickly. Instead focus on those trends that have been there for ages so has to ensure you project is the most effective project possible.
Ease of use
The end product of your product should be easier to use by the user. Strive not to overcomplicate things because it will make the user hate the product and your future products. In order to make the product easy to use, you should develop a habit of attaching a user manual at every product you make. This will help the user to refer to the manual whenever he/she get stuck on how to use your product. In addition, your project should include standard symbols such as red button to indicate stop and green button to indicate start.
Innovative
Your project should be innovative in all aspects. Try to include current trends that you deem are there to stay and disregard those current trends that you think are seasonal. Such trends that you should put into consideration include technological tends and fashion. Do not be left behind when it comes to technology and fashion, instead focus on using the current technology and fashion in your project so has to attract many end users of your product and the services you offer.
Environmentally friendly
A good project should put the safety of the environment into consideration. The project should not be a source of pollution to the environment. Therefore, as a designer, you should focus on undertaking projects that are eco-friendly. For instance, you should look for ways of making products that are biodegradable once they are no longer in use or products that have multiple uses.
The design process is the journey undertaken by a designer/s to solve a certain problem. During this process, a large complex problem is broken down into small manageable chunks that can be solved by one or more people. The processes that are involved during the design process are described below.
Any engineering, scientific or any other project cannot be solved by a single person. A successful design is normally brainstormed by specialist from various fields such as engineering, science, mathematics and business fields. Therefore, as the head of the design process, it is advisable to look for specialists who will help you accomplish the task at hand. Among those who should be involved in the design process include a business expert to estimate the optimum cost of the project and identify the potential market for the final product, an IT specialist to foresee the technological and programming aspect of the design, an engineer to analyze and come up with the most suitable design and materials for the project and you as the head of the design to oversee all the design process. The success of the design and the entire project highly depends on those people you choose to work with. Hence it is advisable to choose people who have a good reputation that precedes them.
Related Topics