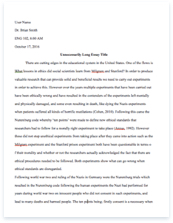 The whole doc is available only for registered users
A limited time offer! Get a custom sample essay written according to your requirements urgent 3h delivery guaranteed
Order Now
We intend to move to the next generation cloud service to deployment imaging and reimaging software. The steps of the project are: Planning and Proposal, Development-which includes purchase of equipment, software programming and installation, loading images to cloud, and test and validation. Project product includes: Implementation of a new cloud based image distribution system for client sales agents. Reduce download time to 24hrs maximum.
Ability to start and stop the download process.
Improve the client's image upload process and utilize the new cloud services for the upload.
Project Deliverables
Services of this project will create a streamline process using cloud services to implement a new technology solution for agents to speed up upload and download time to ensure them of a faster opportunity to sell and demo operating systems in any location.
Project Objectives
The cost to implement this solution is $200,000.
Project Assumptions
Potential help needed from infrastructure and network and team to get servers and test connectivity Project Constraints
Client will not see a need for such an expensive service. Cloud service works across Wifi, LAN, Firewall Exclusions
The boundaries of the project would be custom development of cloud based service and ability to upload and download other types of files besides images. Acceptance Criteria
Acceptable time to download an image is 24hrs. Acceptable time to make a new image available (uploads and downloads) is 24hrs. The classification for the images will be public and confidential.
Technical Requirements
Operating system images will be stored on a virtual server where service agents can do a real time install onto their demo unit. Features will include Ability to pick up where the download left off. Fast download speeds from the cloud with downloads completing within the day. Limited client interaction needed.
Related Topics