Ronald McDonald House Charities Vision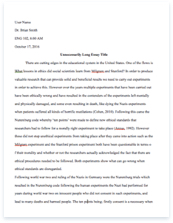 The whole doc is available only for registered users
A limited time offer! Get a custom sample essay written according to your requirements urgent 3h delivery guaranteed
Order Now
The Ronald McDonald House Charities are becoming just as recognizable as the Golden Arches of McDonalds. Over the past thirty-five years, this organization has changed the vision of what healthcare really means. They believe strongly that if you are able to change a child's life – "you not only change the child but also you change the family's, which can change a community, and ultimately change the world." Ronald McDonald House Charities is located in over fifty countries spanning the globe and provides over 7,200 bedrooms to children with serious illnesses. According to Worth magazine, Ronald McDonald House Charities was named one of America's top 100 charities in both 2001 and 2002. (Worth Magizine. Findarticles.) They don't need the recognition from magazines and publishers; they prefer feedback from their customers. It all started in 1974, what began as one family's misfortune became good fortune for millions of families worldwide. Kim Hill was diagnosed with leukemia. She was the 3 year old daughter of NFL defensive-end Fredl Hill. During Kim's three years of treatment, Fred and his wife Fran often camped out on hospital chairs and benches and ate makeshift meals out of vending machines. (rmhc.org) The Hills watched other parents around them doing the same thing.
They learned that many of the families had traveled great distances to bring their children to the medical facility, but couldn't afford hotel rooms. The Hills began to think that there had to be a solution. Fred gained the support of his Eagles teammates to raise funds and help other families experiencing the same emotional and financial traumas as his own. Its hard to picture NFL athletes struggling for cash or hotel rooms, but after three years of expensive medical bills, it can become draining for anyone. Through countless sleepless nights and a "football family" getting behind a family, Fred was able to help launch the first Ronald McDonald House in Philadelphia, PA. (www.philarmh.org). All big solutions start with the same beginning: fix a problem.
The Hills saw a need from families in their waiting room. Sleeping on couches, watch ESPN for the tenth time, eating meals from vending machines, and so on and so on what not their idea of hospital care. With faith and passion, they helped change the lives of many other people in waiting rooms not just at their local hospital but in hospitals all across the globe. Ronald McDonald House Charities has set out to change the total experience. From day one their main goal is to make the hospital feel a little more at home. The services they provide the needs the cook, even the décor is geared toward a home type environment. Their goal is to bring sanity to a otherwise overwhelming situation.
MY RONALD McDONALD EXPERIENCE
In my life, I have been fairly fortune to stay relatively healthy. I've broken a few bones, had a few stitches, but never really have had to call a hospital a home. Just because I have been lucky enough to avoid them, doesn't mean that I've naïve to the fact others do face that ugly experience. Ronald McDonald House has tried everything in their power to take that experience and make it as comforting and as normal as possible. With family dinners, a family room to lay on the couch, and a TV to watch sitcom reruns they make an obvious effort to place both parents and patients into somewhat natural everyday behaviors. In my life, not only have I been able to stay away from serious injuries but I have also been able to meet some pretty neat and inspiring people. Dave Sparks is one of those people that inspire you to be a better person. I first came in contact with Dave about three years ago as an athlete at Bethel College. We had been working on getting a corporate sponsor for an event we wanted to host on campus. Dave owns 17 local McDonald franchises in the area and loves to give part to the community. I knew he would be glad to partner with Bethel.
You can usually find Dave in one of his restaurants drinking coffee on a Saturday morning with "the regulars." He is a real down to earth man with a huge heart for people. Through getting to know Dave over time, he introduced me and encouraged me to get involved in the Ronald McDonald house right here in South Bend. To be honest, I didn't even know it existed until he mentioned it to me. Over the past three years, I have taken local high school athletes and the Bethel Men's Basketball program over to visit the children who are staying in the house at that time. After leaving the place I'm always left wondering who was impacted more – the children getting to meet college athletes and get posters and autographs or the athletes getting their world rocked about what real life brings many families right here in their hometowns. I know my first visit changed my outlook on life.
To see a young man, only a few years younger than me lying in bed motionless from the neck down, drooling on his shirt because he didn't have control over the muscles in his face can really freak you out or break your heart. Me? It broke my heart. I wanted to do whatever I could to make that individual feel normal again. The same is true for the entire Ronald McDonald House Charities. We hear about the donations to the charity and where it goes to support the families, but what we usually don't hear are the stories of the families it affects. As whenever you do something greater than yourself, players leave wanting more. They want to go back and visit the families in hopes of bringing them hope and a smile on a dark time in one's life, myself included. When I look at the vision of Ronald McDonald House Charities it doesn't just stop with changing the experience of the patient, it truly does impact the surrounding communities. Who knows maybe of those players will join the organization or even create of their own to impact the world.
Works Cited
"FEATURE/WORTH Magazine Names America's 100 Best Charities – and Highlights 12 Worth Avoidng." CBS Interactive. CBS Interactive Business Network, 29 Nov. 2001. Web. 13 July 2012. <http://findarticles.com/p/articles/mi_m0EIN/is_2001_Nov_29/ai_80391126/>.
"PHILADELPHIA Ronald McDonald House." PHILADELPHIA Ronald McDonald House. N.p., n.d. Web. 13 July 2012. <http://www.philarmh.org/>.
"Ronald McDonald House Charities." Ronald McDonald House Charities. N.p., n.d. Web. 13 July 2012. <http://rmhc.org/>.
Related Topics