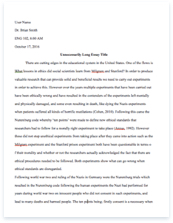 The whole doc is available only for registered users
Pages: 4
Word count: 801
Category: Racism
A limited time offer! Get a custom sample essay written according to your requirements urgent 3h delivery guaranteed
Order Now
Rennalls cited cultural differences and Baker's offensive racial comments for his resignation. Rennalls's resignation came a day after his interview with John Baker, his direct superior. Baker had a perception that Rennalls, a Barracanian, got along better with other Barracanians than Europeans. Baker knew a lot about Rennalls, about how Rennalls had attended London University for four years, about his political involvement, about his father's political background, and about his "sensitiv[ity] to any sign of condescension on the part of expatriates." The case "Road to Hell" is a story about the interaction of two characters with different backgrounds, personalities and points of view. John Baker is a successful western chief engineer of the Barracania's branch of a multinational company. In the case it is mentioned that John Baker is an English expatriate, so we assume that he is white, possibly born in Canada. Baker thinks he has an edge in working in a foreign country because he has experience in understanding a regional staff's psychology and knowing exactly how to get along with locals.
Baker has been working to prepare Matthew Rennalls to be his successor in the chief engineer's position. Rennalls, on the other hand, is a young engineer who represents the new generation of patriotic, well-educated Barracania's professionals. His four years as a student at London University made him especially sensitive to political, racial and equality issues involving relations between his culture and western influence. The last meeting between two case characters ended up in a disaster. Instead of accepting the chief engineer position, Matt turns in his resignation, insulted by John's farewell interview and advice. This incident not only leaves Baker puzzled about what he might have said wrong, but also puts the future of the company's relations with its regional staff and authorities in jeopardy. This case is one of many examples of how people from different cultures and backgrounds do not take diversity into consideration. They evaluate and measure each other by their own scales and perceptions, which often lead to serious misunderstanding and conflicts.
Baker knew a lot about Matt's political views, racial issues sensitivity and intolerance to any discrimination of value of his country and people in the world arena. However, he still made a mistake building his interview from sympathy his own (European) perspective. Baker gave some historical and personal suggestions that were not meant to be offensive. However, from Matt's interpretation, the suggestions were totally inappropriate. Through the interview, Baker emphasized several times the importance and leading position of European staff in the company shows ethnocentrism on his part. In the effort to teach Rennalls to better cooperate with this leadership, Baker even offered a historical example. He put European culture on a pedestal of 300 years of development and left Barracania at the bottom of the human history. Baker was not intentionally behaving as an ethnocentric, but an old saying rings true: The road to hell is paved with good intentions.
Baker Assume Rennalls is ethnocentric because during the interview, Baker mentioned that Rennalls has been rude to European expatriates not for the first time. He thinks Rennalls is friendlier and get on better with other Barracanians than he does with Europeans. Rendalls denied the accusation and declared that is was the expatriates' attitude that make him difficult to get along with, not their race. Rendalls by having the fallacy of helplessness. He accepted the fact that the company senior position was hold by Europeans because they have more experience than the Barracanians and well aware that once Barracanians warrant the experience they will get promote and hold senior position. Several issues Caribbean Bauxite company has to deal with following Rennalls's departure relates to the void in position of chief engineer; and the possible departure of Barracanian staff given Rennalls's popularity.
They also need to deal with the poor communication channel existent within Caribbean Bauxite Company; possible political implications given Rennalls's father position in the government; and leadership problem and also the possible factionalism within the organization and negatives effect of ethnocentric approach that might hurt upon Caribbean Bauxite Company. Nonverbal communications play a part in this case. Baker offered Rennalls a cigarette as he entered the office, a sign of friendship and informality. Baker saw Rennalls stiffen in his chair when he suggested that he was offering "the benefit of my long experience," and he made a corresponding alteration in his conversation. Rennalls nodded in agreement when Baker justified the need for the meeting. Even when Rennalls offered no comment, Baker took this as a sign to continue. Rennalls offered a "smile of thanks." When Baker mentioned that Rennalls was friendlier with his fellow Barracanians, and then mentioned the in-house complaint, Rennalls tensed in his chair, then hesitated, a sign of uncertainty, before answering.
Related Topics