Riordan Manufacturing Argumentative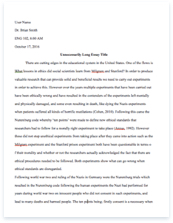 The whole doc is available only for registered users
A limited time offer! Get a custom sample essay written according to your requirements urgent 3h delivery guaranteed
Order Now
Critical Analysis of Motivation & Rewards Solutions Riordan Manufacturing Abstract The following paper will provide a brief background explanation detailing some of the issues found in the Manufacture. There will a series of three possible solutions identified for Riordan where one will be officially chosen. A brief description of the chosen strategy and solutions will then be detailed to provide a better understanding as to why the solution was the best fit for the company. The paper will proceed with an elaboration of each Riordan department experiencing problems and how the chosen strategy solutions will benefit and help it succeed. To finalize this paper, there will be a recap of the issues facing the company and the effectiveness of the strategy chosen to solve them.
Introduction Riordan Manufacturing is a successful plastics manufacturing organization operating for at least a decade. Riordan has been very successful, but for the past couple of years the company has seen a decline in sales and profitability. Also employee morale and retention have also become a huge issue for Riordan. In order to develop a strategy to address Riordans problems, the company must identify the problems and opportunities that are present. Riordan Manufacturings should develop and have an open discussion for alternative solutions to help the company find issue resolution and provide focus on available opportunities. There are five main problems Riordan should be aware of: Decline in sales and uneven profits.
Poor morale and increasing employee turnover (includes problems with training, compensation, lack of recognition, etc.) Lack of leadership and unity within the leadership team.
Ineffective human resources department and initiatives.
Improvements with the internal issues (human capital) Riordan Manufacturing will become a much profitable and much stronger organization at all levels by building enduring, trustful relationships with its stakeholders, existing and potential customer Background The company was founded by President and CEO, Dr. Michael Riordan. Dr. Riordan started Riordan Plastics, Inc. in 1991. Initially, the company's focus was on research and development and the licensing of its existing patents, but in 1992 Dr. Riordan obtained venture capital which he used to purchase a fan manufacturing plant in Pontiac, MI. At that time, the company's name was changed to "Riordan Manufacturing, Inc." In 1993, the company expanded into the production of plastic beverage containers when it acquired a manufacturing plant in Albany, GA.
The company's most recent expansion took place in 2000 when it opened its operations in China. At that time, the entire fan manufacturing operation was moved from Michigan to China and the Pontiac, MI facility was retooled for the manufacture of custom plastic parts. Riordan Manufacturing is a global plastics manufacturer employing 550 people with projected annual earnings of $46 million. Its products include plastic beverage containers produced at its plant in Albany, Georgia, custom plastic parts produced at its plant in Pontiac, Michigan, and plastic fan parts produced at its facilities in Hangzhou, China. The company's research and development is done at the corporate headquarters in San Jose. Riordan's major customers are automotive parts manufacturers, aircraft manufacturers, the Department of Defense, beverage makers and bottlers, and appliance manufacturers. (UOP, 2007) Problems in Riordan Manufacturing Riordan Manufacturing is faced with declining morale and work ethics.
Declining sales and uneven profits over the years, this not only forced the company to change its sales processes, but also prompted them to adopt a customer relationship system. Riordans HR reward and compensation policy program needs to be revised to deal with the existing problems. Riordans HR department should know that their toughest job is recruiting and retaining the best employees for their company. Compensation plan and benefit packages are what companies are using to invest on their employees. Some organizations form compensations committee to ensure that strategies and compensation programs are properly managed. Since, employee happiness can impact an organizations performance and influence employee retention, absenteeism and work performance, it is important to incorporate addressing employees happiness in the overall business goals of the organization. (Newman, 2004).
Riordans recent employee survey has indicated that overall employees are not satisfied with its compensation and benefits. It would suit the executives of Riordan to pay attention to the concerns of its most valued assets, their employees, before their whole operation takes a dramatic fall. In order to find out what makes employees happy Human resources and management should study what the type of desired environment employees are looking for. Obtaining and keeping qualified and motivated employees are essential elements to the success of a company. Offering a competitive motivation and rewards program can help Riordans employees reach their individual goals. The intent is to provide a competitive rewards package to all Riordan employees that motivates, retains and attracts the best and brightest people Recommendations Row The team has researched three different benefits package in an effort to offer Riordan Manufacturing Company Employees with a significant and rewarding benefits package. The first of the three is known as ROWE. ROWE is an acronym for results- only- work- environment that depicts the new process of the company that makes the decision to offer it to its employees.
Many companies have adopted this system because it is utilized to cut cost for the company in the long run. . (BusinessWeekOnline.com) This benefit system allows the employee to use their time wisely at work and use extra time for personal life issues. It would also avoid the employer to pay for a long work day instead of the actual work inputted by the employee. ROWE would allow the employees to work from home or another area as long as he or she has the capability and tools to obtain the ultimate performance that the company requires. The employee should have access to the companys network in order to complete assignments. . (BusinessWeekOnline.com) ROWE (results only work environment) this system would allow the employees to be judged on work output instead of hours worked. This system would begin with the top down to the regular employees.
This program would reduce the absenteeism and would not affect anyone elses production. With ROWE there are no work schedules, meetings, and no pressure from management. At the time for assessment or evaluation, ROWE would assist the manager in basing criteria of the employee on data and evidence rather than feelings and favoritism. (BusinessWeekOnline.com) The ROWE system would not work for Riordan Manufacturing Company because it is a benefit for the leadership team and not for the actual assembly line employees as it is a system that works from the top of the corporate ladder to the bottom. Riordan Manufacturing Company is in search of a solution that will benefit all employees in order to regain their trust and commitment. Many of the employees that are in search of an increase in compensation and benefits would appreciate a customized system for their particular needs. Although ROWE can be utilized to increase morale with in Riordan Manufacturing Company, this is not the answer this company is in search of. (BusinessWeekOnline.com)
Team Reward Strategy This strategy is becoming one of the most popular strategies currently used in many corporations. The Team Strategy is designed with the intention to acknowledge and reward performance as a whole saving the company time and money in some cases. A series of evaluations are necessary to determine the areas in need of compensation and the amounts. However, this strategy also has a lot of controversy attached to it because it is very difficult to determine the proper way of compensating a group. What may work and satisfy one employee might not for the other therefore, being sure of the proper compensation is very hard when using this strategy.
Some limitations to this strategy include things like: employees having difficulty seeing how their efforts are measure in a group performance. When compensation is given evenly and the same to all members of the group over achiever employees may recent being treated equally after all their extra effort. Another limitation may be to create competition instead of cooperation with this strategy. This can happen when teams withhold information to gain recognition and rewards. A company may also experience resistance from employees who dont appreciate the team reward strategy.
Although, this strategy started off as a promising solution for Riordan Manufacture, unfortunately it turned out to create more problems if implemented. After revising and studying the implementation process, characteristics and possible outcomes, it is safe to say this strategy wouldnt be much of a solution to all of Riordans existing problems. Instead this strategy seems to promise more controversy among management personal and the rest of the staff. The search for a perfect solution must continue in order to assist this company with its problems.
The Advantage Program The purpose of the new Advantage Program is to provide employees at Riordan Corporation the commitment to recognizing the contributions personnel make toward the organizational goals and mission. The goal of this program is to provide an incentive that will result in unity reinforcement and employee satisfaction within Riordans organization. The following are the key components that make-up the Advantage Program: Daycare Riordan will convert one of its many storage areas to a daycare facility. This service will be contracted and provided to the Riordan employees for fifty-dollars per week. Employees using this service will be able to visit the daycare during breaks.
Attendance Program – Riordan employees will be rewarded attendance dollars for perfect attendance on a quarterly basis. These attendance dollars may be spent on daycare expenditures, the company store, and on meals at the different company eateries.
Safety Award At the end of the year Riordan will award the manufacturing department with the least injuries a fifty dollars gift certificate to Target. This reward will be given to each member of the department.
New Ideas Program – Any employee submitting an innovative idea that results in the savings of at least one thousand dollars at Riordan will be rewarded a two hundred dollar finders fee.
Christmas Parties Although canceled for the past five years due to cost, Riordan will resume its annual holiday season party free to its employees.
Employee Tuition Assistance Tuition reimbursement for courses offered at the university level that further the career of the employee will be reimbursed at the following rate: A 100%, B- 90%, C- 80% Compensation versus Turnover Creating a competitive edge when trying to retain employees is directly related to the field of work involved. It is important to properly analyze current industry standards that drive the incentives and rewards being offered. Recent studies have brought to light the fact that this nation has a five percent unemployment rate and a strong productivity growth; however, the wages are lagging behind the inflation curve (Economic Futures, 2006).
Although wages are considered one of the primary competitive tools in attracting and retaining employees, rewards can result in a permanence of tenure. Identifying current market trends of recent years has revealed that specialized and talented employee turnover rates have increased to 20% over the past decade. This demonstrates that the demand for skilled labor is currently at an all-time high. Strange as it may seem, according to a recent survey, the most common reason for employee turnover was due to a poor relationship with a supervisor and not the wages. (BusinessWeek, 2005).
Why the Advantage Program Was Chosen-Rom Daycare is one of the programs going into implementation for our employees to recognize outstanding contributions to the Riordan Manufacturing Company. This program can help employees reduce financial problems and help them reduce their stress levels. The daycare is recommended to employees because it is a necessity and it would attract good candidates to work for the organization. The addition of the daycare as an employee benefit can make a quality work environment that employees would appreciate. By providing more frequent interaction between parent, child and care giver it will help increase employee moral, favorably impacting productivity. Most importantly, it conveys an attitude of caring, a feeling of family within the organization.
A safety award program can help make the organization a safe working environment place to work in. The monitoring of this program is by inviting volunteers within the organization to be part of a safety group. The safety group will meet once as month to discuss any type of accident that happened during that month. The safety group will individually provide potential hazards within the company that can later lead to a possible accident and provide solutions. This group will be in charge of a safety room with a personal key to help provide employees with band aids, alcohol, and safety equipment. This is a good possible solution to help avoid any accident within the organization and help employees feel that they would in a clean and safe environment.
A pay for knowledge program or New Ideas Program may help the organization input employees ideas in areas where cost can be reduced. Accepting ideas from employees with an incentive can help the organization keep employees motivated by acknowledging their ideas and giving recognition. This solution is mainly to encourage employees to feel confident about proving ideas to make their job easier. Not only do they feel like they can make a change but also get paid for it or obtain additional incentives.
A yearly Christmas party is also suggested to the company budget to help employees look forward to celebrating all their hard work and efforts throughout the year. For this solution employees are surveyed to identify where they would like the event held at and the kind of food to be served. Employee tuition assistance is another important suggestion intended to help employees grow with the organization. The employee has to major in anything that relates to Riordan Manufacturing Company. This program can be related to a continue education program assistance to help increase motivation.
Why the Solution Will Work The advantage program was created to help motivate employees. Implementing this program will help increase employee moral. The best solution to monitor the advantage program is to provide an open door policy that will allow employees to give their opinions and provide feedback on things that will better assist then. By making these solutions sustainable and by accepting any suggestions from the company employees Riordan can really change the companys course and lead it in a success path. The advantage program is developed to recognize all employees for their hard work and loyalty to the organization. The advantage program will help motivate employees and help avoid any problems such as employee turn over.
Research and Development The Research and Development department is one of the companys departments experiencing problems with the staff. Employee surveys have shown increasing levels of dissatisfaction in the areas of compensation and benefits for this department. The survey also reveled the reward system currently in place is not based on performance but rather on cost of living increases, seniority and position. The departments moral is declining and work ethic is following the same path. Kenneth Collins, Senior Vice President of R&D is afraid to loose key researchers because of inadequate compensation and is asking his superiors for a reevaluation of the compensation plan in place. (Scenario: Riordan Manufacturing, 2007) Kenneths concern has increased because in the past months he lost three key employees and is afraid of loosing more in no time. Another concern comes thanks to the statements made by resigning employees in exit interviews. Employees are claiming they do not feel challenged in their positions and that they can earn a higher pay elsewhere for the same job. The employees feel the incentives at Riordan are very weak and are leaving to other companies offering them more in every way. Naturally, this poses a threat and is instantly turned into a worry matter. (Scenario: Riordan Manufacturing, 2007)
With three major product introductions in the coming year, Kenneth is very concerned about his departments situation. He is suggesting the creation of an incentive plan that ties to the completion of the products introduction. Hopping to motivate employees in their job, performance and influence them to stay with Riordan Kenneth has faith in his superiors help and efforts. Other factors causing distress in the R&D department are the added duties when providing support to the customer sales team. R&D employees have shown their discontent and feel they dont receive any type of compensation or acknowledgement for their help in the completion of sales. (Scenario: Riordan Manufacturing, 2007) Employers today have to think about more then just the pay for reward strategies to be effective. Studying the different generations, age groups, education levels and cultures provides valuable information when creating a motivation and reward strategy.
A workforce is only as good as its people, and at Riordan Kenneth believes to have one of the best teams in the company which is why is working hard to keep the department moral up. With that in mind it is also important to recognize motivation starts from management is why a change in leadership can also be beneficial to the department in ways such as communication and attitude. A motivated manager will transmit the positive energy to employees creating a chain reaction helping the working environments and increasing productivity and job satisfaction. Therefore, investing in training classes for both management and staff would show positive outcomes to the company. (Knightsbridgepartnership.com, 2007) Another solution to Riordans issues with the R& D department are to implement a monitoring system that tracked the number of closed and completed sales done in a specified period of time.
This would help to identify the work and support provided to the customer sales department from the R& D department. Once the sales are identified, some ways to issue compensations for the accomplishments may be such as lunch coupons, gift certificates or even commissions and bonuses. Other ways to improve the R&D department are by offering training to help them in their jobs and tuition reimbursements to encourage them to continue their education and improve their career advancement opportunities. Investing on employees education benefits the company in the long run because it gives the employees a sense of care and interest from the employer causing a loyalty and gratitude reaction in return.
Engineering Department Riordan Manufacturing Companys engineering department plays a very important role in the present development and is the gateway for any future development aspect of the company. Riordans progression depends on its engineering department that is made up of Generation Y employees. These employees are young and for the most part technically inclined. Many of these employees have in their hands crucial Riordan information. With headhunters that represent other manufacturing companies always on the prowl for engineers. Riordan is at risk of losing employees if a competitive company entices the employee with a considerably excellent benefit and compensation package in exchange for Riordan Manufacturing Company information.
Mr. Hugh McCauley Chief of Operations Office (COO) has voiced his opinion to the CEO Mr. Michael Riordan of the time press in finding a benefit package that will suit the engineering department with fear of losing the employees especially in a time like the present with a few projects pending to be introduced. In the engineering department the problem seems to be more of a motivation and morale issue rather than a compensation issue. The COO believes that the organization should take time to improve the job design. Of course compensation would not hurt anyone but what is in demand is a system would allow the employee to do his or her work better. This could give the employee a higher sense of self esteem and the confidence that would be needed to excel in future projects and inspire the introduction of new products for Riordan Manufacturing Company.
The Advantage Program is the key to help this department motivation and morale sensitive issues. The benefits of this program will work great for the employees at Riordan especially the Engineers. Employees with children will benefit from the onsite daycare facilities. The attendance program will be a good reward system for the employees because it will be cost effective for the employee. Safety awards would also help the employees pocket.
The New Ideas Program will be the one that the department will benefit the most from because it will allow the employees to brainstorm and find ideas to correct the organization job design that they seem to be complaining about. This benefit will allow them to use their knowledge, skills, and abilities to come up with a solution to their current problem and future ones as well. The employee, whose idea is selected and is proven to save Riordan Manufacturing Company money in its budget, will be compensated $200.00. This would be enough to get this department on the motivation to obtaining what they want with in the department and a cash prize.
Sales Riordan Manufacturing Company recently had to make a new restructuring process throughout the entire sales department because of problems with declining sales and struggles with uneven profits over the past two years. Strategic changes in the way the sales department handle it customers and provided customer service introduced a customer-relationship management system (CRS) program. The program consists of relaying customers to different departments and specialists according to their needs. With a sales team rather than a single sales representative the customers-relationship system will help the sales team increase sales by approaching customers in a different direction. However management in the sales department wants employees to be recognized for their sales.
The new strategic plan unfortunately is not focusing on employees motivation and has turned out to be a big factor that has affect the companys sales goal. Sales personnel are in fear that their bonuses can be at risk because now they have to rely on the new group oriented process to accomplished sales goals. If a sales team relies on a team oriented process it is important to understand that not everyone can be motivated and can be social loafing for the most part which means the team now must step up for others in order to meet specified goals. Throughout the organization you have other managers concerned about salaries been under paid. Managers are forcing the CEO to raise pay levels in order to keep hard working individuals because the organization is at risk.
According to the department manager employees are complaining of being underpaid and claiming they can make more money elsewhere. The sales team managers want to make contributions to the sales team by serving them with incentives and a reward system in order for them to be recognized and acknowledge. By implementing these ideas the sales team can feel more motivated and can help the sales team accomplished sales goals and meet customers needs. Charles Lacy has been working for Riordan Manufacturing Company for ten years and is the Vice President of the Sales and Marketing Department. Charles philosophy is enforcing change in the sales department, including a team oriented process and rewarding a successful team performance.
Charles Lacy introduces to Dale Edgel (Riordan Financial Chief Officer) a New Sales Incentive Plan that consist of paying the sales team as still an individual basis but working as a team oriented process as soon as possible. This way the motivation process of the individual working in the sales department can not be turnover. The employee can feel that they are not accountable for other employees performances and sales accomplishments.
Throughout the new implementation of customers-relationship management system process, Charles has noticed that sales are still declining. He is emphasizing that the new incentive strategic plan is enforced immediately in order to raise individual motivation in the sales department to increase sales. The development for the new incentive program is costly so results must be proven. The outcome recommendation is an increase of 50,000 dollars to the sales department with a time frame of 6 months. And the outcome is to improve the incentive plan including improvements in the communication process and education strategy. Charles Lacy must have access to the direction of the sales for each line of business and also access to the sales representatives for focus group purpose.
A yearly bonus incentive program created for the sales department would be a possible solution and would help keep employees motivated. In order for the sales department to earn the bonus it would consist of reaching a goal of gaining at least a minimum of 10 new customers per year. If the sales department is able to reach its goal as a whole then the bonus will consist of a 12% of their yearly gross pay which will be added to their paycheck. The individual that is able to contract a new customer that day will receive a bonus of 200 hundred dollars and dinner with the management team. Theses are some possible solutions that are recommended in order to help keep employees motivated and wanting to reach a goal.
Information Technology Riordans Information Technology department employees are being approached by headhunters in an attempt to lure them away with offers of higher pay and greater work incentives. The companys Chief Information Officer believes that Riordan executives need to re-evaluate the incentive program and consider implementing a company stock reward program. This would be coupled with an across the board wage increase given to the IT employees.
Before proceeding, it is important to establish whether Riordan is a publicly traded corporation, a partnership, or a privately held company. Riordan Industries is a one billion dollar Fortune 1000 corporation with multiple factories throughout the United States, as well as a factory in China. It is safe to assume, due to the increased liabilities of partnerships and sole proprietorships, as well as the need to solicit capital funding, that Riordan is a publicly traded corporation. Corporate executives are the prime benefactors of corporate stock options as a reward for performance (Dreher & Dougherty, Ch 4, pg 8).
In the mid 1990s, it was common for technology and information technology corporations to reward their employees with company stock options. A common hiring practice for talent at Dell Computers was to present an initial incentive stock offering as a sign-on bonus. Dell would present a candidate with ten thousand shares of stock with a value of fifty cents a share and reward annual performance bonuses with the same inexpensive stock. This incentive allowed employees to feel an ownership in Dell and provided an environment of accountability toward the success of the company (Networkworld, 2003).
Todays dilemma in using this hiring and retention strategy is the cost of the stock. Today, companys such as Dell and Microsoft have stopped offering stock options and have instead reverted to offering their employees a restricted stock. These stocks remove the ability of buying future company shares at a current set price instead rewards are paid up-front reducing speculative returns( The Wall Street Journal, 2007).
Riordans employees would benefits from restricted stock rewards and could use this as an ownership and retention tool. Todays talented and specialized work force can be considered a commodity. As is with all commodities, the rarer the commodity the more value it has. Riordan needs to perform a job industry wage analysis to determine the levels of compensation parity they need to attain. A recent study done by Work Greater China has revealed that only twenty-five percent of workers in China, as compared to forty seven percent of U.S. workers, are satisfied with their compensation (Watson Wyatt Worldwide). High demand for skilled labor due to increased world production has created a shortage of talented prospects thus increasing the value of this commodity.
Human Resources Yvonne McMillan, Director of Human Resources for Riordan in the last 10 years, has been unable to secure Human Resources a more active and strategic role in the organization. Frustrated by her lack of success, Yvonne often complains that shes treated as nothing more than a personnel manager. She conducts the annual employee survey, but has never seen any changes implemented because of the survey results and doubts very much she ever will. When creating solutions to human capital problems must also consider the risks associated with each alternative. It is important to have all employees involved so that everyone will be satisfied and it would lessen the effects of conflict within the organization. Managers can encounter many situations in which their interests conflict with those of others. Everyone needs to know how to resolve these conflicts, and communications is important in reaching a decision.
Human Resources department is responsible for developing and implementing Human Resources policies, strategies, programs and tools that keep the work force engaged, focused and energized, and motivate achievement of the business units strategic objectives. Riordan can learn lessons such as customer satisfaction, compensation and motivation practices, career development programs, ethics regarding the compensation plans, as they relate to organizational strategies. In order for an organization to implement change, everyone in the organization must be engaged in the process. The presented solution allows participation of employees at all levels of the organization. The leadership must have a clear vision and alignment with the new strategy. In order to help with the buying process, the leadership team could capitalize in small victories and getting those employees who support the strategy from the start.
By respecting and rewarding employees, manager can help develop an environment in which employees feel welcome and appreciated. This can be done in a number of ways but each company should invest time in determining what programs will work best for them. Developing a reward program at Riordan is to help the company achieve its mission and goals by attracting, motivating and retaining the most highly-qualified people. The employee recognition program is not just a nice thing to do for people. Employee recognition is a communication tool that reinforces and rewards the most important outcomes people create for the company.
When recognizing people effectively, reinforce, the chosen means of recognition, the actions and behaviors you most want to see people repeat. An effective employee recognition system is simple, immediate, and powerfully reinforcing because when considering employee recognition processes, you need to develop recognition that is equally powerful for both the organization and the employee. In any organization where there is restructuring, thus creating the need to have a new strategic direction, there will certainly be risks. These risks must be acknowledged and evaluated in order to determine what is best for the organization. It is only through analyzing and examining all the critical problems that can impact an organization.
Conclusion Changing people and organizations is difficult, whether working with a large organization or a small mom and pop store. The challenges are to develop change and to be able to move a successful organization is far more difficult than to move a failing organization. Based on the assessment of all potential solutions versus the recommended solution can be describe as to engage all employees, to measure employees output, maintain communication between management and customers and implement the strategy through a series of all employees meeting. The rationale for the recommend solution is that it will allow employees to feel important an involved with the decision making process and customers would be aware of the changes that are coming in the near future.
Reference
(BBC (2007). BBC Business News. Retrieved on March 11, 2007 from the World Wide Web site://news.bbc.co.uk/2/hi/business/1775697.stm Brady, D(2007). BusinessWeek Retrieved on April 9, 2007, Caterinicchia, D. (2007). Inspectors blast Coast Guard contractors The Associated Press. February 15, 2007.. Retrieved on March 11, 2007 from www.businessweek.com Colini, Michelle. , Smashing the Clock Business Week Online December 11, 2006 retrieved on March 31, 2007 from www.businessweek.com Dreher, G. and Doughtery, T.W. , A Behavioral Perspective for the General Manager Human Resource Strategy 2001 Chapter 4 and Senario: Riordan Manufacturing Company. Retrieved March 26, 2007 from University of Phoenix web page.
Dreher, G. and Doughtery, T.W. Human Resource Strategy 2001 Chapter 2. Retrieved March 26, 2007, A Behavioral Perspective for the General Manager from University of Phoenix web page.
Jennifer M. George, Gareth R. Jones (2005) Understanding and Managing Organizational Behavior Chapter 14: Communication in Organizations Merritt, J., Lavelle, L.(2005)., BussinessWeek:Its Time to Plug Talent Leaks Milkovich & Newman (2004). Compensation. 8th edition. New York: McGraw-Hill. Retrieved on April 6, 2007 from https://phoenix.edu/eresource.html Milkovich & Newman (2004). Compensation. 9th edition. New York: McGraw-Hill. Retrieved on April 6, 2007 from https://phoenix.edu/eresource.html Noe, R.A., Hollenbeck, B.G., Wright, P.M.(2003), Fundamentals of Human Resource Management, 2003, McGraw-Hill, Ch. 5, pg 2 Riordan Manufacturing Company (Copyright 2004 © by Apollo Group, Inc.) (Retrieved April 2007) from: https://ecampus.phoenix.edu/secure/aapd//CIST/VOP/Business/Riordan/Marketing/RioMarket001.htm Scenario Two: Riordan Manufacturing. UOP Virtual Organizational Portal: Riordan Manufacturing. Retrieved on April 5, 2007 from https://ecampus.phoenix.edu/eresource.html Simon, R, (2007). The Wall Street Journal: Employees Guide to Restricted Stock Vance, A,(2003). Networld,:IDG News Service Watson Wyatt Worldwide,(2007). Dissatisfaction With Pay, Benefits Widespread in China
Related Topics