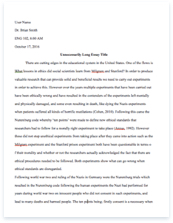 The whole doc is available only for registered users
A limited time offer! Get a custom sample essay written according to your requirements urgent 3h delivery guaranteed
Order Now
So who are the main competitors to TopShop? Ironically, Miss Selfridge from the same group is a key competitor but TopShop also view Debenhams, H&M, New Look Group, French Connection and House of Fraser, and of now that everything is gone digital there are extreme amounts of pressure put on topshop to stay in the lead with online stores such as asos and boohoo who try to replicate its clothes but at a more affordable cost High-street H&M
Strengths | weaknesses| 1. H&M stenght is its affordable pricing. 2. H&M has a wider rang of its tarket market it does maternity and kids wear so it will make them a lot more profit 3. H&M has stores in 43 countrys and has over 2,629stores world wide that's almost 4 times more than top shop | 1. H&M is not as recognizable of a lable as topshop the cloths are not as unique 2. H&M are not part of a grupe so they might find it harder to stay up the top of the highstreet lader 3. Because it has such a big target market it does not make that inpact on the fashion world like topshop does. Its more about affordable clothing for cheap.
Online ASOS
Strengths | Weaknesses|
1. ASOS is a unique brand and has flourished with its online store it now has 2000 employees 2. It's the biggest uk online fashion store 3. The brand uses a lot of celebrity name wearing there cloths 4. Asos uses other brands of clothes as well as your own.| 5. Because it is just an online store it has risk of not making as much profit as the highstreet stores as it would be by pasted 6. Some customers might not like displaying there credit card details online so this might lead to a standstill for them as a brand 7. Online retailing in general is getting a bad repation because it cannot guarantee a time the item will be there at a certain.
Related Topics