Renfrey Memorial Hospital: Proposal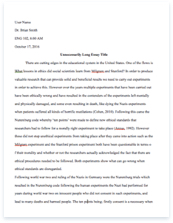 The whole doc is available only for registered users
A limited time offer! Get a custom sample essay written according to your requirements urgent 3h delivery guaranteed
Order Now
Renfrey Memorial Hospital is a 200 bed regional hospital located in the Midwest. It has been in existence for 32 years and was named after a prominent philanthropist in the area, Mr. Gilbert H. Renfrey, who made many financial contributions to projects in and around the community where Renfrey Memorial Hospital is located. The hospital maintains the only 24 hour emergency department in the area, as well as an "extended hours" urgent care clinic. The hospital is encountering a problem with nursing staff retention. Sixty-eight percent of the nursing staff is over the age of 45, and facing retirement. The hospital commissioned a survey that revealed many of the nursing staff finds the work too physically demanding and many are feeling physically exhausted and report emotional burn out as well. Several of the survey respondents report they are stressed to the breaking point caring for aging parents in addition to working at Renfrey. In the past two years, the hospital has seen an exodus of nurses. The hospital has been forced to use temporary pool nurses from an agency. This has driven up personnel costs and also resulted in decreased rankings on patient satisfaction surveys.
In addition, the nursing shortage is making it difficult to recruit replacement nurses for the staff who plan on retiring within the next couple of years. Renfrey Memorial Hospital faces significant staffing challenges ahead as it grapples with these issues and the hospital board is very concerned. They know there must be some changes made in order to prevent a major financial and human resources crisis in the future. In this paper, I will discuss five healthcare organizations and their solutions dealing with benchmarking, as well as two solutions Renfrey Memorial Hospital can implement in their organization. Finally, I will address one solution that Renfrey Memorial Hospital can implement in their organization to reduce healthcare costs and put the company into the positive for years to come. St. Elizabeth Hospital is located in Gonzales, Louisiana, 15 miles southeast of Baton Rouge, Louisiana. In 2007, St. Elizabeth Hospital spent 1.5 million dollars on contract labor. The contract workers accounted for one of every 17 hours worked in the hospital.
Employees for St. Elizabeth Hospital complained through surveys of breaches in patient care when contract workers were on the clock. The hospital began using an ally, ActionOI, more aggressively to benchmark itself at the organizational and departmental levels. Labor benchmarking with ActionOI enabled St. Elizabeth Hospital to produce significant decreases in its contract and overall labor expense, and enjoy significant performance improvement in quality and service outcomes. Since 2007, St. Elizabeth Hospital has decreased its clinical contract labor expense by 98.5 percent, saving $5.2 million and lowered its total labor expense as a percentage of net operating revenue by 21 percent. Crittenton Hospital Medical Center is located in Rochester, Michigan. Crittenton CHMC joined LaborConnect's Operations Advisor productivity and benchmarking solution four and a half years ago. In doing so, the hospital has significantly reduced overtime. The use of agency nurses has been eliminated and sustained over two years. Over three years, CHMC saved more than $4 million in labor expenses.
OperationsAdvisor is the only Web-based, total labor management solution that fully integrates a productivity measurement system with quarterly benchmarking. Hospital members of LaborConnect saved more than $120 million last year (Medical, 12). Centura Health is located in Denver, Colorado. Centura has used contracts from Premier in Charlotte, North Carolina, to save money on medicalsurgical supplies. The two companies began working together in April 2004, when Centura signed a five-year agreement to implement Premier's Operations Advisor reporting, analysis, and comparative benchmarking solution in nine of its hospitals. Centura has identified $12 million in savings, representing a 20-to-l return on investment (Centura, 6). Banner Health is located in Phoenix, Arizona. Banner is one of the largest not-for-profit healthcare systems in the country. Banner is partnering with OperationsAdvisor (OA), a Web-based labor benchmarking solution. All of Banner's 22 hospitals will use OA, which is part of Premier's LaborConnect program. The Phoenix-based healthcare system serves Alaska, Arizona, California, Colorado, Nebraska, Nevada and Wyoming (Medical, 3). Hospitals in California needed to reduce costs without negative effects on quality.
Hospitals and health systems in California are joining a labor-related management collaborative managed by the Premier healthcare alliance. Premier's California Labor Management Collaborative (CLMC) aims to help participants improve efficiencies while maintaining care quality by comparing participant labor expenses and productivity levels to peer hospitals, as well as state and national top performers. Operations Advisors has helped hospitals reduce costs through more efficient labor management, in some cases 10 million dollars in one year (Premier, 16). There are two solutions that are the most viable for Renfrey Memorial Hospital to implement within the next two years. The first solution is benchmarking. Benchmarking is an improvement process in which an organization measures its performance against that of best in class organizations within or outside its industry, determines how those organizations achieved their performance levels, and uses that information to improve its own performance. Benchmarking can be a valuable tool in moving beyond national average performance to best in class performance.
While numerous hospitals have been recognized for excellence, other hospitals need not restrict their searches for benchmarking partners to other hospitals (Sower, 1). Benchmarking is now being adopted by leading service businesses. In the health care industry, for example, interest in benchmarking has grown as increasing competition and escalating costs are forcing many hospitals and health care institutions to seek new ways of improving patient care and productivity. Benchmarking is being incorporated into the strategic planning and quality improvement process of some of the more progressive hospitals (Davis, 28). Benchmarking can consist of alliance companies, whose primary focus is to hospitals millions of dollars in cutting labor costs but not effecting patient healthcare services. Premier, Inc., is a strategic alliance in U.S. healthcare, entirely owned by more than 200 of the nation's hospital and healthcare systems. These systems operate or are affiliated with nearly 1,500 hospital facilities and hundreds of other healthcare sites. Premier provides an array of resources supporting health services delivery including group purchasing for more than $21 billion annually in supplies and equipment (Healthcare, 869).
Benchmarking must be a team process because the outcome will involve changing current practices, with effects felt throughout the organization. The team should include members who have subject knowledge; communications and computer proficiency; skills as facilitators and outside contacts; and sponsorship of senior management. Benchmarking requires quantitative measurement of the subject. The process or activity that you are attempting to benchmark will determine the types of measurements used. Benchmarking metrics usually can be classified in one of four categories: productivity, quality, time and cost-related (Davis, 28). The objective of the benchmarking process is to improve organizational performance and to make a firm more competitive. Realistically, success is a relative thing; therefore, an organization should probably tailor its benchmarking effort to its own broad improvement goal, whether it is lofty (to be the best in the world) or more modest (to be the best in a more narrowly defined area – perhaps a small market segment or a specific region). Benchmarking is about learning. It is about learning how to do better, the things that matter most in organizational success. The learning process is never ending, for internal and external change invariably brings about the need for additional learning (McGaughey, 12). The second solution is, as mentioned in part above, is forming an alliance.
The healthcare industry is plagued with problems that traditional approaches are no longer solving. Healthcare executives are asking whether benchmarking can do for healthcare what it has done for other industries. Organizations such as the SunHealth Alliance, the Indiana Hospital Association, the Maryland Quality Indicator Project, Kaiser Permanente, and The Healthcare Forum are using benchmarking as a key strategy to achieve organizational excellence. Benchmarking represents a new tendency or willingness for healthcare professionals to break through some traditional barriers by following several guidelines, such as: 1. Literally and aggressively seeking out change, 2. Going beyond the healthcare industry to find the best practices that can ultimately help to improve the quality of healthcare delivery, 3. Focusing on common goals and strategic plans, and 4. Establishing a basis for continuously evaluating customer needs and expectations (Patrick, 71). Forming an alliance will allow the healthcare organization to develop a plan, budget, and follow through to save money on labor, supplies, and other healthcare related costs.
Benchmarking and forming an alliance to reduce healthcare related costs is a plus for healthcare organizations. However, cutting costs within the healthcare organization will affect other aspects of the organization in negative and positive ways. Patients will still receive quality healthcare services from the hospital, being that contract labor workers will be eliminated. Nurses that are familiar with patients and work on a regular basis can provide better care than those contract workers who work temporarily. Hospital administrators will be impacted in a positive way because the hospital is saving millions of dollars per fiscal year. In some cases, as mentioned above, hospitals saved four million dollars in one calendar year. More money saved during the year will account for a bigger budget on healthcare supplies, and providing adequate pay for the healthcare staff (Patrick, 71). The value of benchmarking for the human resource department has several impacts: First, internal benchmarking is likely to meet with less resistance from managers. When confronted with the results of external benchmarking studies showing that other firms are getting better results.
Second, internal comparisons control for unknown variation in some of the major drivers of benefit costs and lost work time that occurs when making affect comparisons to other companies. Third, internal benchmarking quantifies the achievable, short-term opportunity for improvement. Fourth, realistic goals can be set that are intuitively appealing to managers such as: Within two years, all groups will have an absentee rate that equals or exceeds the current company average. The point of benchmarking is to collect data that will show you what can be achieved and provide you with the insight into how this performance was achieved. The benefit of benchmarking in marketing is that it provides valuable insights into what drives performance. Companies have used benchmarking to evaluate hiring, customer service, equipment maintenance, collecting outstanding receivables, and so forth. Benchmarking can be done for nearly every business process, including marketing. As the CEO or part of the leadership team you should expect your marketing leadership team to be benchmarking the company's marketing processes in order to identify how much performance can be improved and how. Unfortunately, many companies do not benchmark their marketing and this is a missed opportunity (Davis, 28).
The state of the economy and rising unemployment, and therefore rising numbers of uninsured patients, puts financial pressure on hospitals, so they are looking at how they can improve their own internal processes to deal with that. With the capital markets in such flux, it's harder to borrow money from third party payers, so you have to generate capital from your bottom line. Hospitals are all trying to improve, to make sure they are operating as effectively as they can, that costs are in line and preserving cash. These are all areas you can benchmark against.The best solution best for Renfrey Memorial Hospital is forming an alliance with a strategic healthcare company. As mentioned in this paper, an alliance is capable of saving millions of dollars per year without sacrificing the effectiveness of quality patient care. By forming an alliance with a strategic healthcare company, Renfrey can eliminate contract workers and save the organization in labor costs, patient safety, and annual revenue for management. Labor costs will be reduced significantly by utilizing full time staff versus contract labor workers. Contract labor workers generally make more money an hour than full time nursing staff due to the nature of their work. Contract labor workers usually work on an on call basis and must be available to work at all times.
Their pay must also take mileage into consideration as well as any specialty services they may have. The importance of strategic alliances are proving to be effective strategies for responding and adapting to changing environments, and as such they offer the U. S. healthcare system valuable opportunities for accomplishing the goals of its major reorganization effort. This paper details an examination of basic strategic-alliance structures that are employed across many different types of industries. Next, consideration is given to the ways in which these basic alliance structures may be adapted to the unique organizations and individuals that serve as providers, purchasers, and consumers of health services.
Finally, this paper explores how models of strategic alliance in healthcare can be tailored to the specific needs and constraints of the healthcare system through an examination of existing and potential alliance opportunities within healthcare organizations. Organizations benefit from the service alliance primarily through economies of scale associated with a shared service. Given the low levels of interdependence and risk-sharing in this type of alliance, participating organizations may experience difficulties in reaching agreements, securing commitments, and preventing attrition among the participants (Halverson, 390).
References
Centura finds millions in additional savings from organizational improvements
via premier advisors. (2006). Hospital Materials Management, 31(2), 9-10. Retrieved from http://search.proquest.com/docview/204789327?accountid=32521 Davis, T. R. V., & Patrick, M. S. (1993). Benchmarking at the SunHealth alliance. Planning Review, 21(1), 28. Retrieved from http://search.proquest.com/docview/194361310?accountid=32521 Financial Benchmarking Takes on New Importance
By Elizabeth S. Roop
For The Record
Vol. 21 No. 12 P. 12 Halverson, P. K., Kalyzny, A. D., & Young, G. J. (1997). Strategic alliances in healthcare: Opportunities for the veterans affairs healthcare system. Hospital & Health Services Administration, 42(3), 383-410. Retrieved from http://search.proquest.com/docview/206721965?accountid=32521 Healthcare coverage. Dr. leslie schultz joins premier to spearhead quality improvement practices. (2005). Health & Medicine Week, , 869. Retrieved from http://search.proquest.com/docview/207000439?accountid=32521 Johnson J. Health Organizations: Theory, Behavior, & DevelopmentBookshelf. Web. 02 August 2013 <http://online.vitalsource.com/books/9780763787622/id/ch21lev1sec3>. McGaughey, R., Puleo, V., & Casey, K. M. (2005). Employee benefits of multi-owner accounting firms: Groundwork for benchmarking. Benchmarking, 12(4), 354-363. Retrieved from http://search.proquest.com/docview/217363630?accountid=32521 Medical instruments & supplies; banner health confirms premier healthcare alliance ownership to further improve quality, reduce costs and succeed under reform provisions. (2010). Medical Verdicts & Law Weekly, , 3. Retrieved from http://search.proquest.com/docview/366292324?accountid=32521 Patrick, M. S. (1992). Benchmarking – targeting 'best practices'. The Healthcare Forum Journal, 35(4), 71. Retrieved from http://search.proquest.com/docview/233520764?accountid=32521 Premier inc.; california-based hospitals joining collaborative to better manage costs associated with labor, enhance care quality in a reform environment. (2010). Managed Care Weekly Digest, , 16. Retrieved from http://search.proquest.com/docview/616913617?accountid=32521 Sower, V. E. (2007). Benchmarking in hospitals: More than a scorecard. Quality Progress, 40(8), 58-60. Retrieved from http://search.proquest.com/docview/214758506?accountid=32521
Related Topics