Relief Sculpture vs. Free Standing Sculpture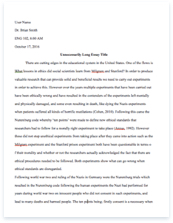 The whole doc is available only for registered users
Pages: 5
Word count: 1001
Category: Sculpture
A limited time offer! Get a custom sample essay written according to your requirements urgent 3h delivery guaranteed
Order Now
Introduction
One of the most customary visual arts along with painting and architecture is sculpture which is the art of creating three dimensional works of art. Unlike painting which is basically two dimensional, sculptures fills space in three dimensions including depth, whereas painting only tries to suggest the presence of depth in pictures through shadows, distance and colors.  A sculpture is dense in itself. Unlike architecture which involves designing the inner space for a practical purpose such as for dwelling (e.g. buildings), sculptures do not concern itself in the internal space but focus mainly on the external design of a 3D art.  There are basically two ways how sculptures are created. First is by combining and assembling together pieces of materials and second by shaping images and shapes out of materials.
Relief Sculpture
People normally visualize sculptures as 3D arts that are projected out into space.  However, creating a three dimensional mass does not necessarily require projecting or protruding an image from a material.  Carving depths into flat plane already creates a 3D artwork.  This is similar to writing your name in the bark of a tree using a knife or writing your name in sand using your finger.  Incidentally, this is how the earliest form of writing system such as the Egyptian hieroglyphics and ancient cuneiform are done. Carving lines into a flat surface to create symbols and pictograms is a kind of sculpture.  This is specifically classified as a sunken relief sculpture.  It is sunken because it is contrasted to the typical sculpture in which images usually stick out of the surface, which is called relief sculpture.  Relief Sculpture generally refers to a kind of sculpture that is essentially attached to a background from which the artwork was carved or shaped.  The sculpture basically shows up from a plane.  A relief sculpture, therefore, is not separate or distinct from but is connected and therefore dependent on its background to be visible.  Thus, a relief sculpture is typically viewed like a picture.
Aside from the sunken relief sculpture, two other types of relief sculptures exist which basically depends on the extent on which images are projected or protruded.  Low-reliefs or bas-reliefs are relief sculptures in which projections of images are low.  Typical examples for bas-relief sculptures are the coins we used in which depth of the images that are carved low or near to its surface.  High-reliefs on the other hand are relief sculptures in which the projected image is high sometimes to an extent that it looks like a full blown statue.  However, the art work is still essentially attached to its background from which it was carved.  The carvings of the presidential figures on Mount Rushmore in South
Dakota can be an example of a high relief sculpture.
Because a relief sculpture is basically created out of its background, one the greatest challenges in relief sculpturing is to compact the 3D artwork including its spatial relations squeezed within the limited space available.  In making the curving, the thickness of the material to be used which will eventually become the sculpture and background can be considered as a series of planes from which the depth of the image can be made. In this sense, space serves as a limit that confines expansion of the artwork. (Weiss et al, p27)  In which case, space restrains modeling or the addition of folds, waves and furrows for creating further accents.
Free Standing Sculpture
Also known as sculpture in-the-round, a free standing sculpture is a type of sculpture that is unattached from any background and therefore can be moved freely in space. It is "in the round" because the sculpture is made on all sides and therefore can be viewed from any angle normally except from the base from where it stands.  However, small molded figurines can be practically viewed from all angles.  Thus, a free standing sculpture similar to an architectural structure (e.g. building) exerts a radiance which somewhat defines a precise field around it. (Carmona, p149)   In contrast, a relief sculpture is only viewed like a picture usually at the front angle where the spatial influence and aesthetic experience is limited in the front or façade or the artwork.
Conclusion
Space makes sculptures visible.  This is most apparent in relief sculptures because the work of art is basically attached on the background.  The depth or space between the carved image and its background is what distinguishes and creates the artwork from its surface.  The depth of space on the other hand led to classifications of relief sculpture.  Bas-reliefs have shallow spaces (depths) while high reliefs have deeper space or depths. Sculptural space also serves as a limit to the sculpture.  The limited space available for sculpture restricts the size, depth and accentuations of the art.  A free standing sculpture is also subjected to the limitations of space.
However, the concept of space in terms of viewing a free standing sculpture lies on the "radiance" that the artwork emits from all angles of view. Thus, a free standing sculpture can be viewed from all angles. In which case, space permits our bodies to move and view arts in different positions or angles.  We can practically walk around the sculpture and view it from all sides.  Such spatial radiance does not exist in a relief sculpture because it is basically designed to be viewed from the front side or from any range of frontal positions. The concept of space in relief and free standing sculpture differs primarily in terms of our access or recognition of a sculpture per se (relief) and our means of perception to a sculpture (free standing).
Works Cited:
Carmona, Matthew.  Public places, urban spaces: the dimensions of urban design. Architectural Press, 2003
Weiss, Jeffrey S. Valerie J. Fletcher, Kathryn A. Tuma, Pablo Picasso, and the National Gallery of Art (U.S.), Nasher Sculpture Center.Picasso: the cubist portraits of Fernande Olivier. Princeton University Press, 2003
Related Topics