The Relationship Between Customer Satisfaction and Brand Loyalty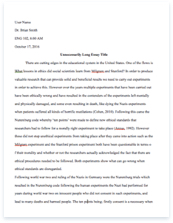 The whole doc is available only for registered users
A limited time offer! Get a custom sample essay written according to your requirements urgent 3h delivery guaranteed
Order Now
This study attempts to examine the impact of customer service (retail service quality and product quality) on brand loyalty. It focuses on the particular aspects of customer service: personal interaction, policy, reliability, and problem solving. Data will be collected through an in-person survey and an on-line survey immediately following the purchase or visit to the store or website. Another survey will be administered shortly after the customer obtains the product and has a chance to experience it.
By contributing to the overall knowledge of customer service and brand loyalty, this research adds significant, valuable information on marketing to customers in regard to the sports apparel industry. Introduction The economic recession has affected business throughout the world; professional sports included. The National Football League owners have recently rejected the latest collective bargaining labor agreement thereby locking out the players. In the National Basketball Association, there is an expected player's lockout at the end of the season.
Both Major League Baseball and the National Hockey League have also gone through similar labor strife. During lockouts, strikes, or other labor disagreements in which games are not played, major revenue is lost. It is lost from ticket sales, game concessions, and advertising sales, thereby decimating each team's bottom line. Few financial bright spots remain; one of which being income from sales of Licensed Sports Merchandise. Income from the sales of branded merchandise is an important piece of the puzzle now more than ever for both team owners and players.
The attitudes and customer satisfaction by fans towards the league, the teams, and their players is a hotly contested issue. It is discussed by the media and strategically angled by both sides of the labor negotiations. Theoretical Framework The research to study the non-directional hypothesis of the correlation between customer loyalty and brand loyalty will need to explore the following mediating variables affecting customer service: retail service quality and product quality. Retail service quality is generally determined on what is expected by the consumer versus what is perceived.
The discrepancy is measured through personal interaction, policy, reliability, and problem solving (Dabholkar, Thorpe, & Rentz, 1996). Product quality can be broken down further into eight attributes. These would be performance, features, conformance, reliability, durability, serviceability, aesthetics, and customer-perceived quality (Garvin, 1987). It is also important to know the definition of brand loyalty for this review. John Wiley & Sons' Dictionary of Economics explains brand loyalty as a consistent faithfulness in the choice of a specific product over comparable products.
Companies foster such loyalty through product differentiation and salesperson activities promoting actual or imaginary attributes of the brand including price and quality (Dictionary of Economics, 1995). When looking into brand loyalty, it can broken down into two distinct parts- psychological commitment and behavioral loyalty. In recent research by Bee and Havitz, involvement, fan attraction, and psychological commitment are precursors to becoming a loyal fan.
Psychological commitment will in turn affect involvement levels of fans as well as esistance to change which then leads to behavioral loyalty. In other words, strengthening psychological commitment has the potential to indirectly increase behavioral loyalty (Bee & Havitz, 2010). The model of sports consumption incorporates many formerly studied variables into a comprehensive whole, but it does not do an adequate job in explaining the variance in consumptive behavior.
Hopefully, a new model could be proposed that explains more variance in consumption behavior and would ecome a viable vehicle for marketers and managers of sports teams to improve season ticket sales and merchandise sales (Anderson, Trail, & Fink, 2003). Scientific Research Design The two types of investigation that would be needed is a field study interviewing customers immediately after their visit to a retail establishment and an on-line survey after the computer user visited the website. In both surveys, questions regarding customer service will be asked. They would inquire as to the details that pertained to their specific opinion of that day's retail service quality.
The service quality could be questioned immediately after the persons' shopping experience; whether in person as they exited the store or on-line, which should help with their ease of recall. Questions would pertain to reliability, problem solving, and their personal interaction, as well as the store policies. Personal interaction would be determined by using a graded scale of the customer's perception of their attitude, problem solving, and overall care by the sales professional. For the on-line shopper, the questionnaire would differ.
It would ask the customer to grade the ease of the transaction and the ability to maneuver throughout the website. The software would be graded instead of a sales person. Policy would be determined by inquiring about attitudes of the consumer of in store or on-line payment methods, order timing and shipping methods, and the handling of special orders. In both types of surveys, questions would be asked pertaining to their brand loyalty in the past. The same graded scale would be used in which they would be asked of their opinion about particular brands.
Some limitations or consideration when requesting a customer to fill out a survey would be dealing with extremes. If the customer had a very good or very bad experience, they would be more willing to answer or give their opinion. If the customer had an average or expected experience in regard to customer service, they might not be as willing to give you their time or opinion. In addition, when performing the study, researcher interference needs to be taken into consideration. The personality of the direct, in-person interviewer, their mannerisms, dress, and demeanor could impact the results of the questionnaire and skew the results.
The online or email questionnaire wouldn't have the same issue since the human element is taken out of the equation. In both instances, the phrasing of the questions could lead or influence the respondent in answering in a particular way. Careful consideration will be taken into how the questions are constructed. In the first survey, opinions on product quality is limited to the customer's initial experience or even from the past. Until the product is received and the person has a chance to experience it, the quality of their answers could change dramatically.
Questioning a consumer immediately after a purchase would obtain falsely positive results due to the immediate decision to purchase thereby creating a positive illusion. Questioning the purchaser about the product in the second survey will include the following attributes: performance, features, conformance to expected norms, reliability, durability, serviceability, aesthetics, and perceived quality (Garvin, 1987). Even though this reference was from fourteen years ago, I believe it holds true today.
Due to the need for two studies: one for customer service, and one for product quality and brand loyalty, it would take a minimum of 60 days to complete. The initial questionnaire could take place within 30 days. The second survey would need time for the customer to experience the product as well as possibly wait for it to be shipped and received. In order to get a large enough number of varying retail customers, thereby being sensitive to sample size, in person questioning must be done during all times the retail business is open.
Being sensitive to special events, the weather, and specific times of the day is critical due to a variety of demographics, moods, and spending habits of customers. The survey on brand loyalty would be done in conjunction with the questioning on product quality. Questions would range from how likely would you purchase this brand again, would you prefer another brand, and if so, is it due to specific factors. Difficulties in the second study would be similar to the initial study in the extreme cases.
Highly positive and highly negative experiences could be amplified, and satisfactory or expected experiences could be muted. In addition, a lower response rate could be expected, so the sample size could be compromised. To combat this, more than expected sampling on the first questionnaire will be needed in order to obtain the necessary feedback in the future for the second questionnaire. When comparing the correlation between the customer service and product quality surveys and the brand loyalty aspect survey, one could determine if here is a correlation between customer service and brand loyalty.
Plotting results on a two dimensional graph with customer service on the vertical axis and brand loyalty on the horizontal axis would show if a pattern or correlation exists. Conclusion Reichheld proposes the idea of customer satisfaction as a trap, noting that the relationship between customer satisfaction and customer loyalty is not simply a concrete description of concrete correlation. Instead, customer loyalty reflects a long-term consumption behavior (repeat purchase) instead of momentary emotional expression.
This hypothesis states that it takes some time to create the purchasing behavior (Reichheld, 1996). Many factors in the initial survey about the customer service in that particular shopping experience will be taken into account, as well as in the follow up survey which pertains to brand loyalty and product quality. Many variables must be considered in regards to influencing perceived customer service. Comparing previous brand expectations and loyalty would be compared to current opinions. Dissecting the two should help determine if there is a correlation between customer service and brand loyalty.
Related Topics