Regression from Civilisation Into Savagery in Lord of the Flies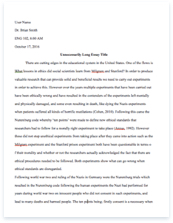 The whole doc is available only for registered users
A limited time offer! Get a custom sample essay written according to your requirements urgent 3h delivery guaranteed
Order Now
In todays modern societies, an idea of a sophisticated way of life as a proof of being civilised is widely spread. If a society does not have things such as political system, contact with other societies, rules, norms and laws, it apparently is a savage. The gap and contrast between civilisation and savagery is greatly displayed in the novel written by William Golding, Lord of the Flies. In this novel, a group of schoolboys aged from 6 to 12 finds themselves on an uninhabited island. Even though they try to continue with their habits and the way of life they lead before, most of them turn into savages soon. This process begins quite soon. After elections and voting for Ralph to be a leader, democracy seems to be established on the island. There are given some rules and instructions to be followed, but not everyone is willing to respect them. The shiniest example of breaking the rules is an older boy named Jack and his group of choristers, later hunters. Jack has problems to respect the authority from the very beginning and tries to make things on his own.
Later on, Jack is told that he always breaks the rules, but to this point Jack responds who cares. Ralphs objection the rules are the only thing weve got! is completely ignored by Jack and it seems that after this discussion he pays even less attention to rules than ever before. Jack then decides to leave Ralph and other boys and starts new tribe with his group of choristers. Without quite democratic rules as Ralph and his group had, Jacks group becomes more and more barbaric. They paint their faces with blood, dance around the fire, celebrate every slaughter of a pig, and even play hunting and slaughtering with a boy instead of a pig. This is the perfect example why the rules and laws are needed. One of the most crucial problems of becoming a savage is the absence of adults. There is nobody who would tell boys what is allowed and what is not hence they are pushing their barriers further and further. While doing anything bad, they are always aware they will not be punished. They are free to do things they would not do normally and which they would consider to be barbaric.
Influenced by these factors, their human nature is showing. Sometimes it seems that boys are even seeking for occasions and means to behave and act even more like savages. Once Jack paints his face and goes hunting. While hunting, he turns wilder than ever before, because "…the mask was a thing on its own, behind which Jack hid, liberated from shame and self-consciousness." He actually feels free to do things which please him the most without feeling guilty. If he was in civilised society he would not be allowed to have a mask of pigs blood. Jack is not expected to do things in a certain way, has no barriers and limits and obviously enjoys it. On the other side, we cannot tell that Ralphs group was not uncultivated at all. During a feast with Jacks tribe, Piggy and Ralph participate at the dance around the fire.
Then everything goes wrong when they mistake Simon for a beast. Ralph is actually killing Simon without being aware what he is doing. However, he "…was fighting to get near, to get a handful of that brown, vulnerable flesh. The desire to squeeze and hurt was over-mastering". This might mean that all people can be savage if they are given a right circumstance. The idea of becoming savage is present all over the book. Without norms and laws, people behave differently and act emotionally. If there is nothing what would discourage people from behaving in a certain way, it would result into showing up the human nature and people would become savages that they in fact are.
Related Topics