Reflection: 1984 or Shake Hands With The Devil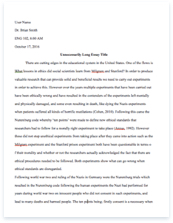 The whole doc is available only for registered users
OPEN DOC
A limited time offer! Get a custom sample essay written according to your requirements urgent 3h delivery guaranteed
Order Now
When I read George Orwell's dystopian masterpiece, "1984," I realized it was intended by its author to act as an entertaining suspense-narrative and also as a warning to future generations. The story probes deep ideas related to the influence of tyranny in human society. The motivation for Orwell's writing of the novel is due to Orwell's belief that the society imagined in "1984" was a logical possibility. The novel is, as one literary critic remarked, a "satirical novel about the future[…] a very vivid presentation of the terror that could occur in the near future" (Meyers, 1997, p. 277) and it was this aspect of the novel which struck me as the most profound. How much of it is true today? How much of it would I notice consciously? Have I already been brainwashed?
To engage readers' emotions, Orwell includes a love story in "1984." During the first part of the novel, he relies on reader identification with beloved ways of life, or freedoms, which have been obliterated from the society portrayed in the novel. The novel's protagonist lives an ugly, miserable, and unfulfilling life. "Winston Smith works at the Ministry of Truth. He slavishly produces trashy literature and revamps Big Brother's speeches to accommodate the regime's self-serving revisions of history" (Brunsdale, 2000, p. 140) but like all me, he hopes love will change his life. Orwell's strategy is to strike at different levels of psychological, emotional and intellectual response. (Orwell).
By appealing to his audience with a "holistic" narrative, Orwell hoped to show them his awareness regarding the danger of tyranny and the loss of freedom and liberty. I felt like important truths were stated in the novel in a way which would be unforgettable to anyone who read them, no matter what generation they were a part of; no matter what their social class of economic standing. Unlike many novelists who try to merely entertain, Orwell is attempting to initiate and educate his readers into terrible truths and realities involved wiht political and social power.
References
Brunsdale, M. M. (2000). Student Companion to George Orwell. Westport, CT: Greenwood Press.
Orwell, Gearge. 1984
Meyers, J. (1997). George Orwell: The Critical Heritage. London: Routledge.
Related Topics