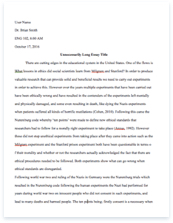 The whole doc is available only for registered users
A limited time offer! Get a custom sample essay written according to your requirements urgent 3h delivery guaranteed
Order Now
At Home
Reduce
•Plan a shopping list to prevent purchasing on impulse.
•Purchase products that will not go out of fashion quickly.
•Purchase things with less packaging.
•Purchase things in bulk quantities e.g. one large box of breakfast cereal instead of two small boxes.
•Purchase durable items that will last you a long time e.g. rechargeable battery.
•Purchase refillable items e.g. dish washing liquid.
•Borrow, share and/or hire things that you only need occasionally.
•Bring a shopping bag while shopping instead of requesting for plastic or paper bags.
•Use cloth instead of paper tissue for cleaning.
•Minimise the use of disposable items such as disposable crockery, non-rechargeable batteries etc.
•Store perishable food e.g. bread, fruits in refrigerator.
•Cook just sufficient food for meals.
•Pack breakfast or lunch in washable container instead of a one-time container.
•Write to the respective organisation/s if a few members of the family receive the same reading materials/information.
•Call the respective organisation/s to remove your address from their mailing list to prevent junk mail. Reuse
•Reuse used glass and plastic containers as receptacles.
•Reuse your old mouse pad as an insulator for placing hot containers that have just been removed from stove or oven, or as a beer mat.
•Use unwanted plastic bags to bag garbage.
•Use old clothing as rags for cleaning.
•Convert scrap paper into memo pads.
•Pass old textbooks, story books, and toys to others.
•Pass smaller size but good quality clothing to others.
•Donate good quality but unwanted items to old folks' homes, charitable organisations etc.
•Repair and recondition faulty electronic appliances to extend their useful lives.
•Clean and reuse ornaments for the next festive celebration.
•Clean and reuse washable cutlery and crockery for the next party. Recycle
•Make recycled paper at home and decorate it for use as a greeting card or wrapping paper. For more information on National Recycling Programme and condominium recycling programmes, please click here.
•Segregate recyclable items for collection by waste collectors.
•Participate in recycling programme/s and deposit recyclable items into designated recycling bins.
•Purchase recycled products.
•Purchase Green Label products. For more information on Singapore Green Labelled products, please click here. Back to Top
At School
Reduce
•Purchase more durable devices and items e.g. plastic folders instead of paper folders.
•Purchase refillable items e.g. mechanical pencils and refillable pens.
•Pin notices on notice boards instead of making copies to distribute.
•Cater sufficient drinks and food for school activities and events.
•Use refillable soap and drinks dispensers instead of providing individual packets. Reuse
•Use both sides of paper for writing, calculations and problem solving etc.
•Pass unwanted textbooks and assessment books to others.
•Donate old story books to the school library.
•Compost organic waste into soil conditioners or fertilisers for planting in the school's garden.
•Reuse plastic and glass containers as pots for planting. Recycle
•Set up a recycling programme in school. For more information on School
Recycling Corner Programme, please click here.
•Participate in your school's recycling programme.
•Purchase and use recycled products.
Back to Top
In Office
Reduce
•Use less disposable items e.g. polystyrene and paper cups and plates.
•Bring your own cutlery and coffee mug.
•Do not ask for a plastic bag if you can take the packet of food back to the office yourself.
•Make a few copies of a document to share instead of making one copy for each individual.
•Circulate written or printed memos.
•Use electronic mail to communicate or to send messages.
•Subscribe to electronic mailing list whenever possible.
•Proofread documents on screen before printing.
•Instead of using sticker labels, print addresses directly onto envelopes or use window envelopes to reduce duplicate printing of address.
•Print on both sides of paper.
•Order just adequate drinks and food for meeting, seminars, conference and events etc.
•Buy longer-lasting & useful items as corporate gifts.
Reuse
•Reuse used envelopes for sending internal mail.
•Remove old documents and reuse files for filing again.
•Use the other side of used paper for drafting, printing and taking notes etc. Recycle
•Set up a recycling programme in the office. For more information on the Office Recycling Programme, please click here.
•Participate in recycling programme/s.
•Segregate recyclable items for recycling.
Back to Top
Organisation
Inventory Management
Proper control over raw materials, intermediate products, final products and the associated waste streams. Inventory Control
•Purchase only the amount of raw materials needed for a production run or a set period of time.
•Purchase the material in the proper sized container/package to reduce waste packaging.
•Approach the supplier to see if it will take back the excess materials. Material Control
•Ensure that raw material will reach the production process without loss through spills, leaks or contamination. •Ensure that the material is efficiently handled and used in the production process and does not become waste. •Handle and manage recyclable waste like a product to prevent contamination which may reduce or eliminate any recovery potential. Production Progress Management
Improving the efficiency of a production process can significantly reduce waste generation. Operation and maintenance procedures
•Make the production processes more efficient, no matter how long these processes have been in operation. •Establish a strict maintenance programme which stresses corrective and preventive maintenance to reduce waste generation caused by equipment failure. Process equipment modification
•Install more efficient process equipment or modify existing equipment to take advantage of better production techniques.
Related Topics