Recruitment and Selection Processes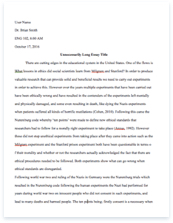 The whole doc is available only for registered users
A limited time offer! Get a custom sample essay written according to your requirements urgent 3h delivery guaranteed
Order Now
Executive summary
This report is based on a comparative evaluation of Healthcare United's 2000 Recruitment and Selection Guidelines and 2010 Recruitment and Selection Policy. During the conducted analysis a major shift in responsibilities has been identified. Most of the recruitment and selection responsibilities shifted from HR to the hiring manager role. This role shift requires the business to educate and train managers in their new responsibilities. The findings and recommendations in this report are based on 2010 Recruitment and Selection Policy, current legislation and Internet research. Additional sources have been listed in the reference list section. 1. Analysis
1.1 Vacant position analysis
The procedure for analysing vacant position needs revision and changes. According to Healthcare United 2010 Recruitment and Selection Policy, managers will assume major responsibility for the recruitment and selection of staff. The responsibility is shifted from HR to managers. The manager/supervisor should consider the following issues when undertaking a job analysis: The work and activities that will be carried out in the position The responsibilities of the position The goals and outcomes required of the position Who the position reports to and where it is located
The length of appointment (ie. continuing, fixed-term or casual). Timeframes 2000 guidelines provide an estimated timeframe of two to three days for vacant position analysis. This is reasonable considering the timeframe given for recruitment and selection should not exceed 2-3 weeks.
Personnel
Current approaches suggest a vacant or new position analysis to be conducted by the manager rather than HR.
Documentation
Questions to be considered by the manager and captured in a vacant/new position analysis form: Is the work essential to the operation of the area or could it cease? Is the function/service currently being provided by another area/s in the business? Could other staff in the organisational unit undertake the work or some of the duties? What would be the best way to structure the work? What are the budget/financial implications of recruiting, both short and long term?
Training and support
Recruiting manager and HR to work together to mutual benefit.
Monitoring and evaluation
This process to be conducted on all vacant and new positions.
1.2 Position description
Timeframes
Could be shortened from 3-5 days to 2-3 days.
Personnel
Position description responsibility shifts from HR to recruiting managers as per 2010 policy. This section in the guidelines needs to be changed.
Documentation
Position description template to be completed by manager.
When creating a position description a list of selection criteria proves useful and should consider the following: Ensure job specification is up-to-date and consistent with requirements of the job. Formulate selection criteria which are consistent with the job specifications: (ie, only includes skills, experiences, etc. that are required on a regular basis to carry out the duties of the position). Distinguish between essential criteria (those that the person must satisfy to be able to do the job) and desirable criteria (those that will help to do the job). Assess whether formal qualifications (academic, trade, etc.) are essential to the performance of the job. Ensure length of experience is essential and justifiable, for performance of the job and not set arbitrarily or based on stereotypes. Ensure there are no unnecessarily restrictive English language qualifications on jobs that do not require them. Be specific – for instance, does 'communications skills' refer to talking on the phone to customers, writing reports for management, instructing technical operators, inter-cultural skills or teamwork. Determine how criteria will be assessed: interview, referees' report, work record, testing, etc.
Training and support
Recruiting manager and senior manager to consult position description to be in line with company projects, goals, business plans, vision and expectations.
Monitoring and evaluation
Senior manager and HR to sign off position description.
1.3 Advertisement
Timeframes
As per 2000 guidelines timeframe is 20-25 working days. This needs to be reduced to 10 working days as per 2010 policy. The organisation should consider the benefits of a multi-skilled workforce, by advertising all positions internally and externally at the same time rather than consecutively.
Personnel
Recruiting manager and HR to work together.
Documentation
Advertisement to be posted internally and externally, online and in leading national newspapers as per 2010 policy. This section requires correction in the 2000 guidelines.
Training and support
People or organisations that publish or display recruitment advertisement should check advertisements are not discriminatory and, when issuing printing instructions, issue regular reminders of anti-discrimination law obligations.
Monitoring and evaluation
Advertisement needs to include the name of a contact person and ensure they have information (presented in a clear and consistent way) prepared about the position. It is prudent for anyone who is involved in recruitment to be aware of anti-discrimination laws and their effect on advertising. Federal and state legislation prohibit discrimination in recruitment advertising. As an employer or recruiter, non discriminatory advertising is their responsibility. In general, all jobs must be open to all people on the basis of merit, and only merit. It is illegal to discriminate against, or in favour of, the following attributes in employment advertising: sex disability/impairment marital status
race
age
pregnancy and potential pregnancy
political and religious belief or activity
status as a parent or carer
physical features
sexuality, such as male or female homosexuality and transsexuality industrial activity irrelevant medical or criminal record (NT only) breast-feeding (NT only)
personal association with a person who has any of these attributes
Avoid Using
Instead Use
Foreman
Foreperson
Girl Friday / Office Junior
Office Assistant
Senior / Mature
Responsible / Capable
Years of experience
Successful track record
Senior Programmer
Principal Programmer
People or organisations that publish or display recruitment advertisement should check advertisements are not discriminatory and, when issuing printing instructions, issue regular reminders of anti-discrimination law obligations.
1.4 Shortlisting
Timeframes
Recommendation is to reduce timeframe from 5 days to 2-3 days.
Personnel
Committee members or selection panel has the responsibility to review all the applications, the advertisement, the position description and any information package sent to applicants. Their responsibilities include: comparing and rating each applicant against the essential/desirable criteria. Eliminating any applicants not matching the criteria. discussing the merits of each applicant and rankings with other Committee Members and agree on the shortlisted applicants to be interviewed. Identify any further information required (eg. clarification of overseas qualifications or experience), OR that needs to be followed up at the interview additional forms of assessment, if appropriate the set of questions for interview.
Documentation
Suggestion: to use a shortlisting grid with a scale ie between 1-10 rather than 'yes', 'maybe' and 'no' piles. Procedure is acceptable. It is recommended to consider also the following aspects: Short list applicants on essential qualifications first, then on desirable qualifications, prioritising criteria and determining method first. Seek more information if necessary. The aim is to find the best person for the job. Be consistent. Document decisions made and the reasons for them.
Training and support
n/a
Monitoring and evaluation
The presiding member remain responsible for overseeing the recruitment and selection processes and ensuring that they are undertaken in accordance with the APS Values and other legislative requirements. If a committee member has a relationship outside of the immediate work environment with an applicant or is supervising, or providing information on, an applicant, care needs to be taken that there is no conflict of interest, perceived bias (negative or positive) or patronage or favouritism.
1.5 Interview preparation
Timeframes
One to two days for preparation is acceptable.
Personnel
The Presiding Member of the Selection Committee should make arrangements for the interviews. However, if required the HR Consultant/HR Officer can manage this task. If making interview arrangements: agree on a date, time and location with Selection Committee members book a suitable venue for interviews contact all applicants, arrange interview dates/times, and advise of location confirm with Selection Committee members interview dates/times and location make arrangements for additional forms of assessment if they are to be used, and follow up any additional information needed such as equivalence of overseas qualifications or experience.
Documentation
It is recommended to prepare a set of questions that assess the applicants against the selection criteria specified in the position description. Questions should test the skills, experience and knowledge required for the job: knowledge of the applicant (eg. 'Can you tell us what you understand by the terms equal employment opportunity?') experience of the applicant in carrying out tasks relevant to the criteria (eg. 'Can you tell us how you have organised a conference?') skills of the applicant (eg. testing computer skills or giving a short presentation).
Training and support
Ensure that no question is irrelevant to the position or addresses inappropriate issues such as age, disability, marital status, political/religious affiliations etc. The Selection Committee should develop interview questions at the shortlisting stage. If this is not possible, each member should draft possible questions against the selection criteria. The Selection Committee should then meet before the interviews and agree on the final questions.
Monitoring and evaluation
An interview grid should be prepared for all shortlisted applicants in the order for which the interviews will be conducted, and circulated to
Selection Committee members. This should include: the agreed questions the essential criteria tested space for notes, and
a provisional rating
Special Needs
Ensure that all interview and/or additional assessment venues are accessible for people with disabilities. If this is not possible, make arrangements for a suitable alternate venue if an applicant indicates special access needs.
Ensure suitable arrangements are made for any applicant with special needs: at the interview eg. a sign interpreter for a hearing impaired applicant OR where additional forms of assessment are to be used eg. technical aids for applicants with disabilities.
1.6 Interview applicant
Timeframes
One to two days is acceptable. Company may consider organizing assessment centers to conduct group interviews followed by individual interviews. This may allow a more effective candidate selection.
Personnel
The Presiding Member and/or Selection Committee members should: Explain the purpose and structure of the interview and that some committee members may take notes. Ensure that there is no discrimination during the interviews. Obtain sufficient information from applicants to ensure accurate decisions. Explore with applicants any features of the job considered difficult. Ask applicants if they wish to discuss matters that may not have emerged in response to core questions. Advise applicants about the timing of the decision-making and notification of the outcome of the process.
Documentation
Keep records of questions and answers. Under the Privacy Act, a job candidate can apply to see notes made about them during recruitment process. Details such as a candidate's physical appearance, their parental or carer responsibilities, a personal belief they shared during the interview process or other sensitive information should not be noted down.
Training and support
Monitoring and evaluation
During the interview the panel members should consider the following: Allow applicants to demonstrate what they can offer the organisation, not to simply confirm expectations or to see how applicants perform under pressure. Check if there is a need for any specific arrangements (eg, physical access, interpreters, etc). The selection committee is entitled to ask applicants whether they can fulfil the requirements of the job (eg, travel, work overtime, perform the physical functions) but such questions must be asked of all applicants. It is appropriate to ask people with disabilities whether they require any adjustments to perform the job. Do not ask invasive and irrelevant questions (eg, 'Do you intend to have a family?'). If necessary rephrase to gain the essential information you require and ask of all applicants (eg, 'Can you commit yourself to the organisation for two years?').
Monitoring and evaluation
Selection Panels must be satisfied that the recommended candidate meets the selection criteria and is suitable for the position. It may also be appropriate NOT to recommend any of the candidates for appointment from the interview. In such cases, the Panel Coordinator should contact Human Resources to advise of the decision and discuss alternative recruitment options.
1.7 Reference check
Timeframes
One to two days is acceptable but not realistic. Up to 5 working days should be allowed to complete.
Personnel
To be conducted by the hiring manager, not the HR department as per the new policy 2010.
Documentation
Oral reference checks must remain confidential and be recorded. Any records must be kept secure.
Training and support
Selection panel to include supporting questions to be asked during reference check: verify dates of employment verify job title verify reporting level of job
ask why the applicant left the job
ask whether the previous employer would re-employ him/her, and why ask behaviour-based or situation-based questions such as: project management skills, meeting deadlines, decision-making style, dealing with workplace conflict, dealing with difficult customers etc.
Monitoring and evaluation
A minimum of two oral reference reports must be obtained by the selection panel to confirm the preferred candidate's merits against the selection criteria, before the final selection decision is made. Reference information can only be obtained from referees nominated by the candidate. If additional information is required, the candidate must be asked to nominate additional referee/s.
1.8 Job offer
Timeframes
One to two days should be sufficient, rather than one to five days.
Personnel
Selection Committee including Presiding Member
Documentation
The Selection Committee records its decision and reasons for the applicant
selected for appointment.
Training and support
Each Selection Committee member should initially make rankings on the basis of their own notes and assessment of each applicant's performance in relation to the selection criteria. The Presiding Member should seek initial rankings from all members without discussion. Ranking differences and reasons for ranking should then be discussed, considering only relevant/appropriate information. The Selection Committee needs to agree on the applicant to be recommended for appointment. A unanimous decision is the preferred option. If a unanimous decision is not reached, a majority is acceptable. Where the vote is tied, the Presiding Member has a casting vote. Dissenting members may submit a minority report to Human Resources within 24 hours clearly explaining why the decision was not unanimous. The Selection Committee should also consider other applicants eligible for appointment and agree on an eligibility list. Provide constructive feedback to unsuccessful applicants on their performance against the selection criteria.
Monitoring and evaluation
Applicants should be ranked appointable or non-appointable based on: the written application performance at interview further evidence (eg. additional forms of assessment)
referee checks.
2. Evidence and referenced sources
Public Service Act 1999
APS Values (section 10 of the Act)
Prohibition on patronage and favouritism (section 17 of the Act) Public Service Regulations 1999 Public Service Commissioner's Directions 1999 Clause 2.14
Public Service Classification Rules 2000
Other relevant legislation
Administrative Decisions (Judicial Review) Act 1977
Age Discrimination Act 2004
Australian Human Rights Commission Act 1986
Disability Discrimination Act 1992
Fair Work Act 2009
Freedom of Information Act 1982
Privacy Act 1988
Racial Discrimination Act 1975
Sex Discrimination Act 1984
Spent Convictions Provisions in Part VIIC of the Crimes Act 1914
3. Conclusion
In conclusion, adjustments are necessary to the 2000 Recruitment and Selection Guidelines to reflect objectives in the 2010 Recruitment and Selection Policy and current legislation. Further review of legislative requirements and recommendations is recommended.
4. Recommendations
Most recommendations have been provided in the analysis section of this report. The highlights include: Train managers in their new responsibilities in the recruitment and selection process Educate HR staff on changes in their responsibilities Create a policy for a Selection Committee and appointment of Presiding Members. Review current recruitment and selection documentation so that policies, procedures, guidelines and language reflect legislative requirements.
Reference list
https://advertiser.seek.com.au/advertisers/resources/e0805_ad_guidelines.ascx
http://www.apsc.gov.au/aps-employment-policy-and-advice/recruitment-and-selection/recruitment-and-selection-in-the-aps
http://www.apsc.gov.au/publications-and-media/circulars-and-advices/2013-advices/apsc-advice-20139
https://www.humanrights.gov.au/best-practice-guidelines-recruitment-and-selection
https://www.hr.unsw.edu.au/services/recruitment/successful.html
Related Topics