Read and Review "Great Expectations" by Charles Dickens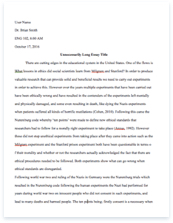 The whole doc is available only for registered users
A limited time offer! Get a custom sample essay written according to your requirements urgent 3h delivery guaranteed
Order Now
I have decided to read and review "Great Expectations" by Charles Dickens. The book is set in the late 1800's and is a story about an orphan growing up and his struggles throughout life.
My first impression of this book was that it would be a typical Charles Dickens plot, which meant a poor orphan adopted by his or her cruel and spiteful relatives. A good example in this case would be "David Copperfield." However my stereotypical thoughts proved wrong as usual and instead Great Expectations major themes revolved around love, vengeance and redemption.
The story begins in a village near the marshes where a young boy called pip leaves with his sister and her husband Joe the blacksmith. One day at the marshes Pip meets an escaped convict who demands for food, fearing for his life Pip complies and the convict leaves without any trouble. At this moment in time this meeting seems irrelevant but as the story develops we see the convict, Magwitch becoming Pips' secret benefactor.
A few weeks later a wealthy woman by the name of Miss Haversham hires Joe to play with her adopted daughter Estella. Miss Haversham was left at the altar and turned into a cold bitter woman. As a result she adopted Estella in a cold calculated manoeuvre to train her as an instrument of revenge against all men. Estella goes by this and is constantly treating Pip like dirt, looking down on him. In time Pip loses his self-esteem and feels he needs to become a gentleman. He says:
"I never thought of being ashamed of my hands before- but I now see them a very different pair."
Pips' big break comes a few weeks later when a lawyer by the name of Mr Jaggers says he is to have "great expectations" because of a secret benefactor. With his newly earned money Pip tries to become a gentleman but fails and becomes phoney and superficial. We assume this as he continues to waste money in a London club called "Finches and Grooves" even though he himself thinks that they "dine expensively…quarrel expensively and spend money frivolously."
Unfortunately for Pip his money spinning life style is short lived and his self-gratification comes to a downfall when he falls into debt. This is because his secret benefactor, Magwitch is arrested and so hence was his money and funding.
It is only now through the trails and tribulations do wee see Pip realise that a true gentleman is not only about money, but also about morals. Consequently, Pip goes into a stage of redemption whereby he apologises to Joe and his wife Biddy for his previous snobbish attitudes and even develops a real affection for Magwitch who he previously thought was nothing but a low life. This change in heart has come after we learn that Magwitch the "war mint" was betrayed by an ex-criminal partner- "Compeyson" thus making him take the brunt of the blame. After we hear this not only does the reader feel remorse and pity for convict but so does Pip. He alongside another a fellow called Herbert attempt to help Magwitch escape via sea; unfortunately for the convict the escape is unsuccessful and he dies from the resulting injuries.
Following Pips tragic loss he returns to the marshes and reunites with Estella. Both of them talk and realise that their lives have changed dramatically- Pip with his bankruptcy and loss of friend and benefactor, Abel Magwitch while Estella has emerged a more compassionate person after her violent relationship with former husband Bentley Drummle.
And so the story finishes with Estella and Pip reuniting as friends but nothing more. Both of them have learned to appreciate people for what they are and not shun them for what their not. From this novel Dickens has taught as an important lesson; you can't get something from nothing are in this case revenge hurts you as much it hurt others. This is reflected when Miss Haversham is left heartbroken because Estella says she cannot love her as she herself never received any. She says:
"I am what you have made me."
In conclusion, I thought this was a very well written book, although at times the plot was a bit too complex. Love was the backbone of the novel with a touch of mystery by its side. This book was so engrossing simply because both plot and character had such depth- I would recommend it to anyone.
Related Topics