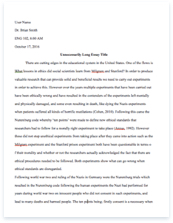 The whole doc is available only for registered users
A limited time offer! Get a custom sample essay written according to your requirements urgent 3h delivery guaranteed
Order Now
Describe the main purpose of public health reports and the role of the organisations that may use them (P3). There were many reasons for inequalities in health in the UK. Although some parts of the country have poorer health records than others, this is linked to poverty rather than geography. Differences between the poorest and richest parts of Glasgow are greater than average differences between Scotland and South-East England. Black Report 1980:
There were significant differences in life expectancy of at least 10 years between different groups in society. Those that were living in poverty generally had poorer life chances and poorer health because of lower living standards, including poor housing and poor diet. Those in lower paid, unskilled jobs have a greater risk of accidents at work and can suffer from stress linked to unemployment. Professionals enjoy healthier lifestyles, not just because they have a better standard of living but also because they are more likely to be aware of health issues than unskilled workers. Similarly, women are more aware of health issues and more likely to consult doctors than men. As a result, women appear to have higher sickness rates than men, but this may reflect the fact that more male ill health is unreported. Evidence of these health inequalities were published the Black Report (1980) and other reports such as; Acheson Report 1998:
Sir Donald Acheson's report highlights a range of areas where health inequalities could be reduced. The report calls for an increase in benefit levels for women of childbearing age, expectant mothers, young children and older people. It says poverty has a disproportionate effect on children. In the mid-1990s, around a quarter of people in the UK were living below the poverty level. But among children, the figure was one in three. The report says children under two are more expensive to look after than older children, but Income Support levels do not reflect this. It says benefits underestimate the cost of providing a basic standard of living for single parents. And it states that many people on low incomes do not have enough money to buy the items and services necessary for good health, meaning that money for food is often used to meet emergencies.
Mothers are sometimes forced to go without food as a result. The report says many pregnant women on Income Support have inadequate diets, especially single women under 25. The report calls for more funding for schools in deprived areas, better nutrition at schools and "health promoting schools". These promote health through the curriculum, for example, by teaching children not just about cooking, but also about budgeting for food. From this report I have found other reports such as Saving Our Lives Our Healthier Nation which explains about good health. Saving Our Lives Our Healthier Nation 1999:
Saving lives: Our Healthier Nation is an action plan to tackle poor health. We want to: improve the health of everyone and the health of the worst off in particular.
Good health is fundamental to all our lives. But too many people are ill for much of their lives
Die too young from preventable illness.
"…We are putting forward the first comprehensive Government plan focused on the main killers: cancer, coronary heart disease and stroke, accidents, mental illness.' England is a rich country – rich in its people, rich in its resources, rich in innovation, rich in its values, rich in its history, rich in its future. Yet in this rich country, not everyone has an equal chance of healthy life. Too many people suffer from poor health. Too many people are ill for much of their lives. Too many people die too young from preventable disease" (Department of Health, 1999). There is also the Tackling Health Inequalities a Programme for Action that talk about poor health and how to improve health for people from deprived communities. Tackling Health Inequalities a Programme for Action 2003:
Over the last 50 years, there have been impressive social economic and health improvements in this country. People from every class and region are healthier and living longer than ever before. Unfortunately, not everyone is able to share the benefits of these improvements. It is essential that everyone is empowered and encouraged to do so. Health inequalities are unacceptable. They start early in life and persist not only into old age but subsequent generations. Tackling health inequalities is a top priority for this Government, and it is focused on narrowing the health gap between
disadvantaged groups, communities and the rest of the country, and on improving health overall. Another report such as Choosing Health links in with the other reports I have mentioned as it explains poor health. Choosing Health 2004
Many people in England are unhealthy. The Government listened to what people said they want from the Government to help them to be healthier. The government has made plans saying what it is going to do to help people be healthier. The most important things the government will do to help people be healthier are: Make it easier for people to choose healthy lives. The government will do things like give people good information about health so they can make good choices. Help children and young people to be healthy. The government will do things like work with schools to help children be healthier. Help local communities to help people be healthier. The government will do things like looking at stopping people from smoking in most public places and most work places. This will mean people won't have to breathe in other peoples smoke. Make health a way of life. The government will do things like give people the chance to have a health guide who will give help and advice on being healthy. Support the National Health Service (NHS) to help people be healthier. The government will do things like train staff to give people advice on being healthy. Help people be healthier at work. The government will do things like make working conditions better. This is things like making sure people get enough holiday days off work. National statistics (Online):
Department of Health statistics
The Department of Health (DH) publishes annual statistics on abortion for England and Wales, and annual summary statistics on hospital estates and facilities services. DH also publishes one off and time limited statistics as needed. These statistics are used to inform debate, decision making and research both within government and by the wider community. Statistics are also published annually for hospital estates and facilities services. Office for national statistics
The office for national statistics looks at statistics on the economy, crime and justice, agriculture and lots more. In the UK, males and females can expect to spend more than 80 per cent of their lives in very good or good general health from birth, falling to around 57 per cent at age 65. Males and females in England can expect to spend the longest periods in very good or good general health and free from a limiting persistent illness or disability. The shortest periods are in Scotland and Northern Ireland. Health and Safety Executive statistics
The health and safety executive statistics not only looks at health and social care but agriculture, construction, manufacturing and much more. Self-reported injuries in the health and social care sector have generally declined over the past decade whilst RIDDOR reported injuries have increased. There is no measurable trend in the rate of work-related ill-health, which has remained largely flat. The latest results show that about five million lost working days (1.78 days per worker) due to self-reported work-related illness and injury. Around 90% of this was illness related. (LFS); This is one of the highest numbers of working days lost per worker in any sector and higher than the average of 0.98 days per worker for all industries (LFS). Birth and Death figures
The birth and death figures looks at how many people are being born and how many people are dying each year. They look to see how many people have died and then look at how many people are being born so they can look at the number of people to see if we have enough services and school in place for that number of people. For example, college will have to look at the birth rates to see how many people may come to college when they turn 16 to see if they have enough places. The same goes for hospitals and doctors services as they may need to build new hospitals. Also the Birth rates can be looked at in regions and see which region has the most birth rates and why. This may be caused by a lack of promoting of safe sex and there might be rates of people that are underage giving birth. Hospital Admissions
Hospital Episode Statistics (HES) processes over 125 million admitted patient, outpatient and accident and emergency records each year. HES are a data warehouse containing details of all admissions, outpatient appointments and A&E attendances at NHS hospitals in England. In the Blackpool report it shows that there was a number of 1570 people a year that stayed in hospital for drunken related problems. in the Kensington and Chelsea report it shows that there were 592 people a year that was in hospital for drunken related problems. This shows that Blackpool is a more deprived county than Kensington and Chelsea. National Census
Every ten years since 1801 the nation has set aside one day for the census – a count of all people and households. It is the most complete source of information about the population that we have. The latest census was held on Sunday 27 March 2011. Every effort is made to include everyone, and that is why the census is so important. It is the only survey which provides a detailed picture of the entire population, and is unique because it covers everyone at the same time and asks the same core questions everywhere. This makes it easy to compare different parts of the country. The information the census provides allows central and local government, health authorities and many other organisations to target their resources more effectively and to plan housing, education, health and transport services for years to come. In England and Wales, the census is planned and carried out by the Office for National Statistics. Elsewhere in the UK, responsibility lies with the National Records of Scotland and the Northern Ireland Statistics and Research Agency. Blackpool Report and the Kensington and Chelsea report
The health of people in Blackpool is generally worse than the England average. Deprivation is higher than average and about 31.3% (8,300) children live in poverty. Life expectancy for both men and women is lower than the England average. In the Blackpool report it shows us that Blackpool is a deprived area as there Is a number of 8265 children under the age of 16 that are living in poverty. Also that there is a number of 2020 people a year that have acute sexually transmitted infections. This shows that work needs to be done throughout Blackpool to stop this from happening. For example, an increase in promotion of safe sex around Blackpool and a rise in the number of sexual health clinics all around the Blackpool area.
By doing this, this will help try and stop the amount of sexual transmitted infections there are a year. Where as the Kensington and Chelsea report shows that there is 4860 children under the age of 16 that are living in poverty. Although this is still bad it is nearly half of the amount that are living in Blackpool. Also Kensington and Chelsea have a number of 2615 people per year that have acute sexually transmitted infections. This is a lot higher than Blackpool and shows that work also needs to be done throughout Kensington and Chelsea to stop sexual infections from spreading. Ideas such as promotion of safe sex throughout schools and colleges to help stop infections spreading.
References:
The Black Report (1980). Inequalities in Health. (2014)
http://www.bbc.co.uk/bitesize/higher/modern/uksociety/health/revision/1/ (accessed on the 06/10/14) Acheson Report (1998). Health, the Acheson Report Up Close (2014) http://news.bbc.co.uk/1/hi/health/222649.stm (accessed on the 06/10/14) Department of Health. (1999). Saving Lives: our Healthier Nation. London Stationary office. Tackling Health Inequalities a Programme for Action (2003). Inequalities in Health. (2014) http://webarchive.nationalarchives.gov.uk/+/http://dh.gov.uk/en/publichealth/healthinequalities/index.htm (accessed on the 06/10/14)
Department of Health (1999). Choosing health (2004). London Stationary Office. http://www.thh.nhs.uk/documents/_Patients/PatientLeaflets/general/Choosing_Health-EasyRead-DoH.pdf Department of Health (1999). Statistics at DH. London stationary Office. Office for national statistics 2011 census
http://www.ons.gov.uk/ons/rel/disability-and-health-measurement/health-expectancies-at-birth-and-age-65-in-the-united-kingdom/2008-10/index.html (accessed on the 06/10/14) Health and safety executive statistics
http://www.hse.gov.uk/statistics/industry/healthservices/index.htm (accessed on the 06/10/14) National census, the office for national statistics
http://www.ons.gov.uk/ons/guide-method/census/2011/how-our-census-works/about-censuses/what-is-a-census-/index.html (accessed on the 27/10/14) Blackpool and the Kensington and Chelsea reports
http://vle.furness.ac.uk/pluginfile.php/14449/mod_resource/content/1/HealthPro
file2014KensingtonandChelsea00AW-1.pdf http://vle.furness.ac.uk/pluginfile.php/14450/mod_resource/content/1/HealthProfile2014Blackpool00EY-1.pdf (accessed on the 27/10/14)
Related Topics