Pros and Cons of Integration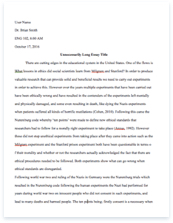 The whole doc is available only for registered users
Pages: 2
Word count: 417
Category: Racism
A limited time offer! Get a custom sample essay written according to your requirements urgent 3h delivery guaranteed
Order Now
Integration among Central High was a good thing and there were many pro's about the Little Rock Nine attempting to attend this school. By doing this, a baby step was being taken towards complete integration. As a little girl, Melba had to face a lot of integration between whites and blacks. She asked questions like, "why do the white people write 'Colored' on all the ugly drinking fountains, the dingy restrooms and the back of the busses"(3)? Integration among Central high was a start to improving this racist society. Central was the best high school in the area and originally, only white people were admitted there.
A pro to African Americans going there would be them being allowed to get the best education they could. It would mean equal education between whites and blacks. The Little Rock Nine was a very smart group, and Melba explained that, "each of us planned to go to college"(27). The Little Rock Nine was just as smart and capable as many white students, they just needed to gain equal education. Thankfully, the federal troops get sent in to protect the Little Rock Nine form as much harm as they can. Its makes Melba, "proud that I lived in a country that would go this far to bring justice to a Little Rock girl like me"(95). The main pro of going the Little Rock Nine attending Central High, was that they were taking a baby step to gaining equality for their race.
Although there were pro's to the Little Rock Nine attending Central High, there were con's that they faced as well. The Little Rock nine faced many kinds of bullies from the school jocks to angry whites who drove from other states just to create an angry mob that terrorized the group whenever they got the chance. Melba recalls that, "some of the white people raised their fists to us. Others shouted ugly words"(94).
The whole situation also brings a lot of unwanted attention to the families of the Little Rock Nine. Every day when Melba was on her way back from school she was met by tons of reporters whom she did not want to talk to. Melba's family also received many intimidating phone calls from angry whites. One white male called her and said, "Melba, nigger, I know where you live . . . Twelfth and Cross. We gonna get you tonight"(46).Scary people like this forced Melba's family to constantly be on the watch.
Related Topics