Pros and Cons of Computers in the Classroom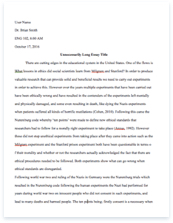 The whole doc is available only for registered users
A limited time offer! Get a custom sample essay written according to your requirements urgent 3h delivery guaranteed
Order Now
Computers in the classroom are extremely beneficial in adding to an already large curriculum in each grade level.  Teachers are expected to met strict academic standards and guidelines to allow each student to move forward to the next grade.  Without the aid of outside resources, many students will fall behind and the learning process will be unevenly balanced with too much attention paid to the struggling students.  Computers can serve as this aid.  Conversely, the warmth and compassion that is needed in the classroom is replaced by computers.  These are the main arguments for and against the use of computers in schools, but there are more and much research has been done into each the positive and negative connotations of computers.
As stated in the introduction, computers can serve as a tutor for children.  Many parents cannot afford to hire outside help and teachers do not have the time.  Programs can be used to fit each students level and help them move along to catch up with others in a fun and easy format.  Students may, also, realize their creativity in Information Technology and other areas that games and other programs introduce.  In a digital age, there is a form of innovation and study that can only be learned through the use of computers and not in the traditional classroom.  These benefits will help each student through the course of their studies and in turn, their careers.
Teachers must look at not only the rewards, but the pitfalls of putting too much power in computer-assisted programs.  Students need human interaction and computers could interfere with the actions and reactions needed in interpersonal relationships to help with socialization.  Technology should not replace traditional teaching, it should merely be an aid for this reason.  Additionally, with the aid of computers, the thinking process of students can be stifled, as information is readily available and almost seamless.  This could have a negative effect on problem-solving and decision-making, as students come the realize that technology can solve all problems and retrieve all needed information.
References
Wehrle, R. (1998). Computers in education: The pros and the cons. Retrieved on February 18, 2003 http://www.edweek.org/sreports/tc98/intro/in-n.html
Related Topics