Promote Good Practice In Handling Information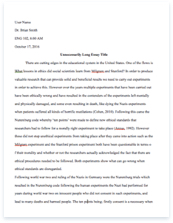 The whole doc is available only for registered users
A limited time offer! Get a custom sample essay written according to your requirements urgent 3h delivery guaranteed
Order Now
1. Understand requirements for handling information in health and social-care settings.
1.1 Identify legislation and codes of practice that relate to handling information in health and social care.
All staff need to make sure that confidentiality is paramount. Staff have to read and understand the Data Protection Act of 1998. They have to make sure that they are clear about their standards of conduct, that they are expected to meet. We are encouraged to use the codes of conduct to maintain our own practice is good and we need to look at any areas where we can improve on. The Human Rights Act 1998 details the right to a private life. There is also the GSCC code of practice for social care workers, which provides a clear guide for all those who work in social work, setting out the standards of practice and conduct workers and their employers should meet with regards the handling of information.
1.2 Summarise the main points of legal requirements and codes of practice for handling information in health and social care.
The following are current legislation and codes of practice that relate to handling information in health and social care. They also summarise the main points of legal requirements for handling information.
• THE DATA PROTECTION ACT 1998 – The Data Protection Act 1998 is a piece of legislation which defines the law on processing data of people living within the United Kingdom. The Data Protection Act 1998 is set out in eight principles: 1. Personal data must be processed fairly and lawfully.
2. Personal data must only be obtained for the specific purpose and purpose given. 3. All personal data is adequate, relevant and not excessive in relation to the purpose/purposes for which they are processed. 4. All personal data must be accurate and kept up to date.
5. All personal data must not be kept for any longer than is necessary. 6. All personal data is processed in accordance with the subject's rights. They have the rights to have data about themselves removed. 7. All personal data must be kept secure at all times.
8. Any personal data must not be transferred to any countries or territories outside of the European Economic Area (EEA) without adequate protection.
• THE FREEDOM OF INFORMATION ACT 2000 – The Freedom of Information act 2000 creates the 'right of access' to the public of general information help by public authorities, local authorities and the National Health Service. Personal data cannot be accessed as this is protected by the Data Protection Act 1998. The full provisions for The Freedom of Information Act 2000 came into force in January 2005.
2. Be able to implement good practice in handling information.
1.1 Describe features of manual and electronic information storage systems that help ensure security.
Ensure sensitive and private information is kept in secure/locked drawers or cabinets when not in use. Electronic databases should be protected by adequate spy and virus software. Electronic files should be password protected.
Information pertaining to individuals should only be shared on a 'need to know' basis.
2.2 Demonstrate practices that ensure security when storing and accessing information.
There are many reasons for making sure that records / documents / information are kept securely. The contents of the records may contain: · Personal or confidential information.
· Sensitive or commercial information, for instance financial data.
There is also a need to ensure:
· That data / information is not changed (either accidentally or purposefully) · That data / information should be protected against loss and that if it is lost, that there is some backup or copy. · That data / information should be protected against loss in transit, and against the danger of falling into the wrong hands. · That the authenticity and integrity of the information should be maintained, in case it is needed as evidence.
Ways of ensuring this will include:
· Maintaining and preserving the records.
· Controlling the accessibility of the records.
· Controlling the way that records are transferred or sent to third parties.
· Ensuring that records are kept in the best location for the purpose, whether electronic or physical.
2.3 Maintain records that are up to date, complete, accurate and legible.
It is important to keep records which are up to date to provide accurate, current, comprehensive and concise information concerning the condition and the care required for all individuals. All records which are produced weather written or electronic must be signed and dated; they must also be stored correctly in accordance with that data protection act 1998. It is vital that records are kept up to date, as this ensures that the individual's needs are being met, and may also help to reduce the likelihood of abuse. If an organisation failed to keep up to date records about their service users then this could lead to serious concerns being raised and could also lead to their company reputation being damaged. Service users must be involved and informed about any changes made within their personal records and care plan files; this may also include medical or social service records.
Effective record keeping by health care workers can also ensure that a high standard of health and social care is being provided within the working environment; all information written in files must be clear and relevant and must never be discussed outside of a working environment as this would again breach the customer confidentiality law, the law also states that if it's not written down, then it never happened, so this is yet another reason as to why it is so important to keep up to date records, regarding an individual's general health and well-being. All information recorded must legible and written in black ink, your manager would also be the person in charge, who would decide strictly on a need to know basis, weather an individual's information would be shared or not.
3. Be able to support others to handle information.
1.1 Support others to understand the need for secure handling of information.
The secure handling of information in an organization is often vital. In health care settings there are numerous regulations imposed to safeguard the integrity and security of data. To support new employees on this vital task during orientation the policies and procedures should be gone over as well as examples scenarios to help drive home to topic.
3.2 Support others to understand and contribute to records.
Explain to new colleagues…always maintain the right of the client/patient…comply with legislation. Instil public confidence…ensure information is accessible for those who need to access….ways of sharing information Report/handover
Related Topics