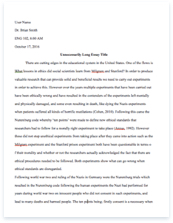 The whole doc is available only for registered users
A limited time offer! Get a custom sample essay written according to your requirements urgent 3h delivery guaranteed
Order Now
1. How should Print up think about the segmentation of potential Metabical offers to position itself in the marketplace? Who is the optimal target customer?
Print up should take into consideration the individuals who have different goals towards losing weight, since not everyone have the same reason to lose weight, some are moved by the health risk and others just to look good. Furthermore, the willingness and ability to pay for the product should be considered to identify the optimal target market. After the data was studied, the optimal target consumer should be overweight women (25 to 30), ages 35 to 65, who are college educated since this group takes care more about their health and visit the doctor with frequency.
2. How should CSP identify and employ the differential advantages that Metabical offers to position itself in the marketplace?
Since Metabical will be proven to have better results than any other product in the market along with less dangerous side effects, it will be easier to be differentiated from its competitors. It needs to be positioned as a quality product, backed up by the FDA. Then it would be perceived as a luxury type of product that will help individuals who struggle to lose weight to feel and look better. For a successful communication strategy, CSP has to focus on the individual and the physician, for the first group, a celebrity spokesperson should be used since they have power over the audience for being known and trusted. Furthermore, the message should highlight the importance of being healthy and having a better life. In the case of physicians, they should be aware at all times that the drug Is FDA approved, therefore trusted to be used by his or her patients. The majority of effort should be invested in the marketing directed to consumer.
3. Given the positioning strategy you chose, what would be your communications strategy to each of your target audiences? Would you change the marketing budget or the IMC mix? If so, how? What would the timeline for your communications plan look like?
Our target audiences can be mainly divided into two parts which are the end consumers and the health care providers. In terms of communication strategy and IMC mix, we need to be advertising, promotion and public relations to communicate with the target audiences and make them aware of Metabical and promote the image of Metabical. We should set the database of our target audiences including the consuming attitude towards Metabical. Decide when, where how to interact and communicate with target audiences so that we could have consumers get more information of Metabical. Besides , we should set certain marketing objective which ought to be digitalized. As far as the end consumers (the patients)are concerned, the strategy includes a DTC television, online, radio and print media blitz to firstly establish the Metabical name. Maybe a well-known celebrity who have struggled with his/her weight will show on the DTC ads, and market budget should be dedicated to DTC advertising,which will give the end consumers the following information:
1. Metabical and health care provider will start you on the road to a healthy weight and better life. 2. Metabical enables to help you discover a happier and more attractive you.
It's time to get healthy—Metabical can help you. The promotion is about some campaigns, for instance: to develop a viral marketing campaign, it could be an online contest in which Metabical users would have the chance to see who could reduce their BMI by the highest percentage. When it comes to the health care providers, we ought to print ads in leading medical publications and interactive ads adjacent to online physician-resource information to raise awareness about the drug and its benefits. The advertising concepts aimed at the health care providers are:
1. Metabical is a clinically proven wight-loss drug.
2. You can introduce Metabical when overweight patients dying for your help.
3. Short-term drug therapy and comprehensive support program for overweight patients can get results.
In order to get promotion, a direct mail campaign is necessary, which includes an informational pamphlet about the drug and a reply card offering a sample of the support program. For both target segments, public relations mean some well-timed pre-launch and at-launch press releases and two high-profile medical education events and a series of podcasts aimed at physicians.
Related Topics