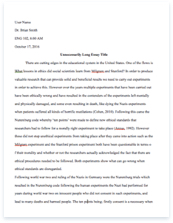 The whole doc is available only for registered users
A limited time offer! Get a custom sample essay written according to your requirements urgent 3h delivery guaranteed
Order Now
Throughout this assignment the essential underpinning principles of the nursing assessment process exploring what it is, why we do it and what factors influence the nursing process will be discussed. Also discussed in this paper will be the holistic aspects of the assessment process as well as an example of an assessment tool I used on a recent placement. I will explore the effectiveness of my assessment and highlight the disadvantages which I came across. Are the principles for assessment really the foundation of good practice?
The nursing process is unique, as is the nurse – patient relationship (Holland et al 2003). The Roper et al (1996) model for nursing, offers a framework for nurses to be able to ensure that individuality is taken into account when undertaking nursing care. In order to ensure that all aspects of an individual's life are integrated into an effective plan of care, Roper at al (1996) uses a problem solving approach and the nursing process in conjunction with their model for nursing.
The nursing process is a systematic approach to planning and delivering nursing care. Yura and Walsh (1998) identified four main stages of the nursing process, assessment, planning, implementation and evaluation. However for the purpose of this assignment I will be focusing on the principles of assessment.
As stated above, assessment is the first part of the nursing process and is about collecting data or information involving the patient or client and their family or carers. In all health care settings, assessment is defined as 'the gathering of information and formulation of judgments regarding personal health' (Heath 2000 pg 23-24)
Mallet and Dougherty (2000) suggest that the initial stage of the assessment allows the nurse to gather base line of information, which will be used to compare new and ever changing data. There are two types of data which can be gathered during this stage. The data can either be objective, meaning the data collected is observable and also measurable for example, the patient's temperature, body weight or blood pressure. The other data is that of subjective, which is what the patient feels and can describe for instance pain, nausea and anxiety (Timby 2003). There are also two sources from which information can be gathered that is the primary source, which is the patient, and then there are secondary sources such as relatives, carers and health records (Roper at al 2002).Roper (2000) points out that health data is vital to ensure effective assessment of nursing needs. The data required can be collected in many ways as mentioned above, but whatever data is obtained it is essential that the nurse ensured that they are kept confidential in keeping with their professional code of conduct and that any recorded data are protected (Data Protection Act 1988)
An assessment is usually carried out when the nurse first meets a patient. (Walsh 2002). Assessment may be carried out on a daily basis to check the relevance of the care plan and to identify whether there is improvement or deteration in the patient. Assessment is usually carried out before a patient is discharged from the hospital to identify whether there is a need to continue care when the patient is in their own environment. This may be a joint assessment which involves other members of the multi disciplinary team, such as district nurses. With a holistic individualised assessment the nurse can give the patient care based on their specific needs inside and outside of hospital (Brykczynska and Jolley 1995).
Observations and interview are two key methods of obtaining information when assessing. Walsh (2002) suggests that whilst carrying out observations and interviews a variety of methods should be used to ensure that the assessment is successful. It is here that a framework, such as the Roper – Logan – Tierney model for nursing is an essential tool.
Nursing assessments are carried out for many reasons. They are mainly carried out to support the nurse to ensure that the patient receives the right care which assists a speedy recovery and help prevent reoccurrence of the problem, which will result in the patient not requiring a hospital bed and therefore freeing it for another patient. Roper (1980) makes it clear that nursing is concentrated on helping people to cope and adjust with problems. The ongoing assessment of a patient can determine whether a patient's dependence or independence is affected when carrying out activities. Alexander et al (2003) suggest that assessment should be used as a framework when in a practice setting. Wright (1990) agrees by stating that assessment is a helpful tool.
When carrying out assessments the nurse needs to take a holistic approach which requires the nurse to look at the whole picture when assessing, taking into account, not only the patient's problem but their overall lifestyle and how they will cope after they have been discharged home. Any approach to health care that emphasizes the patient's total well-being, including psychological, social and spiritual as well as physical aspects is considered to be holistic (Yura et al 1998).
There are many factors which influence the assessment process. Such factors include communication and environmental Mallet, et al (2000). All these factors can have an effect on the assessment process and may hinder the outcome of the patients care. Verbal and non verbal communication may effect the assessment process such as if a patient is deaf or has a speech impairment an important aspect may be missed, for example, if a nurse misunderstands what the patient is saying, they may provide inadequate or the wrong care resulting in a prolonged recovery time . The environment may also affect the outcome of the nursing assessment; this may be due to a patient not feeling that they can confide in the nursing staff over certain aspects as other people may hear what they are saying. If any factor hinders the information the nurse obtains from the patient it may result in the patient requiring to stay hospitalised for a longer time than required.
The Waterlow pressure sore prevention scale will be the tool that will be focused upon and applied to a chosen patient. The chosen patient that was assessed using the Waterlow pressure score will be discussed, and to maintain confidentiality and act in accordance with the NMC Code of Conduct (2004) will be refered to as Mr Jones. Mr Jones was a 70 year old male patient who was admitted with a variety of potential problems. This gentleman came into hospital with complaints of right iliac fossa pain for 3 days. His medical history consisted of Chronic Obstructive Pulmonary Disease, Increased shortness of breath and has had an above the knee amputation to his left leg 3 weeks prior to his admission. He lives alone and has refused home help in the past. This gentleman was underweight and appeared malnourished.
The Waterlow tool provides a significant amount of detail about the chances of ulcer development. The scoring system of the Waterlow scale works in a way where the higher the patient scores the greater risk of developing pressure ulcers (Hinchcliff et al 2003). A patient is deemed 'at risk' if the score is between 10 and14, at 'high risk' if their score is between 15 and 19; and 'very high risk' if their score is 20 or above. This score was achieved by following the ten stages of the Waterlow tool. At each step point are allocated which are based upon both subjective and objective data. The areas assessed included the patient's weight, skin type, visual risk areas, mobility, sex, age, appetite, tissue malnutrition, neurological deficit, major surgery, trauma and medication (Mallett and Bailey 2000).
The first part of the Waterlow assessment is based upon the build and weight of the patient in relation to their height. As Mr Jones had a loss in appetite and was malnourished he was below average in weight. To determine what Mr Jones would score in this section his Body Mass Index (BMI) was calculated. This was achieved by dividing the persons body weight by their height and the score obtained can determine whether a person is obese, underweight or in the desirable ranges. As Mr Jones BMI was below the desirable ranges then his build was determined as below average and for this section of the Waterlow assessment he received a score of three. The build and weight assessment is necessary in the risk assessment of developing a pressure sore (Torrance 1993).The characteristics of certain people can effect the pressure distribution over the body surface so putting a very thin or obese patients at risk of developing a pressure sore (Simpson et al 1996).
The next section in the Waterlow assessment is for assessment of the patient's continence, this is important as incontinence is a proven factor in the developing of a pressure sore (Dealey 1997). The association of incontinence with pressure sore development was suggested by Kelly (1994) and the risk of developing a pressure sore was five times more likely in the presence of even a slight amount of moisture. As Mr Jones did not suffer from urinary incontinence he was not at risk of developing a pressure sore in relation to this factor therefore scored zero.
The next part of the Waterlow assessment is concerned with the patient's skin type and any visual risk areas. This section contains seven factors which have different scores. These factors include healthy, tissue paper, dry, clammy, broken, discoloured and oedematous. Mr Jones's skin was assessed as healthy so he scored zero in this section. The assessment of the skin is imperative in the risk assessment of the developing of a pressure sore for many reasons. Bader (1990) suggests that the main reason the skin is assessed is that the skin performs many functions and damage to the skin can ultimately lead to a pressure sore so the appropriate nursing intervention needs to be determined upon observation of any visual risk areas or anything not considered healthy.
The next part of the Waterlow assessment is mobility, which is broken down into six different factors including, fully, restricted, apathetic, restricted, inert and chair bound. Each section has a different score. As Mr Jones has a limb amputation and uses two walking sticks, he scored three points as his mobility was restricted and this put him at a higher risk of pressure damage. This is because the bodies own defence, which is to shift the weight, as needed when asleep or awake is compromised (Dealey 1997).
As Mr Jones was 70 years of age and male he gained four points in the assessment section of sex and age. In this section of the Waterlow assessment, the patient's age and gender is scored. If the patient is male they score one point and if they are female they score two points. Age is broken down into five sections, 14-49, 50 – 64, 65 -74, 75-80 and 80+. The older the patent is the higher their score. This stage plays an important part in the Waterlow assessment, as it is a widely researched and supported theory that elderly people are more at risk of developing pressure sores for many reasons. Timby (2003) states that due to the natural aging process the skin loses elasticity, subcutaneous fat and muscle atrophy. This means that they are less likely to have protection over bony prominences leading to more intense pressure in these and so therefore an increased risk of pressure sore development (Simpson et al 1996)
Due to the patient's recent loss of appetite it was fair to describe upon assessment that his appetite was 'poor'. And for this he scored one in the section relating to appetite on the Waterlow scale. There are four sections in this part of the assessment which are, average, poor, fluids only/ NG tube and NBM/ Anorexic. The less food which the patient is having the higher the score. The importance of the assessment of appetite relates to the patients nutritional state and if the patient is at risk of malnutrition then they are ultimately at risk of developing a pressure sore. (Simpson et al 1996).
The Waterlow scale contains a special risk section that is concerned with any previous medical problems the patient may have that would increase their likelihood of developing a pressure sore. The medical problems that the first special risk section is concerned with are any circulatory problems that the patient may have. As Mr Jones did not suffer with any circulatory problems he scored zero points. Kelly (1994) argues that medical conditions such as anaemia or smoking are predisposing factors in developing pressure sores as the blood supply to the skin tissue is compromised, and so increases the risk of ischemic tissue developing leading to a pressure sore.
Neurological deficits are a necessary assessment in the Waterlow assessment as any neurological deficit and the link with developing pressure sores is widely recognised. An example of a neurological deficit would be if the patient had suffered from a stroke and the result was a weakness down one side of the body. The patient with this deficit would have an altered appreciation of pain and altered response to stimuli such as continuous pressure on the skin and the likelihood of pressure damage to the skin would increase. As Mr Jones was assessed as not having a neurological deficit then he scored zero in this section.
In the next part of the Waterlow assessment surgery and trauma are taken into account. If the patient has undergone major surgery which was below the waist they score five points. As Mr Jones had recently undergone major surgery to his left leg three weeks ago he scored five. This is necessary to assess as any restriction in the mobility of patients can put them at risk of a pressure sore as they are unable to shift their own body effectively to relieve the pressure on the skin and so therefore they would increase the risk of pressure damage to the skin leading to a pressure sore.
The final part of the Waterlow assessment is related to any specific medications the patient may be taking that may increase the risk of them developing a pressure sore. As Mr Jones is not taking any medication he scored a zero in this section.
On admission the patient had scored 16 on the Waterlow scale, which meant that they were at risk of developing ulcers. Due to the score it was obvious that an intervention was required. It is vital to implement a plan of care once a patient had been identified as being at risk, this should be done as soon as possible (Bonomimi 2003). I found the Waterlow assessment scale very beneficial to myself as it aided me to assess Mr Jones effectively and put together an effective plan of care.
The Waterlow assessment tool is an important piece of the assessment process as it clearly highlights the individual factors that can and will contribute to the formation of ulcers. Information gathered using this tool can be used to formulate an effective care plan. One thing that must be remembered is that if assessment is going to benefit the patient it must be an ongoing process and not just a one off. Wardman (1991) backs this up by stating that a patient's care needs to be re-assessed and must be an ongoing process.
It can be clearly seen that the risk assessment such as the one discussed plays and integral part in the development and implementation of individual holistic care. Despite the popularity of the Waterlow scale there has been little assessment of its reliability or validity (Bridel 1993, Smith et al 1995). The Waterlow scale has been criticised by many authors, stating that it was sometimes difficult to process the data, as it is too subjective and hard to understand (Smith 1995). This is reflected by Hamilton (1992), who states that the Waterlow and selection of other scales may not have been scrutinised as in terms of their validity and reliability. Milward (1993) suggests that this type of scoring system is mostly dependant on the subjective judgments of the assessing nurse, this leads to many discrepancies between individual nurses which highlights limitations as foolproof tool. Walsh (2002) advises that before any scale us used it is important that the nurse must firstly understand the origins of the scale as well as whether it is applicable to their particular client group.
So to conclude assessing patient is an essential nursing skill and crucial to meeting the patients needs. Assessment is the initial stage of the nursing process and prevents the opportunity to reflect the patient's anxieties and views about their need for nursing care.
When carrying out an assessment it will be the first time the nurse meets the patient so it is clearly significant to develop a trusting connection from the beginning. This means the nurse needs to have admirable interpersonal and communication skills. Subjective and objective data may be exposed by assessment. To assist in data gathering a nursing model with a framework for assessment may be used. This may be in conjunction with an assessment tool, enabling accurate measurements. Following the principles for assessment identifies that it really is the foundation of good practice.
Related Topics