Principles for implementing duty of care in health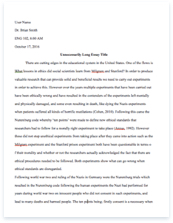 The whole doc is available only for registered users
A limited time offer! Get a custom sample essay written according to your requirements urgent 3h delivery guaranteed
Order Now
As a nursery assistant my role within the setting is to provide a safe and secure enviroment for all children. By doing this i help to complete a health and safety checklist every morning to ensure all equipment and facilities are clean and safe in order for children to access and use independantly. I also make sure that all activities are safe for the children to be invold in and make sure that the activites are suitable for all age groups. It is important that the children are looked after emotinally and phyiscally and that they feel safe and happy. All the staff are checked to make sure they have there first aid and some sort of training or qualification in childcare before they start. Any reports or concerns will be notified to my manager and will be written out for further investigation or for the childs records. Every month the staff do a peer on peer on eachother to show what we can improve on and what we are working really well on , my manager also every 6 months does a supervision on us to make sure we are happy in our workplace and to make sure we are working towards the goals we want to acheive. Maintaining confidentiallity in our nursery setting is understandable to all staff members. If a parent comes into me and speaks to me confidentiallity i will bring them into a more quiet place and speak to them, but if i feel like the children or themselves are in danger i will speak to my manager and write it down encase it has to go further.
In my nursery setting we treat all children the same and give all children the attention they all need. I do have some stronger bonds with my key group but this is because i work more closly with them throughout the day at group times. Contribution of duty of care to safeguarding and protection of indivuals Having a duty of care should guarantee the safeguarding of children in my care. Risk assessments- Carry out and review regular risk assessments to make sure children are safe in the activities we do and also carry out and review risk assessments before we go on outings with the children e.g libary, park , shops this is to minimise the risk and injury to the children or myself. Policies and Procedures – having clear rules and boundaries ensures that both adults and children (who are able to understand) know how to conduct themselves within the setting, by this I mean not behaving in ways that could cause distress or harm to others within the setting. Understanding signs of neglect/abuse – I have a duty of care to all children that should I notice any signs of abuse or neglect that I report it to my manager , deputy manger and make sure i write it down for further investiagtion to protect the child.
It is important that I understand and that I am able to recognise these signs Making observations on the children – by doing this I am able to check to see if individual children are progressing and developing properly, if not then I would need to take time to speak to parent/career and do an action plan or some activities for them to work with at home. If parents was really worried i would then add in the option of other agencies and professionals. Training- Make sure my qualifications and training to first aid and safeguarding are up to date and regularly retested or reviewed to ensure that I am refreshed and still have the knowledge to be able to help and look after the children safely. When being alone with another child e.g nappie times , toilet times to make sure a member of staff is always near or with you to protect yourself from any accusations and agasint the risk of allegation of misconduct or abuse. All staff in the nursery setting will have a CRB before they start working in the workplace.
The manager will make sure that all staff have had at least 2-3 references from different companies and a doctors letter to make sure all staff are healthy to be able to work with the children. All staff will have safe guarding training before they start or while working and should read the safeguarding policy before starting to work within the team. When a child tells a staff member something important they should never lead questions and should let the child speak freely. When a child has told the adult they should not promise anything and let a senior member of staff no e.g manger, deputy manager , senior. Once you have told them you should write it up and carry on doing observations on this child to make sure they are safe and in no harm. Potential conflicts or dilemmas and indivual rights
Conflicts and dilemmas that can arise include bad behaviour displayed by children attending the nursery, parents and carers disagreeing about certain
ideas about the children, children taking risks, confidentiality, religion and family beliefs. Unsafe behaviour displayed by the children can include hitting , biting , kicking , pushing and throwing toys at other children and to the staff, Bad language can also be used towards children and staff. Parents might have there own way of dealing with this at home and might want the staff to carry it out at nursery, however certain types of discipline can not be used at the nursery which is stated in our policie e.g sitting on the naughty step. We do not allow this as you are singling out the child which may cause worse behaviour or for a children to get upset and embrassed. Also parents might not allow children to participate in other festives e.g christmas or easter, In our nursery if any conflicts or dilemmas occur then my manager will be notified. My nursery follows the whistle blowing policy. To avoid conflicts and dilemmas then we have staff meetings , room meetings, supervisions and also do peer on peer. Managing risks
At christmas time a parent pulled a member of staff out of the room and explained they dont celebrate christmas and would prefer her not to join in with any christmas activities. When the children where doing their christmas songs a member of staff would let the child set up her own activity which she enjoys mostly and sit with her for a one to one session. When the children sat down to make their christmas decorations and gifts we would involve her in the activity but allow her to use objects that didn't symbolise Christmas so she still had gifts to take home. When New year came the following week we asked the parent if she was allowed to join in with this and she was allowd but we done this to make sure a conflict didnt occur and that our parents are happy with the care we give to there children. Additonal support and advice about conflict and dilemmas
Responding to complaints.
If there is a complaint that has risen within the nursery, this must be dealt with immediately and in a professional manor. My manager would ask the parent to join her in a meeting so that they can talk in confidence and would have the chance to talk about their issues given time and respect in order to do so. My manager would then refer the complaint to the policies and procedures. For example if someone wasn't happy about paying nursery fees whilst their child was off on holiday then, unfortunately as stated in our policies and procedures it states clearly that regardless whether it is a bank holiday, child off sick etc, then fees still apply. My manager would then advise the parent to make their complaint in writing, so that this can be passed onto the line manager. Parents will be notified of the feedback from the line manager and will be resolved.
Main points of agreed procedures for handling complaints
When a parent has made a complaint all staff will be informed instantly to ensure that this doesn't occur again. If the complaint doesn't involve any staff members then this complaint will be kept between the management to ensure confidentiality between staff and parent. My manager will then resolve the complaint working alongside the policies and procedures and will give suggestions in order to try and resolve their issue. The parent will then be given time to review their complaint and if they wanted to appeal against theircomplaint then my manager will guide them in order for them to do so.
Related Topics