Social and Cultural benefits of diversity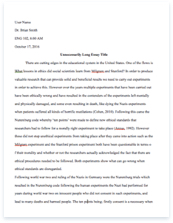 The whole doc is available only for registered users
A limited time offer! Get a custom sample essay written according to your requirements urgent 3h delivery guaranteed
Order Now
There are many factors which promote diversity within society which we are going to discuss. Cultural enrichment which tries to encourage everyone to explore different types of food from different ethnic backgrounds, like herbs spices etc. All these foods are available and easy to access in local supermarkets; if we all taste foods from different backgrounds we will be culturally enriched. Another factor which is social cohesion is a difficult concept however can be easily explained by the word 'Community'.
A cohesive community is best understood as an individuals sense of belonging by everyone and there surroundings within the community. Every individual to be able to reach self actualization feels the need by their peers to be valued and respected no matter their ethnic background. Another valid benefit of living in a multicultural society is that there is a wide variety of foods available. Most British people are used to eating normal British meals e. g. potatoes, chicken etc, and have never had the experience of trying different spices and flavours from ethnic backgrounds.
This could be a major health issue in the near future as their diet may not be balanced. Herbs and spices could be a alternative instead of salt this could cut down a high salt intake and prevent high blood pressure, diabetes etc. Therefore the countries death rate could decrease, which is a positive impact on society. It could also help society by learning new languages and having the knowledge and understanding of different individual's background and how they live which could help you adapt your own lifestyle to cope with the change.
Economic benefits of diversity It can be made at different levels, by people living and working together in one community. A benefit of diversity is that it can create new jobs and do decrease the number of people in society from becoming employed. Many individuals can be educated and trained by different people from ethnic backgrounds to provide a service which may include jobs such as acupuncture, massage therapists etc.
This will not only increase the number of people receiving employment, it can also have a positive impact on the government, as they are receiving more taxes as there is an increase of workers, they can create a better standard of live for every individual working within society. Another benefit to society is more expertise from doctors, nurses etc, which are located in other countries around the world that have the extra knowledge and experience to help save life's and cure diseases within society.
Related Topics