Positioning – a Ries and Trout Perspective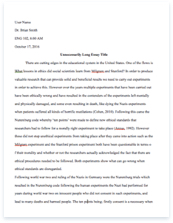 The whole doc is available only for registered users
A limited time offer! Get a custom sample essay written according to your requirements urgent 3h delivery guaranteed
Order Now
Positioning is owning a piece of consumer's mind, Positioning is not what you do to a product It's what you do to the mind of the prospect You position the product in the prospect's mind 'It's incorrect to call it Product Positioning' – Ries & Trout Brand Positioning is owning a piece of customer's mind. It's not what a marketer does to its brand but how it is perceived in the mind of the customer. For this, a brand has to be distinctive, relevant and appealing to its target audience.
Examples of brand positioning:
A brandpositioning task is to give the answers to the four questions: a) "a brand for what"; b) "a brand for whom"; c) "a brand for when"; and d) "a brand against whom".
In order to position a brand, a marketer you must decide – Who the target customer is?
Who your main competitors are?
PointsofParity (PoPs) and PointsofDifference (PoDs) with respect to the competitors
Purpose
The purpose of brand positioning is to explain how the brand will create a sustainable competitive advantage in the minds of prospects & customers in order to win loyal customers and ensure revenue and profits.
Evaluation Criteria: Brand Fit, Customer Relevance, Uniqueness, Sustainability, Credibility Once a firm has identified an appropriate segment of the market to target, the next task is to position the brand so that it meets the needs and wants of the target customers. One way to do this is to use a "market map" (popularly known as the "perceptual map"). The market map illustrates the range of "positions" that a product can take in a market based on two dimensions that are important to customers. Examples of those dimensions might be:
High price v low price
Basic quality v High quality
Low volume v high volume
Necessity v luxury
Light v heavy
Simple v complex
Lotech v hightech
Young v Old
Example of a market map: The map below shows one possible way in which the chocolate bar market could be mapped against two dimensions – quality and price:
How might a market map be used?
One way is to identify where there are "gaps in the market" – where there are customer needs that are not being met. For example, in the chocolate bar market,
Divine Chocolate (a social enterprise) successfully spotted that some consumers were prepared to pay a premium price for very high quality chocolate made from Fairtrade cocoa. Green & Black's exploited the opportunity to sell premium chocolate made from organic ingredients. Both these brands successfully moved into the high quality / high price quadrant (as above) before too many competitors beat them to it. The trick with a market map is to ensure that market research confirms whether or not there is actually any demand for a possible "gap in the market". There may be very good reasons why consumers do not want to buy a product that might, potentially, fill a gap. Finding the GAP in the market:
Is your product/service a luxury item, or is it more of a commodity (value). Also is a traditional product or a more cutting edge innovative
product/service.
Identifying and Establishing Brand Positioning
Basic Concepts:
According to the CBBE model, it is necessary to decide:
1. Who the target consumer is
2. Who the main competitors are
3. How the brand is similar to these competitors, and 4. How the brand is different from these competitors
Target Market:
➢ Segmentation Bases:
• Behavioral: The needs they seek to fulfill, the level of knowledge, information sources, attitude, use or response to a product of your customers;
• Demographic: The age, gender, income, family composition and size, occupation, and education of your customers;
• Psychographic: The general personality, behavior, lifestyle, rate of use, repetition of need, benefits sought, and loyalty characteristics of your customers;
• Geographic: The location, size of the area, density, and climate zone of your customers;
➢ Segmentation Criteria:
Identifiability
Size
Accessibility
Responsiveness
Nature of Competition:
Channels of Distribution
Competitors' Resources
Competitors' Capabilities
Competitors' Likely Intentions
Other Competitive Factors (Porter's 5Force Model refers)
Points of Parity and Points of Difference:
Points of Difference Associations
Points of Parity Associations
Points of Parity versus Points of Difference
Positioning Building Blocks:
Positioning Guidelines
Guidelines, Start by looking not at the product but at the position in the market that you wish to occupy, in relation to competition Think about how the brand will answer the main consumer questions what will it do for me that others will not? Why should I believe you? Try to keep it short and make every word count and be as specific as possible Vagueness opens the way to confused executions.
Keep the positioning updodate and Give as careful consideration to change as you did to the original statement Look for a Key Insight! An 'Accepted Consumer Belief'
Defining and Communicating the Competitive Frame of Reference Choosing Points of Parity and Points of Difference
Establishing Points of Parity and Points of Difference Updating Positioning Over Time
What is the Key Insight?
Key Insight is 'seeing below the surface' / 'seeing inside the consumer'. We use the Insights to gain competitive advantage by identifying a specific way… That the brand can either solve a problem or create an opportunity for the consumer
The Benefit Approach:
What is your customer really buying? People purchase products and services to realize one or more of the following benefits: 1. To save:
o Money
o Time
o Effort
o Resources
2. To increase:
o Income
o Investments
o Future
o Personal relationships
3. To reduce:
o Expenses
o Taxes
o Liabilities
o Trouble
4. To improve:
o Productivity
o Abilities
o Confidence
o Appearance
o Peace of mind
The Essential Elements of Positioning:
The positioning of any brand must be clear, relevant and credible to the consumer It must be expressed in consumer language and from consumer's view point it must be distinctive , persuasive& sustainable.
Defining and Communicating the Competitive Frame of Reference: A starting point in defining a competitive frame of reference for brand positioning is to determine Category Membership. Membership indicates the products or set of products with which a brand competes. Communicating category membership informs the consumer about the goals that they might achieve by using a product or service.
Choosing Points of Parity and Points of Difference:
➢ Points of Parity: These are driven by the needs of category membership and the necessity of negating competitors' PODs. ➢ Points of Difference: These are based on the following criteria:
1. Desirability: In terms of
a) Relevance
b) Distinctiveness, and
c) Believablity
2. Deliverability: In terms of
a) Feasibility
b) Communicability, and
c) Sustainability
Establishing Points of Parity and Points of Difference:
➢ Separate the attributes: Launch two marketing campaigns, each one devoted to a different brand attribute or benefit. ➢ Leverage Equity of another Entity: Link the brand with a wellliked celebrity, cause or event. ➢ Redefine the Relationship: Use attitude change strategies to convert negative perspectives about the brand to positive ones.
Updating Positioning Over Time:
➢ Laddering: This strategy is to deepen the meaning of the brand to tap into core brand values or other more abstract considerations. ➢ Reacting: This could imply no reaction to moderate or significant reactions depending on level of competitive threat.
Basic positioning strategies can be listed out as –
• Product attribute or benefit approach – Eg. Volvo – safety, Mercedes performance
• Pricequality approach – Eg. Bajaj Auto – "Value for money, for years"
• User approach – Eg. Marlboro Man – for grown ups and macho image
• Product category approach – Eg. Kellogg's introducing oat meal based breakfast cereal
• Competitor approach – Eg. Savlon – does not sting vs. Detto
Example Brand positioning by Thums UpThums Up as a brand was launched by the Parle brothers in 1977 after the exit of CocaCola and Pepsi from India. The brand did quite well and captured a significant market share in the Indian market. Even after the reentry of the Cola giants, Thums Up maintained it's strong foothold. It was eventually taken over by Coke in 1993. Thums Up has high "carboration" and it goes down very well to the Indian taste buds. Not everyone can drink Thums Up but the people who like it don't settle for anything less. This has been a driving factor in the change of approach in positioning the brand in the Indian market.
The following table provides a timeline of the different positioning strategies for Thums Up over the years.
|Period |Brand Positioning |Tag line | |197780 |Refreshing drink, happiness |Happy days are here again | |198095 |Masculine |I want my Thunder | |19952006 |Masculine, Confident, Adventurous |Taste the Thunder | |2006present |Masculine, Playful, Humorous, Confident |Taste the Thunder |
Initially it was focused on Refreshment and happiness. But later, due to its strong taste, it represented a more masculine drink which is reflected in the change of tag lines to "I want my Thunder" and then "Taste the Thunder". The positioning strategy for Thums Up has settled on "strong tasting cola for today's young adult males from all categories of households." The brand has thus been associated with adventure and dare devilry and all the recent advertisements are bold and sporty.
The brand logo has also changed over the years from the original all red logo to the modern looking redblue logo.
Points of Parity (POPs) and Points of Difference (PoDs)
Thums Up had the features of the basic product that it shared with other competing products i.e. aerated, refreshing, cold drink. There are two basic types of PoDs – Attribute based: in this case the excess "carboration" and the taste of Thums Up compared to other drinks.
Image bases: Thums Up is positioned as a more macho drink for grown ups. It is a unique positioning in the minds of the customer because no other product caters to this image.
So, the positioning of Thums Up can be summarized as:
A brand for "what" – refreshing, aerated cold drink with a strong taste
A brand for "whom" – young adult males between the age 1729 years from all categories of households
A brand for "when" – whenever and wherever cold drinks are consumed (whether it be with meals, as a refreshing drink, special occasions etc.)
A brand against "whom" – other major aerated drinks (and not just the cola flavored drinks) in the market like Pepsi, Mountain Dew, Mirinda etc.
"Soap leaves my skin feeling dry and tight"
Related Topics