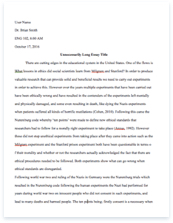 The whole doc is available only for registered users
A limited time offer! Get a custom sample essay written according to your requirements urgent 3h delivery guaranteed
Order Now
It is important to recognize that moral character develops over a long period of time. People are born with all sorts of natural tendencies. Some of these natural tendencies will be positive, such as a placid and friendly nature, and some will be negative, such as an irascible and jealous nature. These natural tendencies can be encouraged and developed or discouraged and thwarted by the influences one is exposed to when growing up…Finally, virtue is determined by the right reason. Virtue requires the right desire and the right reason. To act from the wrong reason is to act viciously. On the other hand, the agent can try to act from the right reason, but fail because he or she has the wrong desire. The virtuous agent acts effortlessly, perceives the right reason, has the harmonious right desire, and has an inner state of virtue that flows smoothly into action. The virtuous agent can act as an exemplar of virtue to others[1].
The series Heroes on NBC exemplifies American values and American culture.  The previous citation shows how important it is for a person to use the traits they are born with to the common good.  These "heroes" are virtuous and will prove to be examples to others, who want to "save the world", as it is put in the series.  Morality is part of virtuosity and American culture promotes both of these.  American culture needs "heroes" to show us that we are safe and that we can model their behavior and promote the safety of future generations.  We need to understand that promoting morality and virtuosity in our children is equally important.  Each generation does have its set of "heroes" and the generativity of ethics is an important American value.  Below is the synopsis of the series:
As a total eclipse casts its shadow across the globe, a genetics professor (Sendhil Ramamurthy, "Blind Guy Driving") in India is led by father's disappearance to uncover a secret theory — there are people with super powers living among us. A young dreamer (Milo Ventimiglia, "Gilmore Girls") tries to convince his politician brother (Adrian Pasdar, "Judging Amy") that he can fly. A high school cheerleader (Hayden Panettiere, "Ice Princess") learns that she is totally indestructible. A Las Vegas stripper (Ali Larter, "Final Destination"), struggling to make ends meet to support her young son (Noah Gray-Cabey, "My Wife & Kids"), discovers that her mirror image has a secret.
A fugitive from justice (Leonard Roberts, "Buffy the Vampire Slayer") continues to baffle authorities who twice have been unable to contain him. A gifted artist (Santiago Cabrera, "Empire"), whose drug addiction is destroying his life and relationship with his girlfriend (Tawny Cypress, NBC's "Third Watch"), can paint the future. A down-on-his-luck Los Angeles beat cop (Greg Grunberg, "Alias") can hear people's thoughts, which puts him on the trail of an elusive serial killer. In Japan, a young man (Masi Oka, NBC's "Scrubs") develops a way to stop time through sheer will power. Their ultimate destiny is nothing less than saving the world… [2]
[1] James Fieser, Ph.D. The Internet Encyclopedia of Philosophy Virtue Ethics.  "Virtue Ethics".  Available online http://www.utm.edu/research/iep/v/virtue.htm#SH2b. Last accessed 12 March 2007.
[2] Available online http://www.nbc.com/Heroes/about/.  Last accessed 12 March 2007.
Related Topics