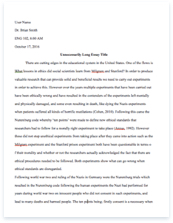 The whole doc is available only for registered users
A limited time offer! Get a custom sample essay written according to your requirements urgent 3h delivery guaranteed
Order Now
This paper discusses my professional goals, why I am pursuing a Bachelor of Science in Nursing (BSN) after obtaining my Associate Degree in Nursing (ADN) and Registered Nurse (RN) license, the role integrity and ethics play in nursing, and why professional writing and communication is important to the profession. Discussions include how I decided to become an RN and the direction I hope my career will go in after obtaining my BSN degree. What factors played an important role in my decision to return to school. Then we take a look into Burkhardt M. A. & Nathaniel A. K. (2014) definition of ethics and integrity. Ending with my personal insights into why professional writing and communication is life saving and important to the nursing profession. PERSONAL STATEMENT PAPER
Personal Statement Paper: My Professional Goals and Insights
Hospitals throughout the US are raising the bar in the nursing profession by requiring their ADN RNs to advance their education to the BSN level. Other hospitals are now requiring applicants to have already obtained their BSN to be in consideration for employment. Many speculate this is becoming the new standard because of several recent studies showing hospitals with BSN RNs having a lower mortality rate of their patients. With this new standard ADN RNs everywhere are returning to school. This is where my journey begins, an ADN RN unsuccessful with finding a job in a career that has unfortunately made my degree level an outcast. I will begin by discussing my professional goals and why I chose to return to school for my BSN degree. Later I will discuss how integrity and ethics play a role in nursing and why professional writing and communication is so important to the profession.
If you asked me 10 years ago what my professional goals were they would have been vastly different from my goals today. Being a nurse at that time was not even a thought. In all actuality I swore that I would never become a nurse. I started out as a Firefighter/EMT determined to make it in the fire service. As I began my career we had numerous calls that resulted in patients being transported by Care Flight. Seeing the complexity of their job and the nature of injury or illness that requires one to be transported by helicopter I found myself widely intrigued by this particular career. After several inquiries to my peers about how a person could become a part of the flight team I discovered I had to become an RN. Thus beginning my new career direction, nursing school would become my next goal. During that time I researched and did ride time with Care Flight, finding out in detail what I needed to do to become a flight nurse.
Now having my RN my next goal is obtaining my BSN, after completion of my degree I hope to find a job in the Critical Care setting preferably emergency. Once in the critical care field I plan to obtain several certifications related to the field to aid in my ultimate goal of flight nurse. I have put into consideration my end of career goal and thought about potentially becoming a Nurse Practitioner or a Certified Registered Nurse Anesthetist.
In short the demand for RNs to have their BSN degree became my primary motivator for returning to school. Seeing on applications that a BSN is either required when applying or required within five years of hire I reluctantly decided this was the best course of action. The other factor in choosing to return for my BSN is if I do one day want to pursue an advanced practice career I would need to complete my BSN in order to further my education to obtain my career goal.
When it comes to ethics and integrity in the nursing profession I believe the terms hold a higher meaning. As defined by Burkhardt M. A. & Nathaniel A. K. (2014) Ethics: A formal process for making logical and consistent decisions based on moral beliefs (p.527). Integrity: Refers to adherence to moral norms that is sustained over time. Implicit in integrity is trustworthiness and consistency of convictions, actions, and emotions (p.528). In Chapter 12 Burkhardt M. A. & Nathaniel A. K. (2014) states that "When integrity is present…there is an implicit trust that we represent ourselves in a truthful way" (p.330). In the clinical setting it is of utmost importance that a patient can trust you in all aspects of their care. From decision making to meeting their physical, emotional, and spiritual needs there has to be a level of trust and respect established. Therefore ethics and integrity play a tremendous role in our profession.
Lastly professional writing and communication is important to the nursing profession because it establishes a level of respect from healthcare professionals, the patient, and the patient's family. Personally when I read a written report I judge the level of intelligence of the person or persons writing the report based solely off their ability to use proper grammar and spelling. I have a higher respect for those that can communicate clearly and precisely through written and verbal communication and feel others have the same view. The importance of a clear and precise written or verbal communication does not stop there. There are possible ill effects to the patient if an order is not communicated properly. Wrong medications, dosages, or treatments could be rendered causing a worsening of a condition, irreversible effects, or death.
I have discussed with you my professional goals which include obtaining my BSN, starting a career in the critical care field, taking certification classes that will aid in obtaining my goal of flight nurse, and a possible end of career goal of Nurse Practitioner or Certified Registered Nurse Anesthetist. With hospitals now requiring a BSN degree and possibly furthering my education in an advanced practice career being my motivators for returning to school. I also discussed how ethics and integrity play a tremendous role in nursing and why professional writing and communication are important in this profession. I have found that furthering my education will be beneficial in making me a well-rounded RN and can give me helpful tools to use while practicing in the clinical field.
PERSONAL STATEMENT PAPER
References
Burkhardt M. A. & Nathaniel A. K. (2014) In M. Rosener & W. Overocker (Eds.)
Ethics & Issues in Contemporary Nursing (4th ed.) Stamford, CT: Stephen Helba
Related Topics