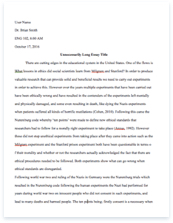 The whole doc is available only for registered users
A limited time offer! Get a custom sample essay written according to your requirements urgent 3h delivery guaranteed
Order Now
Understand the theory and principles that underpin person centred practice MY AIM: To ensure that older people are treated as Individuals and they receive appropriate and timely packages of care which meet their needs as Individuals, regardless of health and social services boundaries. THE STANDARD: NHS and Social Care Services treat older people as Individuals and enable them to make choices about their own care. Time is achieved through the single assessment process, integrated commissioning arrangements and Integrated provision of services, including community equipment and continence services. As the Manager of a large residential establishment, it is my responsibility to put the resident at the centre of our care practice.
This is not always easy to achieve. The National Minimum Standards of the Care Standards Act 2000 has been published by the Secretary of state and provides some help and guidance. The Standards apply to all organisations that provide care services and accommodation. Choice of home / Concerns, complaints and protection /Lifestyle / Individual needs and choices / Personal and healthcare support / Environment / Staffing / Conduct and management of the home As the Manager, I need to adhere to the directives given for each category. The CSSIW will make a judgement as to how I follow each category as they inspect our service provision. The recommendations in two Government White Paper, 'Modernising Social Services (1998) and 'Valuing People (2001) encourage service providers and contractors to ensure the resident is at the heart of everything they do. The care value base
All care services, in order to promote the best possible out for those being cared for; I must ensure that the resident is at the centre of the service provision. It is important that the basic human values are protected and promoted right from the start. Everyone has these needs; the resident sometimes needs a little support or encouragement to retain these values. I have found another piece of legislation which has had a great impact on the provision of care services is 'The Human Rights Act (1998.) This is a significant piece of legislation which contains 16 rights which all human beings are able to address in UK courts if they have been infringed. In a group living situation, the rights of one individual can occasionally infringe on the rights of another. Every person has the same rights and it must not be denied. I now understand that it can sometimes be a very fine balancing act to ensure all rights are maintained.
One of the best tools I have to ensure choice and protection of basic human rights, are the individual care plans for each resident. These are in effect a contract between the resident who is receiving the care service, and me the person providing it. It enables discussion and compromise. For example; I have found it may be the choice of one resident to sit in the communal lounge wearing only night clothes, whereas that person may feel at ease and comfortable, in the eyes of others, they may be improperly dressed. I make sure all views are considered and a compromise reached.
Perhaps it could be acceptable that night clothing could be worn an hour or so before bed, but I would make sure this was the choice of the resident, and not done by staff in order to save them time. I understand finding solutions to issues like this and agreeing a compromise is a daily part of my job role. I understand that care plans are required to be able to inform carers in detail about specific and individual needs. Each resident is given a contract of tenancy which gives details of the service we provide, what they can expect from me and what I may expect from them. In order for myself to achieve full involvement of the individual, I must first open the lines of communication, Whether this involves an advocate, using specifics such as sign language, pictorial communication or an interpreter if translation is required. A clear link must be made. I make sure the resident is at the centre of any care plan and any needs identified or perceived will be agreed on as being what that individual desires and needs. I make sure the plan fits the resident, not the service. PERSON CENTRED CARE AND PLANNING
There are six stages of care planning as follows:
1 INITIAL ASSESSMENT OF NEED – The field social worker (if needed) and myself would undertake the initial process of the assessment. The resident is the central character in the play and it's my job to ensure appropriate support and information is given and received. Dates and times for admission and the process involved must be understood by the resident, and I make sure all staff understands them to. 1. CARE PLAN DEVELOPMENT – I make sure the resident is involved throughout the whole process of care planning. It is important that I ensure the staff team know about the process and how to gain agreement from the resident. Any aspirations, hopes and fears the resident may have as well as their personal views must be included and considered. I often find I have to look deeper into any answers given to ensure the resident fully understands. 2. INTERVENTION AND SUPPORT – I ensure that all who are involved are aware of the need for ongoing discussion with the resident as very often things can change or new fears and hopes emerge.
Once the goal is agreed, it is then time to think about how the plan may be implemented. 3. THE MONITORING AND REVIEWING PROCESS – I make sure all residents are involved in any review; opportunities for feedback of the resident's opinion must be considered and made available. I make sure that all staff are aware of the monitoring process and the need for accurate reporting and recording skills. 4. THE STATUTORT CARE PLAN REVIEW – This is a formal process which usually takes place annually, although I find in some cases, it may need to be more frequent and it involves outside agencies. I have found that it is essential that the resident's views are heard alongside those of the other people involved. 5. AGREEMENT ON SETTING GOALS – When setting further goals, the resident and myself would reflect on the success or otherwise of the original goals.
What have been achieved, what has not and what changes and new opportunities there may be. I ensure all staff understands each stage as it is important for the organisational systems to reflect them. Accurate records must be kept at each stage and resident's involvement is of paramount importance. I find internal monitoring will allow consideration of the process and provide a forum where both resident and staff can consider changes where necessary to ensure an effective and good quality care package. I know opportunity for feedback must be given otherwise the statutory review process may not have the correct information, and the objectives may not be received. Feedback may be gained from many sources including resident, staff, relatives, service purchasers, professional colleagues. The care package must be reviewed and updated on a monthly basis.
There are many ways in which this can be done, by using key worker meetings with residents, internal mini reviews, monthly progress reports, staff meetings, involvement of an advocate and consultation with other interested parties and professionals. Residents can be involved in a variety of ways and should be given the chance to air their views on all aspects of their daily life. It is my responsibility to ensure the staff team are aware of and use the most effective methods to gain successful participation from residents. EMPOWERMENT – Is a means of having a voice and being heard. It is a way of developing potential and acknowledging the individual. It allows the resident to have control and a better quality of life. I make sure the staff team are aware of the need for client empowerment and how to achieve this. It means sharing information, negotiation and remaining PERSON CENTRED.
ADVOCACY – I find some people have difficulty expressing their views, wishes or acknowledging their needs. In these cases an advocate is required to ensure empowerment for members of society who, for whatever reason are marginalised. It is an important way to give these people o voice. In recent times an advocate may come in the form of an interpreter for those whose first language is not English. It may also be someone who can communicate with those who have a sensory impairment. Some advocates are professionals who may be employed; others may be non-professionals or volunteers. These are also groups such as 'people first' which is operated by people with learning difficulty so that their voice may be heard. In all stages of care planning I may at times come across a difference of opinion regarding the best possible outcome for that individual.
I am fully aware, but I make sure the care team are aware that although the resident should be given choice and should be able to exercise their rights. They may not be fully aware of or have understanding of the need to protect them from abuse or any harm. I make sure any risk or constraints are clearly explained at a pace and level appropriate to them. There are times when it is necessary to involve other professionals in the agreement of an individual care plan (DOLS) in order to minimise risks and provide the best and safest outcome. In order for any goals or objective to be reached successfully, I make sure appropriate information is available before any decision or agreement is made.
Social services, a court of protection or the person holding power of attorney can provide civil, legal, financial and personal rights information. Other sources of information can be provided by such as Age Concern, Welfare Rights, Benefits Agency and others. Risk taking is an inevitable part of life. It can be very frightening, not only for the individual, but for those who are in a protective role. The National Care Standards in referring to risk states: 'Service users are supported to take risk as part of an independent lifestyle'. It then recommends 'responsible risk.' This means that any risk must be carefully considered and thought about from all angles. In considering the management of risk, I make sure all staff understands some of the issues that are involved such as: The benefits of risk management.
The reason for risk assessment
What type of risk we may encounter.
When and how to do risk assessment.
The best way of recording risk assessments.
Review of the overall process and risk assessment.
I have found that in order for any risk assessment to be properly implemented. The resident and the staff team need to be aware of the above points and agree with the assessment. I make sure everyone who is in the position of caring for vulnerable people must be made aware of the residents in care could be subject to. By their very vulnerability and dependence on others a resident faces many risk areas. I know it is important to provide opportunities for residents to maintain an independent lifestyle. As I am a responsible person I often feel very nervous of promoting empowerment because of criticism if anything goes wrong.
I make sure staff gets regular and updated training on the need for risk assessment and what risks residents are open to. I know risk management provides the opportunity to find a balance between resident empowerment and minimisation of the risks involved. In order to do this effectively, all records need to be clearly understood, concise and up to date; this helps to ensure accountability is evident. Residents benefit greatly when given empowerment and having control over certain aspects of their lives. RESIDENT EMPOWERMENT
Care Standards make Care Planning a mandatory requirement. Care Planning requires a building up of a personal record, but I am not only being asked for a "record", I am being asked for a "Plan" there is a difference. The record is what has gone on and what is going on; the plan is what I am proactively going to do about it. I have a legal duty of care, fall the wrong side of that duty of care and I will be potentially, in serious trouble. If something goes wrong I must prove I had sought to prevent it. Care planning is a practical way of planning proactive care and satisfying my legal duties.
Care Plans and the Resident
Every resident has the right to receive good care. To give good care, I make sure that all home staff plans to support the resident's needs, abilities, interests and preferences. Under the law, residents and families are partners in this planning process. The resident has the right to give information, ask questions, participate in the care plan meetings, offer suggestions, review care plan document and accept or refuse offered care. When the resident gets involved in the care planning process, it is almost certain that they will get better care and enjoy a higher quality of life. I know that good care plans address all aspects of life in the home, not just the residents immediate health needs. For example, care across time when a resident had a problem getting along with their roommate could be more important to them than treatment plans. Care planning conferences are held soon after admission and I review them every four weeks to design and update the care plan. The resident and family have the right to be invited and involved in each meeting.
I arrange a suitable time for the implementation; it is a great opportunity for them to plan choices about care, service, daily schedule, and life in the home. During the review myself and their key worker explain care options and ask about their needs and preferences, I always explain to the resident "don't be afraid to speak up", and ask questions about anything they don't understand. I also inform the resident that they don't have to accept staff care recommendations unless they agree with them and feel their needs have been met. I explain to the resident who they can talk to if changes are needed in the care plan or if there are problems with the care being provided, and last but not least I ask the resident if they would like a copy of the care plan so they can make sure it reflects the agreements made at their meeting. I arrange meetings in confidence, I confirm to both the resident and family.
Understanding of the care plan, I do this in a way that meets their understanding. I write clear according to policies and procedures, I store information about the needs and preferences and any specific requirements they may have according to Data Protection Act 1988. I explain to the key worker their role in implementing relevant information within the care plan, I provide active support for key workers, I explain to key workers the importance of giving me feedback, I explain the best methods to implement the care plan to meet individual needs and preferences, I explain how to record and report any discomfort and how to implement this in the residents care plan, I do this in monthly staff group meetings and one to one meetings with key workers. Research on Theorists
1. Simon Duffy and Kate Fulton (2010) – Personalisation
Simon and Kate developed a toolkit which helped local leaders develop the best possible architecture to support personalisation. The toolkit is used by at least 11 local authorities across the Yorkshire and Humber region. The toolkit allows local leaders to examine their own needs set their own goals; and it also offers some practical ideas and clear framework for gathering information and getting local goals.
The toolkit has 12 tasks as follows:
Task 1: Strengthen information networks
The outcome from Task 1 – People can easily find accessible information about what is available and what they are entitled to. Information should be easy to find, relevant and in places that people find useful. Task 2: Extend Peer support
The outcome from Task 2 – People directing their own support can easily access peer support and networks, relevant to them, which offer support and inspiration. Task 3: Use Community Supports
The Outcome from Task 3 – There is a range of community organisations offering a variety of support from information, advice and guidance to practical assistance in developing support plans, designing and setting up supports and offering long term budget management supports. Task 4: Engage support Services
The Outcome from Task 4 – Service providers are in a position to support people in developing support plans, marketing their own services to people and to offer a variety of individual supports at reasonable costs, which is open, honest and transparent. Task 5: Ensure Professional Advice
The Outcome from Task 5 – People who need help are able to get support from professionals to have the time to get to know the person, explore good supports for the person and assist them in designing and developing their support and / or services. Task 6: Understanding the Care Management function now
The Outcome from Task 6 – The toolkit provides Managers with a table data on overall cost of care management. The table helps managers on how they can develop an overview of the relationship between the costs of the care management system and those served by the system. Task 7: Developing a plan for reforming Care Management
The Outcome from Task 7 – This toolkit helps managers go further to develop a more sophisticated model of care management, it helps managers capture with reasonable accuracy, the local picture of current care management usage and to explore how this could be effectively reformed in the light of the implementation of personalisation – in the light of current realities. Task 8: Use Resources wisely
The Outcome from Task 8 – The overall level of resources spent on infrastructure is reduced, or at least does not grow. Task 9: Make self-directed support easy to use
The Outcome from Task 9 – It's easy and inexpensive to develop a support plan, agree a budget, to take control and stay in control. Task 10: Create an Inclusive Learning Environment
The Outcome from Task 10 – Training and education is inclusive and enables all groups to share relevant skills and information. Task 11: Intergrade into commissioning Plans
The Outcome from Task 11 – The local commissioning strategy embraces the principles of personalisation and ensures the development of competent systems of community-based support. Task 12: Integrate into wider local developments
The Outcome from Task 12 – The principles of self-directed support and the responsibilities- it places on all local partners are understood and personalisation is used to bring the widest possible benefit to community priorities.
Research on Theorists
2. David Towell (2008) – Personalised support and citizenship David Towell did a Presentation to the International Association for the Scientific Study of Intellectual Disability, Cape Town, August 2008. People with intellectual disabilities
Exploring strategies for Achieving equal citizenship
David wrote about employment as an example: Legislation and policies to prohibit discrimination, raise awareness, improve access and widen opportunities; Support to individuals to develop their skills and express their aspirations; Investment in vocational services which provide the link between personal aspirations and wider opportunities. David identified similar patterns of intervention in other sectors of life, concerned for example with inclusive education, living in the community, maintaining good health etc.
David designed three main and inter – related building blocks for advancing equal citizenship: (Block 1) Self-determination: 'I say what matters to me and how I want to live'. (Block 2) Inclusion: 'I'm included in my community and benefit from its services'. (Block 3) Personalised support: 'I get the assistance I need to live as I want'. In turn, these three requirements provided David with a useful framework around which to array the key elements in national strategies for positive change which have been 'tested' in many rich countries over recent decades. David summarized these under twelve headings.
1 legal rights – for example to define legal capacity and institute arrangements for supported decision-making. 2 Advocacy – for example through support to disabled
3 Supporting families – for example through both self-help initiatives and addressing the needs of unpaid carers, so that everyone gets the chance to grow up in a family with high expectations.6 4 Social Protection – For example Providing cash support, through social protection schemes which recognize the extra costs of disability and so seek to reduce the poverty of people and families. 5 Personalisation – for example by adopting person centred approaches to assisting each individual plan for their own future with the help of their circle of friends and increasingly, also, take control of a budget for their own support. 6 Service Re-designing – for example through replacing traditional congregate provision with individualized support in ordinary settings (i.e. deinstitutionalisation). 7 Staff Developing – for example through relevant training.
8 Safeguarding Quality – for example through strengthening commissioning, regulating provision and instituting multi-faceted quality assurance. 9 Community Developments (Fostering) – for example through investing in local 'connectors' who help potentially marginalized individuals widen their social networks. 10 Mainstreaming – for example by removing barriers to access, encouraging universal design and including people with intellectual disabilities in the services everyone uses. 11 Disability Equality – for example through anti-discrimination legislation and monitoring arrangements. 12 Public awareness – For example Raising public awareness, through sharing positive images of inclusion through the mass media, so as to foster respect for people with intellectual disabilities and what they can contribute.
David stated: this simple framework is neither comprehensive nor detailed. However if our goal is to meet the call for deep change required by the UN Convention and to promote equal citizenship not just for the few but for the many, it does suggest four important propositions about achieving positive change. David suggests: Firstly: we require an active partnership between at least three main sets of stakeholders which I characterize here as civil society, government and the current service system.
We need to deliver transformation through co-production. Second: Improving services, to the relative neglect of efforts both to strengthen the voices of disabled people and their allies and secure mainstream Inclusion. Third: We need to pursue their aspirations; locally, to listen to people's experiences, open up opportunities and personalise services; and nationally to create the conditions in law, policy and investment required for local success. Fourth: Public policy cannot deliver real change without engaging civil society, but at the same time progress towards equal citizenship requires effective government, both nationally and locally. Research on Theorists
3. Professor Tom Kitwood – Dementia Care
Thomas Kitwood was a pioneer in the field of dementia care. He developed innovative research projects and training courses, challenging the "old culture of care". His aim was to understand, as far as is possible, what care is like from the standpoint of the person with dementia. One of his major innovations was Dementia Care Mapping, an observational method for evaluating the quality of care in formal settings, which resulted from one of his first research projects. He was always interested and involved in research with the aim of following it through to practice. His book Dementia Reconsidered: the person comes first (1997) brought together all his work, developments and discoveries over the last 12 years. Research on Theorists
4. Helen Sanderson (2011) – Person Centred Teams
Helen Sanderson leads HSA and is Vice Chair of the International Learning Community for Person Centred Practices. Helen and her person-centred team:
• Can bring out the best in people
• Can focus on learning and development of all the team members including him/herself
• Creates an environment where team members can identify and solve problems on their own – delegating real power and responsibility
• Demonstrates the values of the organisation
• Looks for ways to use team members' interests and strengths in directly supporting people
• Shares decision making and leadership with the team according to knowledge and ability
• Clearly articulates and demonstrates the vision and direction for the team
• Resolves conflict in the team calmly
Related Topics