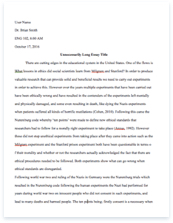 The whole doc is available only for registered users
Pages: 2
Word count: 333
Category: Society
A limited time offer! Get a custom sample essay written according to your requirements urgent 3h delivery guaranteed
Order Now
            As the world moves towards a highly-technological future, the people face various changes in the world we live in. These people encounter significant advancements that greatly affect their lives, their perspective towards the world, and the way they interact with other people. This includes group interactions which are usually done to improve interpersonal relations of people from various fields and walks of life. Nowadays, these group interactions are not done only in a face-to-face manner; they can also be conducted with computer mediation. Through technology, the context of interpersonal communication and interaction has been changed through time.
            There are several pros and cons when it comes to this matter. With computer mediation, people from longer distances can interact with one another. Communication is limitless, and no geographic boundary can keep groups of people from interacting. The internet and other means of lessening these communication barriers have come in handy when it comes to these matters. Wireless fidelity has set the people free of cords or wires that limit them from freely moving while conversing. These technological advancements have also changed the society's perspective on how communication and interaction with these groups are to be done. However, there are some problems with this change in our society. Ethical issues can be one of these problems, as some people can freely voice out anything through these computer mediated group interactions. There are also some who chose to react fully if they are standing face to face with another person. Again, it still depends on the situation, or the person affected, on how they will react to this.
            Change is really inevitable, and it has been a global trend. As our society continues to change, we, the people living in these societies are expected to change as well. It is a natural reaction to become wary of these changes, but in the end, we all have to deal with it. Change is the only permanent thing in this world.
Related Topics