Organizational Structure Free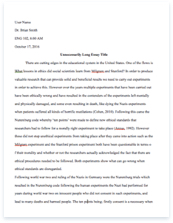 The whole doc is available only for registered users
A limited time offer! Get a custom sample essay written according to your requirements urgent 3h delivery guaranteed
Order Now
Organizational business goals and needs. Procedures are established that assign responsibilities for various functions. These decisions help determine organizational structure (Madapusi, 2008). Organizational structure allows greater effectiveness in organizations. Different types of organizations such as Baker Hughes Drilling Fluids, Atlanta Memorial Hospital, Doyenne Constructors, and Interfaith Ministries have a horizontal or vertical structure to determine how different levels of management will delegate (Madapusi, 2008).
Large Vertical Structure Organization With Network BasedAn organization such as Baker Hughes Drilling Fluids is categorized in a hierarchical level where authority figures are the glue that holds the company together. Baker Hughes personnel are broken down into different departments such as human resources, finance, payroll, operations, and marketing departments. Within these departments all personnel have a subtitle such as HR Analyst, Controller of Finance, Department Administrator SR Payroll, Gulf Coast Operational Manager, and Operations Marketing Account Manager. Managers are able to delegate to subordinates at lower levels within the different companies allowing employees to perform productively (Bateman & Snell, 2007). Personnel at Baker Hughes Drilling Fluids have direct reports who eventually have to report to the Chief Executive Officer (CEO) who has to report to the Board of Directors (Madapusi, 2008).
Baker Hughes Drilling Fluids is set up in a vertical structure in which corporate governance is needed to ensure the company's goals are being met. Corporate governance is the set of customs and policies that affect the way a corporation is directed and controlled (Bateman & Snell, 2007). Corporate governance is an important factor to an organizations success (Madapusi, 2008).
Baker Hughes can be referred to as a divisional organizational as well. The company is divided into different units and is spread around by geographic locations. Each division has its own group of departments needed to function as an organization. For example, Baker Hughes Drilling Fluids has its own marketing department for the North American Region. This set of sub managers have direct reports who will report to the CEO and Board of Directors. Another division will have a separate marketing division whom will have direct reports, but will eventually report to the same CEO and Board of Directors (Madapusi, 2008).
Baker Hughes is different from other organizations in a way of decision making. Other companies may consist of several directors in each department, but Baker Hughes consists of sub-managers who move up to direct reports, all leading to top management teams known as the "VP"'s , who then report to the CEO who reports to the Board of Directors who are the end of the decision making chain. For example, each department at Baker Hughes consists of an analyst based on the department that person works in. Moving up the ladder direct reports consists of a Controller for that department, Regional Controller, Controller of the whole division which is normally located in Houston Texas, a Vice President Controller, a Senior Vice President Controller, the CEO, and the Board of Directors (Ciarli, 2008).
Baker Hughes is also a network organization. Because of geographical locations with different divisions, employees must communicate through email or instant messenger to maintain a productive organization. Frequently personnel from one division must communicate with other divisions to complete a task. Having a network based environment allows fast productive communication between employees (Bateman & Snell, 2007).
Wide Horizontal StructureHealthcare facilities have different organizational structures than other more traditional, product driven companies. Atlanta Memorial Hospital (AMH) has a shallow yet defined vertical structure. Every employee ultimately reports to the CEO and he in turn reports to the Board of Directors. The company is centralized in that all major decisions, everything with a financial impact of more than $200, must be approved by the CEO. Under the CEO is a team of 5 assistant and associate administrators. These 5 administrators oversee the different branches of the hospital and provide supervision to the department directors. The department directors manage each individual department in the hospital and oversee the hospital staff. So the tiers internally are 4 in breadth: employee, director, administrator, CEO, with the Board of Directors being the external authority. One way the Board of Directors at Atlanta Memorial Hospital is different is the company is not comprised of stockholders or executives. The Board is comprised of business men and women of the community who are willing to spend their time and efforts to improve the quality of healthcare in the community (Snail & Robinson, 1998).
Because hospitals must offer a wide array of services, AMH has a very wide horizontal structure. It has the typical staff departments like finance, human resources, quality control and marketing. However, hospitals also have more healthcare specialized staff departments like patient registration, patient finance (insurance), medical records, and discharge planning. It also has a branch of departments referred to by the hospital as support services. These include housekeeping, dietary, maintenance, security, wellness center, and daycare facility. Line departments, those departments that in a traditional company create a product, are referred to as clinical departments in a hospital. These include nursing, pharmacy, radiology, lab, respiratory, rehabilitation, sr. care (geriatric-psych) and home health. No one department has more authority or responsibility than others. All parts must integrate their services together in order to provide quality healthcare (Snail & Robinson, 1998).
AMH operates as a functional organization. All staff members with the same or similar job titles work under the same department. For example, all maintenance workers work under the director of plant operations. Each department does not have its own maintenance worker. However, because of its large volume of nurses and the many different functions these nurses must perform in, different departments employ nurses. Nursing services, surgery, wound care, home health, sr. care, quality control and discharge planning, all employ registered nurses (Snail & Robinson, 1998).
AMH has a wide shallow organization due to its small size and wide range of services. According to Kerfoot, the reason hospitals have such a vast horizontal structure is because patients do not experience healthcare vertically. "Patients experience the organization horizontally by interfacing with many departments," (Kerfoot, 1993, π 3). One 24 hour stay will put a patient in contact with a minimal of six departments: registration, nursing, lab, dietary, housekeeping, and respiratory. What the patient does not see in this event is all the other departments like discharge planning, medical records, and the business office which deal with the background details of patient billing and charting (Kerfoot, 1993, π 3).
Larger towns and communities may find their hospitals have a taller vertical organization than Atlanta Memorial. However, the shorter vertical structure of AMH is reflective of the size of the community and the size of hospital it takes to provide for the community. This does not mean that small rural hospitals lack the same healthcare opportunities of larger hospitals.
It just means that since the individual departments within the hospital treat fewer patients than larger hospitals, the departments also require less staff and therefore, less tiers of supervision (Snail & Robinson, 1998).
Functional OrganizationIn a smaller organization such as Doyenne Constructors most closely resembles the horizontal structure with functional organization. However, due to the size of the company it does not follow the typical breakdown that one sees with other organizations of this same structure. The organization is run by a small amount of staff, which is not enough to satisfy departmentalization. Personnel within the company take on many roles to ensure the company succeeds. For example, the CEO also takes on the duties of accounting, personnel and insurance, while the Vice President is in charge of estimating, project management and supervising craft. Three other personnel members take on the duty of payroll and sales, while another employee takes on the role of timekeeper (Lentz, 1996).
Small Vertical StructureNonprofit organizations share many factors which are similar to large organizations. For example, Interfaith Ministries is a nonprofit vertically structured organization with various departments which have multiple functions. The overall purpose is to provide support services for people in need. The organization provides financial assistance, food, shelter and job training to the less fortunate. The organization is broken down into five programs which are employee services, family services, senior services, child care services, and workforce development.
The organization has one primary director who oversees the activities of each of the five departmental directors and reports to the board which consists of judges, city leaders, and local businesses who oversee the development and contribution of Interfaith Ministries (Grossman & Rangan, 2001).
An example of the organizational structure for Interfaith Ministries can be visually explained as; within workforce development, the office manager is responsible for the overall functions of the office. Each office has financial advisors, job placement specialist, child care specialists, facilitators, office support staff and supervisors over the various functions of the office. The office manager must insure that policy and procedures are adhered to by all employees. As in any large organization, each director has his or her own departments such as human resources, finance, and quality assurance. This is crucial in any organization, but more so in larger organizations where checks and balances are required to insure the daily activities run smoothly (Grossman & Rangan, 2001). Interfaith Ministries is different from other organizations in a way of communication. Although network based, the organization finds communicating face to face more effective as the organization is closely involved with the community.
Organizational structure is needed for all organizations, whether big or small, vertical or horizontal. Business succeeds best when organization is set in place. As the work class of today move up the ladder to success, the organizational structures will continue to grow for the leaders of tomorrow.
References
Bateman, T., & Snell, S. (2007). Management: The New Competitive Landscape .New York City: McGraw Hill.
Ciarli, T., Leoncini, R., Montresor, S., & Valente, M. (2008, August). Technological change and the vertical organization of industries. Journal of
Evolutionary Economics, 18(3/4), 367-387. Retrieved August 22, 2008, doi:10.1007/s00191-008-0092-xGrossman, A & Rangan, V. Kasturi (2001). Managing multisite nonprofits. Nonprofit Management and Leadership, 11(3), 321-337. Retrieved August 23, 2008, from ABI/INFORM Global database. (Document ID: 69153580).
Kerfoot, K. (1993, 1993 Jan-Feb). From vertical to horizontal nursing management. Nursing Economic$, 11(1), 49-51. Retrieved August 23, 2008, from CINAHL Plus with Full Text database.
Lentz, S. (1996, December). Hybrid organization structures: a path to cost savings and customer responsiveness. Human Resource Management, 35(4), 453-469. Retrieved August 22, 2008, from CINAHL Plus with Full Text database.
Madapusi, A. (2008, June). Routines in Emerging Organizational Structures. Proceedings for the Northeast Region Decision Sciences Institute (NEDSI), Retrieved August 20, 2008, from Business Source Complete database.
Timothy S Snail, James C Robinson. (1998). Organizational diversification in the American hospital. Annual Review of Public Health, 19, 417-53. Retrieved August 23, 2008, from ProQuest Health and Medical Complete database. (Document ID: 30458156).
Related Topics