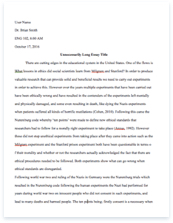 The whole doc is available only for registered users
A limited time offer! Get a custom sample essay written according to your requirements urgent 3h delivery guaranteed
Order Now
Executive Summary
Organizational design is concerned with planning / arrangement of crucial components that fit together to make up the organization, and ensure it functions well. This components include: innovativeness, quality of management, long term investment value, social responsibility to the community and the environment, ability to attract and retain talented people, quality of products and services, financial soundness, wise use of corporate assets, and, effectiveness in globally businesses. It is the process of choosing and implementing an appropriate structural configuration.
Newman (1973), states that organization design is the design of organization structure. Sekaran (1989), observe that organizational design connotes and depicts aspects of the system, or how an organization is departmentalized, what types of hierarchical level exist, what are the reporting and relationships, whether the system is mechanistic or organic and so on. It should be noted that both mechanistic and organic structures are applicable indifferent types of environments. For example in more dynamic and turbulent environment where the organization is faced with many changes and on frequent bases a more organic structure will be appropriate.
However when the environment is relatively stable or static, a more mechanistic structure will be useful, Sekaran (1989), notes that it is quite possible that certain subsystems within the organization face more turbulent environment and certain others face a more Stable environment. In such situations, the organization can be designed with an "organic core with mechanistic shell" or a "mechanistic core with an organic shell" "core stands for the main mission of the institution i.e the heart of the functions, and the "shell" provides all the support or auxiliary services for the organization. It is possible to structure parts of the organization (shell or core) mechanistically such that they are protected or sheltered from external "noise" also parts of the system can be structured (core or shell) organically so as to respond to environmental changes. The result of such Structuring leads to daily operation effectiveness within a stable subsystem. Equally, at the same time, the other Sub system in Interaction, with the external environment is kept vigilant and responds appropriately to the needed charges demanded by the environment. This is an organization with mechanistic core and organic shell.
  Ability to attract and retain talented people in an organization can be done through motivation. Motivation is the energizing force that induces or compels maintain behaviors. Motivation tools includes: (1) Job enrichment (2) Participation in decision making (3) Job enlargement (4) Promotion (5) Authority and accountability (6) Career development (7) Money.
Let us examine the last two. Career Development: in an organization where there is efficient and effective career development for both the existing and incoming employees, will attract and retain talented people. Money: Money as a motivator is seen in the form of wages, salary, fringe benefits, bonuses, pension schemes and several otter incentives.
  Quality of products and services involves the Organization finding out what customers want. This can be achieved by the use of surveys, focus groups, interviews that integrate customers voice. It also include the organization designing products or services that will meet (or exceed) what their customers want.
  Quality of Management has to do with how the organization is able to combine quality products and services, with designing a production process that will facilitate doing the jobs right the first time. Determine where mistakes are likely to occur and try to prevent these mistakes. When mistakes do occur, find out why So that they are less likely to occur again. Strive to make the process "mistake proof". Keep track of results and use these to guide improvement in the system. These concepts also extend to supply and distribution.
  Effectives in global business identify companies or other business that are best at something, and studying how they do it to learn low to improve your own operations in your organization.  Effectiveness could be in terms of equipments, methods, material and people.
  The search for competitive advantage has led to the recognition of innovation as a vital ingredient for survival and profitability in the 'Information Age'. Organizational innovation, is a dynamic and iterative process of creating or modifying an idea and developing it to produce products, services, processes, structures, or policies that are new to the organization (Zhuang 1995; Nohria & Gulati 1996). Organizations that master this activity in a consistent manner, such as the multi-billion-dollar-a-year 3M, position themselves to maintain continuous competitive advantage.
As Amabile (1988, p. 163) states:
"The organization (innovation) process occurs at the level of a system: a large number of individuals working together in different units on different aspects of the very general problem of implementing a new idea".
Business Social responsibility exists in all enterprises with their customers, owners, employee, suppliers, management, government and the society as a whole. Thus any person who shares the environment with the enterprise has a relationship with it.  In the following area, business owes most of its social responsibility to late society in terms of: (1) position problems: water, air, solid waste, Land and noise. (2) Poverty and discrimination: ethnic discrimination and parochial interest. (3) Consumerism: product safety, misleading advertising, consumer's complaints, Smuggling, etc.
Epstein ( 1976) successfully point out that, business enterprises give adequate attention to the issues of social responsibility because they want to achieve social harmony between them selves and their environment and there companies see the expenses associated with social responsibility as tax or license fee they pay to society so that they allow them carry out their every day economic functions.
  Financial soundness shows the financial position of an organization at any point in time. It objectives include the need to know how well things are progressing financially and the financial status of-the organization. It makes the organization know: If they are making profit or loss, what their business is worth to them, how much cash they have, how wealthy they are, how much they owe to some one else, how much they one owed, and having enough information so that they can keep a financial check on the things they do.
 According to Steven Lydenberg long term investment value offers an
organization how to speculate on the value of its corporations to society and the
environment, while simultaneously seeking to enhance that value at the
company, industry and societal level.
  In terms of wise use of corporate assets, every body in the organization have responsibility to protect the alliance's assets and ensure their efficient use. Theft, carelessness, and waste have a direct impact on the companies financial health and ultimately on all jobs in the organization.
REFERENCES
Amabile, T. M. 1988, 'From Individual Creativity to Organisational Innovation', chapter 5 in Innovation: A Cross-disciplinary Perspective, K. Gronhaug & G. Kaufmann (eds),
Norwegian University Press, Oslo.
Edwin M. Epstein "The social Role of Business Enterprises in Britain: An American Perspective, Part I", The Journal of Management studies Vol. 13, No. 3, October 1976,pp.213-233.
Khandwalla, P . N. (1973) "Viable And Effective organizational Design of Firm" Academy Of Management Journal, Vol. 16, No. 3 Pp. 481-495.
 Nohria, N. & Gulati, R. 1996, 'Is Slack Good or Bad for Innovation?', The Academy    of Management Journal, vol. 39, no. 1, pp.1245-64. 
Sekaran U. (1989) Organizational Behaviour Text And Cases, New Delhi: Tatal McGrawHill Publishing Company Ltd.
Zhuang, L. 1995, 'Bridging the Gap Between Technology and Business Strategy: A Pilot Study on the Innovation Process', Management Decision, vol.33, no.8, pp. 13-21.
Related Topics