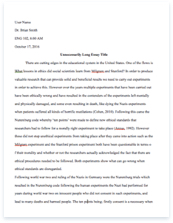 The whole doc is available only for registered users
Pages: 2
Word count: 456
Category: Hiking
A limited time offer! Get a custom sample essay written according to your requirements urgent 3h delivery guaranteed
Order Now
Walking in our high-strung world, has fallen far out of favor over time. Even the word "pedestrian" is used as an adjective to describe something lacking inspiration or excitement. Yet, walking with intention has deep roots. There is nothing more humanistic, more natural or more central to our freedom, than transporting ourselves by foot. Humans evolved to travel at a pace of three miles per hour, breathing easily, hands freely swinging at our side, seeking food and shelter.
We walk without even thinking, toes pushing off from the ground, face lifted towards the sun, fresh air filling our nostrils. Walking is mankind's first legacy of our post-ape genes, the trait that makes us most human. For years, Americans have been slowly losing their ability to walk freely. There are places in the United States – like large cities, for example – where individuals walk out of habit and lifestyle. There are wide-ranging areas of the country where the ability to walk – to just open your door, step outside and go somewhere without having to get behind the wheel of a car – is a struggle, or even a risk. It's not just about laziness in America, cars retain the mystique of freedom, independence and luxury. Agitated commuters stuck in traffic or being forced to stop for pedestrians, have never been part of this image. We have come to scorn walking, to fear it even. 'Real' Americans fold themselves into automobiles, where they feel safe, isolated and in control.
For exercise people mimic walkers and cyclists on stationary machines in gyms. They are forced to drive out of their way to parks and nature preserves for the privilege of walking outdoors among the trees and birds and fresh air to escape the vast wastelands of roads and concrete; the advice to 'walk at least three times a week for your health' is easier said than done when there's nowhere safe to place your foot. Over the past few decades simply waking as means get somewhere, let alone for pleasure, has become almost an alien concept to Americans.
Walking opens us up to a foreign world outside the man-made environments that we can keep under our control. Driving, despite the high risk of crashes, injury, and death, disguises itself as freedom. Real freedom can only be achieved if we go back to our fundamental reasons for walking. We need to embrace a slower pace and relaxed posture and take more time to 'stop and smell the roses'. As an entire species we have abandoned our natural instincts and the very thing that distinguishes us as humans. It seems to me that we are moving in the opposite direction of true growth and progress. A basic step towards real improvement is just that a 'step'.
Related Topics