ob Analysis – Telephone Customer Service Representative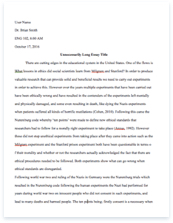 The whole doc is available only for registered users
A limited time offer! Get a custom sample essay written according to your requirements urgent 3h delivery guaranteed
Order Now
Job analysis is a concept used to develop a comprehensive description of a position that includes the job responsibilities and tasks performed, the tools utilized to perform those duties and the job's environment and working conditions. The information gathered can then be used to determine the knowledge, skills and abilities necessary to effectively carry out those activities (Dessler, 2005). It is also aids in identifying specific characteristics, personality traits and behaviors that have a significant impact on successfully fulfilling the job requirements.
Job Analysis Method
The success of a Telephone Customer Service Representative is largely dependent upon the employee possessing many intangible qualities. For this reason, the development of a selection process for this position must begin with a job analysis method that not only examines the technical skills and knowledge aspect of the job, but also puts a focus on employee behaviors. The data collected through the use of the critical incidents method of job analysis represents primary examples of on-the-job behavior (State of Colorado, 2002) and tasks. Examining instances of outstanding work quality as well as occurrences of inadequate performance will help to pinpoint which tasks are crucial to satisfactory job performance, and which are not (HR-Guide.com, 2001).
Job Description
Summary. The Telephone Customer Service Representative will report to the Customer Service Manager and is responsible for interacting with customers via telephone to provide information in response to inquiries about products and services and to handle and resolve complaints (O*Net Online, 2004). In addition, this position is responsible for identifying customer needs and recommending the appropriate product or service and soliciting new sales opportunities (O*Net Online, 2004).
Primary Responsibilities. The primary responsibilities of the Telephone Customer Service Representative are as follows:
-Answer incoming telephone calls from phone queue
-Order entry and processing
-Account creation and maintenance
-Resolve product and/or service complaints
-Handle billing questions and complaints
-Collect and process payments and deposits
-Redirect unresolved account, product/service or billing complaints to the appropriate departments
-Identify customer needs and recommend solutions
-Initiate contact with potential customers to solicit new sales
Decision-Making Authority. The Telephone Customer Service Representative is authorized to use logic and judgment to analyze information and evaluate results in order to choose the best solutions and solve problems (O*Net Online, 2004). The employee holding this position is also authorized to evaluate complaints and issues and take the appropriate preventative measures to avoid future similar complications.
Job Specifications
-At least one year of telephone customer service experience.
-Knowledge of computers and software, specifically Customer -Relationship Management (CRM) systems
-Experience with digital, multi-line telephones
-Exceptional written and verbal communication skills; ability to effectively communicate with customers and all levels of management
-Strong grasp of the English language including proper grammar usage, spelling, reading/writing comprehension and clear diction
-Firm understanding of mathematical concepts and their applications
-Possess high level of stress tolerance and the ability to maintain self control under difficult circumstances
-Must have the ability to perform tasks with little or no supervision and be able to apply deductive reasoning in order to solve problems independently
-Must be service oriented and have excellent interpersonal skills
References:
Dessler, G. (2005). Human resource management (10th ed.). Upper Saddle River, NJ: Pearson Publishing.
HR-Guide.com. (2001). HR guide to the internet: Job analysis. Retrieved August 31, 2006 from http://www.hr-guide.com/data/G022.htm.
O
*Net Online. (2004). Customer service representatives. Retrieved August 29, 2006 from http://online.ontcenter.org/link/summary/43-4051.00.
State of Colorado Division of Human Resources. (2002). Job analysis. Retrieved August 31, 2006 from http://www.colorado.gov/dpa/dhr/select/docs/jobanal.pdf.
Related Topics