Nursing Sensitive Indicators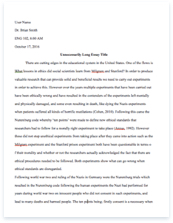 The whole doc is available only for registered users
A limited time offer! Get a custom sample essay written according to your requirements urgent 3h delivery guaranteed
Order Now
The following is a discussion and analysis of nursing sensitive indicators (NSI) and system specific resources. Identification of indicators and interventions could improve the care of Mr. J. "Mr. J is a 72 year old retired rabbi with mild dementia. He was admitted for treatment of a fractured right hip after falling at home. (Western Governors University, 2015)." In the course of Mr. J's stay there were a few indicators of problems/issues with his care. These problems/issues could affect Mr. J's healthcare outcome, safety and satisfaction with his hospital stay.
Nursing Sensitive Indicators
Nursing-sensitive indicators (NSI) are signs that can lead nursing staff, at all education levels, to implement interventions to improve nursing care and therefore improve patient outcomes. When patient outcomes improve it could lead to overall increased job satisfaction ("Nursing World," 2015). The three notable nursing-sensitive indicators (NSI) in this scenario are restraint prevalence, pressure ulcers and patient satisfaction. If the nursing staff in this situation had knowledge of NSI's patient care and safety could have been greatly improved. Knowledge about restraint use would most likely have led to them to not be used on this patient. Restraints should not be used on somebody that can respond properly and make needs known. The nurse should have questioned the use of restraints with the physician on this patient. It prevents movement that is essential for a patient to self-reposition.
Self-repositioning can help reduce the prevalence of pressure ulcers. Pressure ulcers can start from breakdown over boney prominences. With proper education the CNA would recognize this reddened area, pointed out by the daughter, as the start of a pressure ulcer. He/she should not have blown it off, assisted the patient back to bed in a different position with the load off the area and then reported it to the nurse. The nurse should have inspected the area and taken implemented appropriate interventions such as repositioning the patient and again question the restraint use with the physician if not already done. The last NSI not taken into account here is patient satisfaction. If it was taken into account the nurse would have taken the dietary error more seriously. Even though the nursing supervisor felt it should be dismissed the nurse should have used the principal of veracity to report it to the daughter and take steps to correct the problem.
Quality Patient Care
As a part of quality improvement (QI) it is good practice for healthcare facilities to collect data and analyze that data to find areas strength as well as areas of weakness to facilitate advancement in patient care. According to www.nursingworld.com all hospitals collect data and use it to improve patient care. If this particular facility collected data on NSI's as part of QI and then provided this information to the staff it could provide praise for strengths and raise awareness of weaknesses. This could lead to increased staff satisfaction. It could also prompt education and awareness which can lead to empowerment of the nurses.
In this case it could have led to improvement in restraint use, pressure ulcer care and dietary needs. If the NSI's were brought up to nursing staff it could have a positive impact on patient care. The nursing staff would be hyperaware of restraint use, pressure ulcers and patient satisfaction. If nursing staff are educated and empowered patient care should improve. In this case restraints may not have been used, a pressure ulcer could have been prevented and the patient/daughter would most likely be satisfied with care. This could be accomplished through the Institute for Healthcare Improvement QI model of Plan, Do, Check and Act.
System Resources, Referrals, or Colleagues
There are many resources available to me as the nursing supervisor to resolve ethical issues in this scenario. As a supervisor I would have questioned the physician about the restraint order if the staff nurse did not. It is not evidence based practice to restrain somebody that can answer appropriately. A usual part of nursing education contains teaching about pressure ulcers and also delegation of tasks to unlicensed personnel. I as the nursing supervisor would have educated my staff nurses about pressure ulcers and also how to properly delegate tasks to unlicensed personnel. CNS's should be taught how to look for evidence of pressure ulcers and also to promptly report any questions to the staff nurse. I would also consult a wound specialist if there were one available at the facility. I believe the biggest ethical dilemma here deals with the diet. I, as the nursing supervisor, would never dismiss a dietary error.
I would never tell a staff nurse to "just keep it quiet (WGU, 2015)." I would have immediately spoken with the dietary manager and discussed a solution to make sure patients get the correct trays. The following is an example of one successful system I personally worked with in previous practice. A nurse checks every tray against the diet slip then hands it to a CNA to deliver to patient. I also would have disclosed and apologized to the patient and daughter as promptly as possible and assured them that it would not happen again. I would need to address the inappropriate comment that the nurse made as well. Another area I would like to explore is with the physician. The physician had knowledge of this problem for six months. I would be curious to know why he never brought it up himself.
Conclusion
Education on NSI and system resources can identify problems with patient care. If all nursing staff is aware of some NSI's patient care could be improved. If patient care is improved there is a strong possibility that patient outcomes would also improve.
References
IHI Home Page. (n.d.). Retrieved April 16, 2015.
Nursing World. (n.d.). Retrieved April 17, 2015.
Western Governors University. (n.d.). Retrieved March 1, 2015.
Related Topics