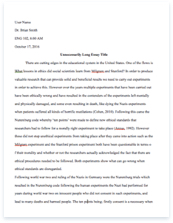 The whole doc is available only for registered users
A limited time offer! Get a custom sample essay written according to your requirements urgent 3h delivery guaranteed
Order Now
"As a nurse, we have the opportunity to heal the heart, mind, soul and body of our patients, their families and ourselves. They may forget your name, but they will never forget how you made them feel (Ko, 2012)." Nursing can be characterized in a variety of ways; many would identify nursing as a job that provides medical care to the sick or unwell, however nursing professionals would describe their role as being much more convoluted. The Canadian Nurses Association, CNA, defines the role of a registered nurse, RN, as being self-directed, but in collaboration with many others such as, "individuals, families, groups, communities, and populations to achieve their optimal health. RNs coordinate health care, deliver direct services and support clients in their self-care decisions and actions (CNA, 2007, p. 6)."
Further exploration of this definition shall be discussed with examples and evidence used from real-life experiences and set guidelines and standards of practice. This paper was written from the perspective of a level one registered nursing student attending McMaster University through the Conestoga College cohort. A further examination of nursing practice can establish a more illustrated definition of a nurse's role. Essential qualities of a nurse can be determined through therapeutic nurse-client relationships, privacy and responsibility, which are reinforced by real-life experiences. Establishing Nurse-Client Relationships
Exceptional client relationships are established and maintained using nursing knowledge and skills in conjunction with applying caring attitudes and behaviours. This is the definition used by the College of Nurses of Ontario, CNO, delineating the therapeutic nurse-client relationship. Implementing this specific concept early on, even as a nursing student, allows nurses to personally connect with their patients while providing excellent care. Interacting with peers during classes in a respectful and empathetic manner acts as a great method to observe the development of these relationships. Maintaining healthy and constructive relationships with peers, fellow nursing students and educators encourages practice and increases one's level of comfort when establishing nurse-client relationships in current and future practice. In the novel, "A Nurse's Story," author Tilda Shalof describes her personal encounters working in an intensive care unit, the ICU. Shalof recalls a debilitated patient she cared for, Manjit, and his family.
The family played a large role in her patient's stay, as he was unconscious the entire time. She described assessing the family initially and deciding whether or not to incorporate them as she worked with Manjit. She allowed them to be present during her work and assessments. She even bathed Manjit and included his wife, Jatinder (Shalof, 2004, p. 60-62). By allowing the family access and incorporating them in his care, she encouraged a therapeutic nurse-client relationship with all of her clients, the patient, as well as the family. This encouraged professional intimacy by incorporating psychological, spiritual and social elements for the plan of care, as well as using the appropriate use of power to meet the client's needs (CNO, 2006, p. 3-4).
Maintaining Privacy in the Workplace
"Nurses have ethical and legal responsibilities to maintain the confidentiality and privacy of client health information obtained while providing care (CNO, 2009, p. 3)." Relatedly, nursing students have a responsibility to keep problem-based learning discussions and personal peer information private. This not only encourages trust in fellow students but also adds comfort to intimate discussions, ultimately increasing the depth and honesty of practice scenarios and conversation. Nursing students are regularly engaging in personal and intimate situations with fellow classmates for clinical practice and case scenario discussions. Privacy and sensitivity to a patient's situation is imperative to making acceptable judgments in nursing (Perry & Potter, 2010, p. 105). Shalof described a situation where a fellow nurse, Nell, protected the privacy of her ICU patient.
The patient happened to be a recognized government official; a physician, whom wasn't the client's assigned doctor, tried to gain access to his chart. She refused to allow him access to the information he wanted, resulting in him storming off and threatened to have her reported (Shalof, 2004, p. 72-73). The CNO states in the practice standard that, "giving information about a client to a person other than the client or his or her authorized representative, except with the consent of the client or his or her representative, or as required or allowed by law," is against practice. It is a nurse's responsibility to protect patient privacy, even from other healthcare staff. In the case of Nell, she was doing exactly what was expected of her, and the physician was in the wrong. The CNO states that by failing to adhere to these guidelines, there is a potential for harm to occur to the patient (CNO, 2009, p. 9). Due to the patient's personal status outside of the hospital, disclosure of information could potentially harm the emotional well being of the client and his family. Understanding the implications and consequences of certain actions allows nurses to make appropriate decisions based on full comprehension of situations.
While nurses are disciplined with a variety of technical expertise, performing these tasks is assisted with an array of personal skills. Nurses need to be aware of their competency while performing tasks (The College of Nurses of Ontario, 2011, p. 7). Nursing students learn that the best way to identify strengths and weaknesses in practice is through reflection, which demonstrates professional responsibility. The Bachelor of Science in Nursing, BScN, a program at McMaster University, is designed to incorporate a student's own responsibility in everyday learning. Self-directed education is a crucial element of the curriculum. It is designed to actively teach students responsibility in everyday study by requiring readings and practice in labs. Preparation for every class is an expectation and by failing to accomplish readings or practice skills, the student is not adhering to the expectations of the course. It is imperative for nursing students to follow through with their responsibilities to properly achieve knowledge and skills.
"In professional nursing, responsibility includes a duty to perform actions adequately and thoughtfully (Perry & Potter, 2010, p. 92)." This also means being aware of one's own limitations and inadequacies for proper patient care. Shalof recalls a situation working in the ICU where a patient was mistakenly identified. This particular patient was thought to be a woman who had lost many family members and even a baby in a tragic fire accident. She was believed to be the wife of a man who was being treated for minor injuries after the fire. Shalof tends to the unconscious woman and, when her condition improves, brings in the patient's husband. He is instantly grief stricken when he suddenly finds out that this woman is not in fact his wife, but her sister, and that she had perished in the fire (Shalof, 2004, p. 85-89).
This very upsetting situation, in which Shalof was inadvertently a part of, deeply affected her emotional wellbeing. She removed herself from her work and decided to take some time off to re-evaluate and strengthen her morale. This behaviour demonstrates responsibility by displaying self-awareness and reflection-on-action. By fully understanding her needs, Shalof was able to manage her emotions in a manner that did not compromise her performance. This course of action was validated and even commended by her supervisor (Shalof, 2004, p. 103). Conclusion
While the definition and roles of nursing are ever changing, the fundamentals have been shaped through time and practice. Many different pieces of evidence-based literature, guidelines and standards are available for full comprehension of expectations in study and practice. By becoming familiar with concepts and resources early on as a nursing student, implementing these ideals should become easier and natural with practice. As a student, identifying one's own standard of practice and values shall aid in the development of self-awareness and reflection. In the case of Tilda Shalof, her reflection came from writing her thoughts, feelings and experiences. Not only did this method allow her to understand her strengths and weaknesses, it allowed future nurses and current nurses to build upon her knowledge and wisdom. Examination of nursing scenarios, understanding terminology and using appropriate resources to further understanding, all play an essential role in the development of a nursing student. Possessing qualities such as establishing nurse-client relationships, maintaining privacy and exemplifying responsibility, allow nurses to define themselves as well-rounded professionals. Thus, by recognizing the importance of these characteristics, great nurses can be born.
References
The Canadian Nurses Association. (August 2007). Framework for the practice of registered nurses in canada. Retrieved from http://www2.cna-aiic.ca /CNA/documents/pdf/publications/RN_Framework_Practice_2007_e.pdf The College of Nurses of Ontario. (2009). Confidentiality and privacy – personal health information. Retrieved from http://www.cno.org/Global/docs/prac /41069_privacy.pdf
The College of Nurses of Ontario. (2011). RN and RPN practice: the client, the nurse and the environment. Retrieved from http://www.cno.org/Global/docs/prac /41062.pdf
The College of Nurses of Ontario. (2006). Therapeutic nurse-client relationship. Retrieved from http://www.cno.org/Global/docs/prac/41033_Therapeutic .pdf Ko, N. (2012). Top 10 best nursing quotes to lift you up. Retrieved from http://narsako.wordpress.com/2012/01/13/top-10-best-nursing-quotes-to-lift-you-up/ Perry, A. & Potter, P. (2010). Canadian fundamentals of nursing 4th edition: Foundations of nursing practice. Toronto, Canada: Elsevier Canada.
Related Topics