Neat People vs. Sloppy People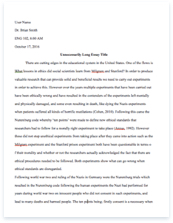 The whole doc is available only for registered users
Pages: 3
Word count: 656
Category: Plan
A limited time offer! Get a custom sample essay written according to your requirements urgent 3h delivery guaranteed
Order Now
In article, "Neat People vs. Sloppy People", by Suzanne Britt, the author argues that sloppy people are better than neat people in many ways. She states that sloppy people are actually neater than the neat people and are more helpful. Sloppy people are intelligent, they hold to things, and are very attached to their belongings. While neat people are cruel, they don't take sentimental possession over their things. Neat people clean things just to get rid of it. They won't use their time to think about their future either. Britt exemplifies her argument about how Sloppy people have their best reasons not to be neat, while neat people are still not enough with their neatness. I agree with the author that sloppy people are better than neat people because they are positive to their life, patient, and good planners.
One of the good characteristics about sloppy people is their positivity towards their life. There may be millions of work undone, but they still take their life happily because they have a lot of hopes with them. They look at the positive side of their lives. They are always smiling even if they have to complete their piled up work on time. Unlike neat people, sloppy people do not get upset on small things. Sloppy people have a broad aspect of life therefore, little problems do not make them upset. They always look for the best things to come, rather looking to the negative side. Sloppy people have a better gratitude to life than neat people. For instance, a neat person will get mad if he finds more than one work pending, but a sloppy person would always enjoy his/her time no matter how much of work he is given. Thus positivity towards their life is one of the good qualities of sloppy people. Other than their positivity towards their life, sloppy people have another good thing which is their patience. They have a very good quality with them; they can wait.
They can wait their whole life to do something and never be tired. Some sloppy people want to create a backyard, clean their garage, throw away their expired medications, and clean the carpet and many more. They wait for five summers just to clean the shoe rack. They have the maximum patience than anybody else. It does not matter to them how long they have to wait, but they can keep on waiting for as long as they want. They have a very good patience level. Most of the neat people want to do their things quickly, and does not care about the result but sloppy people take their times to create their plans, take more time to implement it and want a perfect result. Sloppy people can wait; they pay attention to every detail, and try to make it work as they want. Therefore, patience is one of the other good qualities about sloppy people.
In addition, sloppy people are good planners. Their planning continues till years. The plans they make at their wedding goes on till they have their 5th birthday of their second child. They plan for their vacation well, but sometimes the plan remains but the dates keep on moving further and further. However, they do not stop planning. They have perfect plans for different occasions. Although they just wait for the right time for their plans, the planning gets better every time they change it. sloppy people are still happy with their planning to come true one day. For example, one lady who wants to go to France for her honeymoon has been waiting for 5 years. She is still planning on the hotel location, places to visit, shopping lists, and the perfect time. She has not lost her hope, she knows she is going to make it one day. Therefore, sloppy people have planning on their head yet to be implied on their life.
Related Topics