nalysis of HBS case on Charlotte Beers at Ogilvy & Mathers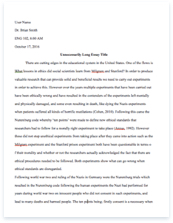 The whole doc is available only for registered users
A limited time offer! Get a custom sample essay written according to your requirements urgent 3h delivery guaranteed
Order Now
1. Unfreezing a fragmented Ogilvy & Mather out of the Ice Age.
Charlotte Beers tries to turn around Ogilvy by implementing a strategy based on differentiation. However, Ogilvy's organisation and culture are obstacles to this process. She has therefore to unfreeze the situation first to allow change to be implemented through a communal culture and a collaborative organisation.
Evidence of a crisis are numerous:
Major accounts have been lost (Amex);
Revenues and earnings are in decline;
Agencies services are increasingly commodities;
Staff morale is low;
O&M culture is fragmented. It is low on both sociability and solidarity as defined by Goffee and Jones. Individual offices are run independently (low solidarity) and the historical congeniality ("gentlemen with brains") has been reversed: a customer reported to Beers his direct witness of O&M political infighting over an account and creativity has declined.
The changes in the industry make a compelling case for a communal culture: creativity still need to be fostered through high sociability and the globalisation trend require some higher level of discipline and coordination achieved through high solidarity.
O&M organisation, described as "light center, strong regions" has reached a "delegation" evolution phase and its size has triggered a control crisis, as modelled by Greiner. Top executives have lost control of Ogilvy's decentralized and diversified operations.
Beers seems aware that re-centralizing management would likely fail. Interestingly, she tries to bypass the "coordination" evolution phase and go directly to the collaboration phase. Thus, she advocates:
üProblem solving through cross-functional teams;
üA consultative approach through conferences of key managers;
üExperiments in new practices like the empowerment of the WCS supervisors (who are "dual citizens" in "virtual organisations" and not headquarter staff);
Such a transformation in style and culture seems like an mammoth task. Charlotte Beers only needed two words to achieve it: "brand stewardship".
2. "You ask for collaboration but occasionally you act autocratically"
Like for David Simon at BP, Charlotte Beers' predecessor correctly diagnosed the strategic issues but failed the execution reportedly because of an uninspirational leadership. Beers rose to the leadership challenge and deployed a wealth of persuasion skills.
Beers is definitely matching most leadership criteria suggested by Bennis:
üShe innovates ("brand stewardship");
üShe develops (by stimulating customers' desires);
üShe focuses on people (instead of finance or organisation);
üShe challenges the status quo (the commoditisation of advertising);
üShe is her own person (her passion in brands);
üShe inspires trust (through her energy and passion);
üShe has her eye on the horizon (not the bottom line);
Like Kennedy (as described by Zaleznik), she forces people to act beyond immediate concerns and identify with her.
However, a top-down approach would negate her organisational objectives (nurture team work, solidarity and creativity). Also, her power base is weak since Ogilvy main assets are volatile. Creative talents may walk away and so may the 50 non-majority-owned offices.
She therefore engages in a deliberate effort at persuading, negotiating and networking with her entire organisation.
Charlotte Beers' persuasion scorecard
üEstablish credibility:üNot a given (as an outsider from a smaller agency)üBorrowed from stakeholders (customers, vision group, WCS)üDismissed one top executive and embraced O&M simultaneously ("our beloved agency");
üFrame for common ground:üAddressed her vision group individual issues (the Chewton Glen Declaration)üFramed the process away from the previous regional and discipline divide.üOpted for an undirected process to nurture debates.
üProvide evidence:üRegained Amex;üWon Jaguar
üConnect emotionally:üChallenged people ("where are you?")üPromised hope ("to be the most valued brand").
The Chewton Glen and Westchester meetings illustrate Beers' way:
1.Unfreeze the situation by nurturing debate (establish priorities or a vision statement, respectively);
2.Precipitate change by challenging people (the declaration and "where are you?" respectively);
3.Freeze everything through structural changes (the WCS division, the vision-related initiatives respectively).
The "Chewton Glen Declaration" is also compromise prowess to nurture Beer's network. Apparently adressing O'Dea, Wright, Harry and Reid's request for a strategy, it is actually Beers' vehicle to connect personally with them. Thus, point 1 addresses O'Dea frustrations, point 2 favours Wright's integrated approach and point 3 is along Reid and Thedens financial discipline priority.
The only reported structural outcome, the WCS division, is also telling. WCS supervisors are instantly an influential network for Beers ideas:
üTheir past status was unsatisfactory (=> low resistance to change);
üTheir exposure to global accounts goes Beer's way;
üThey have extra credibility as insiders.
As a result, Ogilvy's vision is a masterpiece that:
üAligns the core disciplines around a shared concept ("brands");
üAppeals to its internal audience (O&M staff value their O&M brand);
üIncreases solidarity through its shared goals;
üAppeals to customers too.
3. Keep "moving" people, start moving boxes and bucks too.
Charlotte Beers immediate challenge is to refine her vision into a strategy. To establish goals and allocate resources in a comprehensive manner will require a more structured communication, the development of extra change agents and changes in both the structure and the reward system.
Based on Greiner's model, the collaboration organisational stage she is aiming at requires some extra characteristics:
üA matrix-type structure in line with her globalised client-centric vision;
üEducational programs in behavioral skills (cross-functional collaboration);
üAppropriate management information systems;
üUpdated compensation systems for brand teams and local agencies (working on behalf of global accounts);
Charlotte Beers' transformation to-do list
üEstablishing a sense of urgency:üExamined market and competitive realities through customer contacts by meeting 50 clients in 6 months.üIdentified and discussed crises, potential crises, or major opportunities (the Chewton Glen and Westchester meetings). 1
üForming a powerful guiding coalition:üAssembled a network of change agents and empowered them to initiate the change effort (the Chewton Glen group).üEncouraged the group to work together as a team by fostering discussions and avoiding a top-down approach2
üCreating a vision:ü"the agency most valued by those who most value brands"üDeveloped strategies for achieving that vision by stimulating clients' demand3
üCommunicating the vision:üChewton Glen Declaration and the Westchester meeting.4
üEmpowering others to act on the vision:üthe WCS, Westchester's task forcesüChanged structures that undermine the vision (made one "public execution")5
üCreating short-term wins:üAmex, Jaguar 6
Consolidating improvements: Systems (compensations of local agencies and WCS), structures (organisation chart), and policies not yet changed; Potential shortage of change agents; No new initiatives.7
Institutionalizing New Approaches: No connection between new behaviors and corporate success. No means developed to ensure leadership development.8
Source: "Leading change: why transformation efforts fail" J. P. Kotter, HBR March/April 1995
She may look at developing, in team, and communicating some new initiatives reinforcing her "vision" or some simple goals (the way David Simon did at BP). More formal training, reporting and communications may also be needed in a way similar to the re-engineering process implemented by Harvey Golub at American Express. She may rely for this on Reider, Thedens, Wright and O'Dea who had been pushing for more strategy guidelines, financial discipline and an integrated range of communications services during the vision-building seminar.
The process has been described as painful, messy and chaotic. Actually any other alternative (a process re-engineering, corporate downsizing or organisational restructuring) would have been even more so without a guarantee that it would have restored creativity and instill solidarity at the same time.
Related Topics