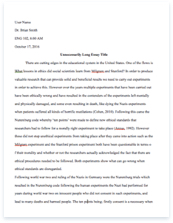 The whole doc is available only for registered users
Pages: 5
Word count: 1044
Category: Sociology
A limited time offer! Get a custom sample essay written according to your requirements urgent 3h delivery guaranteed
Order Now
Social location is something sociologists use to attempt to understand human behavior. They do so by examining the surrounding society that an individual or group of people live in, as well as the specific time period in which they reside. There are many variables included in this interpretation, such as: gender, race, nationality, class, generation, occupation, and education. In this paper, I will take a close look at my social location and attempt to describe and understand how it affects my way of living. Gender can influence how people treat me, as well as how I conduct myself. I am of the male gender. Men are typically depicted as the hard working manual laborers whose jobs require more strength and stamina rather than intellect. However, the medical field in which I work depends more heavily on intellect rather than strength.
Although nursing is traditionally a female's occupation, more and more males have been joining the field. This, I feel, has a strong effect on how people initially view me when they learn than I am a male nurse. Society has grown more accustomed to male nurses in this day and age, but it still has some stigma attached to it. I try to act somewhat professionally even in public, because I don't want people to see me and be worried that I am responsible for taking care of sick people My race is Caucasian. Caucasian is a general term used when referring to those who are white, white American, or non-Hispanic white. Sadly, race affects how one is treated in society. However, this prejudice is far less than it once was in years past.
I don't feel like it affects me as much as it does others, but I have noticed it playing a part with others in the workplace. Class generally refers to one's social class or socio-economic class and includes: lower, middle, and upper classes. I consider myself to be included in the middle class. If I were to be more specific, I would say lower-middle class. My family lived in a modest 3 bedroom, 2 bath home with a small yard in an average neighborhood in a small town. My mother had her own car, my father had his own truck (which was an old base model dodge), and when we came of age, me and my brother had to purchase our own vehicles. Of course our parents helped with the initial down payment, but we had to keep up with the loan repayments.
These were not new or even current vehicles, mind you, but well used 10 year old vehicles. Now this, I understand is more than many other people got, so I was more than happy with it. I did, however, attend a private school, which my parents paid for. I feel this actually hindered my social life, as there were far more people going to "public school" and they didn't usually want to interact with those from "private school". This class distinction may have somewhat altered my social interaction skills, but I feel like it enhanced other areas of my day-to-day life. My nationality is American. Now in other nationalities, Americans are usually depicted as fat, lazy, rude, and spoiled, which isn't too far from the truth for some.
I don't usually have any interaction with non-Americans so I don't feel this changes my day-to-day life, except for I am free to live my life how I choose within the realms of the law. My generation includes those born in latter 20th century, specifically those born in mid-1980's. Sadly, many in my generation are lazy and spoiled. They do not believe in hard work to achieve goals. Many even resort to drugs for recreation. They only keep menial jobs to make ends meet and continue their recreational activities. This would feel like a stagnant existence to me. Don't get me wrong, I do not believe I am perfect in any way. I should be farther in life than I already am, but at least I am trying. I do feel this is how older generations view us and this can affect how we are treated regarding job interviews and the workplace.
I try to make sure when I go to an interview that I show the interviewer that I am a hardworking individual and that I am serious about my career. My occupation is a registered nurse. This job is traditionally a female's occupation. Males have been more widely accepted into the field due to changes in the job market. Also, more males have been needed due to the high demands of physical management in critical care areas. However, some people do react differently when they find out that I am a nurse. Some even make jokes about it. It doesn't really bother me, especially when they find out that I make more money than they do. Most people realize that I am a caring person who wants to help others in their time of need.
Also, seeing so much sickness allows me to understand how lucky I am to be healthy and helps me to appreciate what I have every day. My education does make a huge difference in my day to day life and I am grateful I was given the opportunity to attend high school and college. I went to Winona High School in Winona, MS throughout elementary, junior, and high school. It is a good school with strong Christian values, which was always important to my family. I then attended Mississippi State University, where I obtained a degree in Biology, but the job market was pretty rough when I graduated and I wasn't able to go into the fields I wanted to.
But, I still am happy I went through the process, because I believe I learned a lot and am more intelligent due to the education I received. Overall, I feel like my social location affects my daily life decisions. My social location helps to define myself in society and can explain my actions. By examining my social location, I have learned a lot about myself. It also helped me to see that I like who I currently am, as well as who I am becoming.
Related Topics