My Interest in the Business Is Influenced by My Family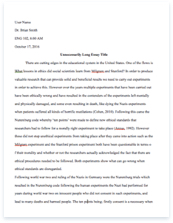 The whole doc is available only for registered users
A limited time offer! Get a custom sample essay written according to your requirements urgent 3h delivery guaranteed
Order Now
As a successful real estate entrepreneur, my father consistently keeps me exposed to the charm of business worlds. My ultimate career goal is to be a successful entrepreneur to expand my family's business in multiple sectors such as high tech and entertainment, surpassing my father's current achievements. In order to accomplish my this goal, I need to further develop my professional knowledge in finance, enterprise management, as well as improve my leadership. I feel that continuing to study a master's degree in management is the best path for me.
My undergraduate study at Purdue University has built me a solid foundation in Mathematics, Economics, and Business through taking relevant courses such as microeconomics, macroeconomics, international trade, business statistics, and etc. My performance in the first two years was disappointing because I blindly to chose my major in Environment Engineering, which influenced by the reputation of Purdue Engineering. After I transferred to Economics, I consistently demonstrate my willingness to learn and change to become a good student. To complement my lack of knowledge, I enrolled at IvyTech in the part-time. The massive workload was not able to defeat me; since I found my true interest, I was making big progress every day, earning a significant improvement in my GPA.
In Feb 2016, with two student partners, I opened up an Asian Restaurant in West Lafayette. This was my first step towards the business world. In the beginning, we invested a lot of energy to learn how to operate the restaurant. The recipe, budget, staff management, market strategy all became the challenge we have to face. For a long period of time, we have not made a profit. However, we kept analyzing the problem and make appropriate adjustments. For example, we redid the market research and the business plan; elaborate the responsibility of each owner. Finally, we achieved average net revenue of $12,000 per month. Learning from the failure is the most important business lesson I learned. In addition, My managerial skill and cooperation ability improved tremendously.
Last Summer, I interned at the Agricultural Bank of China and participated in a variety of tasks including bank account opening, credit card introducing, etc. Working in the bank is an efficient way to gain an understanding of the operation mode of a large financial institution. During the internship, I kept a humble attitude and learned from my colleagues about financial knowledge and the ability to communicate with customers effectively.
I am eager to advance my education at NYU where I can learn global perspectives, enhance my entrepreneurial skills, and strengthen my future career development. The MS in Management and System is appealing to me because it combines business management with information technology which matches my long term goal to expand my family's business in the technology sector. My concentration will be strategy and leadership. The course "Leadership" will teach me how to enable my company responds quickly to a new market while the course "Strategic Communications" enable me to learn the accurate and effective way to communicate with my clients and partners.
My short-term goal is to find a job in a financial company which engages in a diverse range of business, especially for technology. I aim to gain real-world experience and professional expertise. Studying in New York City, I will take advantage of the perfection location. Career support and networking opportunities from NYU will provide me with opportunities to find my ideal job. I believe my practical experience and passion for entrepreneurship make me a good candidate for your program. And I also believe the knowledge and experience I could gain from your program will aid me to accomplish my career goal.
Related Topics