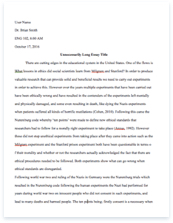 The whole doc is available only for registered users
A limited time offer! Get a custom sample essay written according to your requirements urgent 3h delivery guaranteed
Order Now
We all have judged a book by its cover, thinking that it wouldn't be worth to open and read just because the cover doesn't look so cool and popular like other books that we know today. However, as soon as you read it, you find out that you were wrong and that the book is nice and interesting, probably the best book you have ever read! See? This is the problem that we face nowadays. Most of the time, people judge when they don't know the whole story, we judge someone because they look different and don't have the same appearance as you. They might look scary, lonely and shy. But who knows, what if they are really nice and polite. A person shouldn't be about his appearance or looks or if he is pleasing. It is what is on the inside that really matters.
People are judged on many factors, their outer appearance, their color, their religion, and their viewpoints. When we look at these factors and judge a person exclusively on them, we can affect future generations. These prejudices can be passed on to children with many harmful effects. Children often adapt the beliefs of people around them. So it is important for adults to be careful about what they say or do in front of children. Being judgmental has many negative effects. If we judge the beliefs of family, friends and neighbors without really getting to know them we are being unfair. We must develop our own set of principals, to decline negative and unfair influences around us, and to avoid making suppositions.
Moreover, Beautiful people have their own share of problems. They are not perfect. Average people often shy away from skinny beautiful people because they think they could never be friends with them. Women especially have to live up to certain standards of beauty in order to fit in with the rest of the society. When you look in a magazine, every woman I see has a model look body. They usually have on the best looking cloths and the best looking guy along with her but that definitely doesn't mean she's perfect. When reading the magazines and watching the movies this could create poor self esteem. Everyone needs to realize any one can accomplish great things. No one has to have a good appearance to accomplish things in life. The only thing to learn from this is to recognize what is inside when judging others unfairly. People should try to be nice to everyone and watch their reactions to others to then make the right decision.
What's more, someone, who doesn't have excellent exterior, could have other, more important qualities. Will you be friends with the beautiful but stupid and selfish man? Certainly will not. He could be a good musician, awesome orator and perfect sportsman, but you wouldn't give him a chance to show all these talents if you paid attention only to the imperfect appearance and it would cost you a lot. In addition,
Related Topics