Mini-Case Facing Termination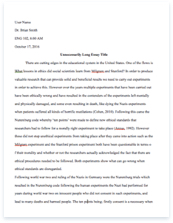 The whole doc is available only for registered users
Pages: 6
Word count: 1308
Category: Computers
A limited time offer! Get a custom sample essay written according to your requirements urgent 3h delivery guaranteed
Order Now
Why do you think you made these mistakes?
Please start this case discussion from the point of view that you are the main character – that is you are the Vice President of Marketing.
So you may start the discussion beginning with "I am to blame for the current state of affairs because I did not understand … " (fill in why you are to blame, what did you not do and what did you do that helped create the current situation)
I am to blame for the current state of affairs because I did not do enough test and deep investigation for the new software program. Honestly, I don't know this software really well. All I did just heart about some overstate features from attendant at the booth, read some material about it and called a couple of friends who had installed it in their organizations. I even don't know what is defect of this software and what should I do if the software failed to operation. I didn't prepare any plan B for this giant program. Blindness and inexperience make me didn't do enough preparation work. In addition, I don't have enough supporter or helper. My colleague, even when Jenny done to install the software, seem not interested in this program and very few people access to try.
Facing this negative attitude, I just sit there and expect they will see the advantages of new sales process instead of try hard to let my colleague know more about the new software. I was rely on IT too much and ignore how important communication with people. I supposed to learn a lot from Tom who is an excellent salesman and has wide social network. I was just thinking he is old-fashion people but didn't notice why he could be vice president how was he persuade people. Also, even myself, feel ironic because I never concern myself with all that techie computer stuff. If I couldn't get into software, how I could promote this program related to computer stuff. When Jenny working on accounting system, I supposed to digging why there was a lot of buzz around their product both at the conference and in the press. Also, I should try to solve those buzz which may become big issues what will confront in the future.
Also, there is a supplement. One of my fault is I ignored the organization culture which is representative by Tom, who has huge personality and an incredible memory. He used phone calls, rounds of golf, and birthday calls to contribute personal networking. He had surrounded himself with very similar people like Joe who is one of old-timers. They all agree this kind of sales method is successful. My fault is put new software program on opposite of our organization culture. I didn't combine new technology and organization's tradition together. That's why people's responds had been cool.
I am to blame for the current state of affairs because I didn't understand well about the following problems. First of all, as a new promoted vice president of marketing, I didn't achieve the great support from the best-performing salespeople to install the new salesforce automation software and to use it. Although I have showed the brochure to them, I should attach the importance that they didn't show their interests actually and I shouldn't consider that they will change their mind soon. I shouldn't think that they will accept the new salesforce automation tool as I. The old-timers Joe didn't like to use computer and had some bad attitude to me. I shouldn't consider that he will change his mind very quick. The former vice president Tom, who is an old-fashion salesperson with a huge personality, contributed a lot in the company's early growth via personal networking and the surrounding colleagues are similar people actually. Based on this consideration, I should realize that it is very hard to make them change their mind.
And, the younger associate Amanda didn't understand the system very clear. I should consider more about this problem and try my best to make her understand the new salesforce automation tool clear. As a vice president of marketing, I should make salespeople understand what the new system is clearly, how to use it, and try my best to get the support from them. However, I didn't. If I achieved theirs support very well, the program may run better and the situation may be different. What's more, I made a critical mistake about Jenny Cantera, the very first IT director with little experience in my firm. I should realize that she might make some mistake as a new IT director with little experience. I shouldn't trust her that much about the installation skill even though she looks smart and is good at technology. However, she does not have a lot of experiences.
The accident may happen just next second. As a vice president, it's my fault to believe a new hand. If I didn't trust her that much, the situation may be different. However, even though Jenny did her job really well, I made a mistake on the time. I shouldn't allow the installation after three to four weeks. If I really want to make profits relay on the new salesforce automation software quickly, I should make the installation finished as soon as possible. I shouldn't accept this late installation. It is too late. My firm spent a sizeable investment on the new software. I really did a big mistake on the late installation. In brief, I did two critical mistakes this time. I shouldn't ignore the negative response from the salespeople. I shouldn't believe the new IT director that much. If I did better on these points, the situation may be different.
A successful program is not only relying on individual but also the other departments of whole organization. I blamed myself made huge mistake as well as others. There are a couple of people I want to blame. Firstly, I want to talk about Jenny. I assigned task to Jenny who is first IT director in our firm and had little experience in this position. She can't give me critical advice and just followed my step. When I gave brochure to her, she didn't do any deep research about new salesforce automation tool or stop me and just told me it will need one week to install. She simply obeyed the order and never thinking. Then she postponed installing my program which spends sizable investment of my firm. She increased time cost. She knew there are buzz exist but she just ignored them and move on. Also, she installed software straightly for the whole system instead of doing test. She didn't prepare enough for issues round the corner. When she wrote the interface to the HR systems, all database broke lose. She was scrambling to bring it back up.
Apparently she never thought incident will happen. In addition, I would blame my firm's salesman. I understand Joe, who is old-timers, doesn't like me since I took his friend Tom's spot and doesn't agree computer can bring his more benefits. But the times are different. The markets were now global. When other firm's salesperson contact overseas customers via IT support, our salesman only aimed local customers can't expend our client base and bring us benefit. We would lose too many customers and lose market competitiveness without new technology. Also, I will blame the board that only investment new program but didn't support my work actually. They had been pretty easily acceptance new proposal instead of cautious consideration. And after that, they should let other departments corporate my job but they did not. A successful new program needs marketing, finance, human resources and accounting departments' coordinate and communication, not only one person.
Related Topics