Medicaid Expension in Affordable Care Act and It's Coersion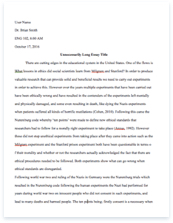 The whole doc is available only for registered users
A limited time offer! Get a custom sample essay written according to your requirements urgent 3h delivery guaranteed
Order Now
The Affordable Care Act's Medicaid Expansion
April 18, 2013
In 1965, Medicaid was created under Title XIX of the Social Security Act which is funded by both the state and federal government. It was established to assist low-income or below poverty level families in providing health care services for themselves and their children. Currently, the Medicaid program is voluntary for every state but all states have decided to participate and must follow certain federal rules. These rules include coverage for children under six and pregnant women who fall under the income level of 133% Federal Poverty Level (FPL) or $14,856 per person and $30,657 for a family of four. The program also has to include individuals aged 6-18 at or below 100% FPL, the elderly and disabled, and other caretakers/individuals that meet eligibility requirements and qualify to get Medicaid.
The purpose of the Affordable Care Act (ACA) was to require that all states include roughly all non-disabled individuals below age 65 with household incomes below the 133% FPL starting in January of 2014. By 2019, the Medicaid Expansion would've covered approximately 16 million uninsured Americans who have a low income and who would have not been covered in all these years. Currently states do not include adults without dependent children and only includes parents with low incomes. The ACA proposal was if states decided to opt in the Medicaid expansion, then the government will cover 100% of the costs of the expansion starting from 2014 to 2016 and all the way up till 2020, but then it will progressively decrease its share to cover 90% of the costs after 2020.
After the Affordable Care Act was signed into law by President Obama on March 23, 2010, twenty-six states filed lawsuits against the U.S. Department of Health and Human Services (HHS) in the federal district court to challenge the Medicaid Expansion along with other provisions that presented challenges throughout the states which included Iowa, Alabama, Indiana, Alaska, Idaho, Arizona, Georgia, Colorado, Pennsylvania, Kansas, Ohio, Louisiana, North Dakota, South Dakota, Maine, Nevada, Michigan, Nebraska, Mississippi, Wyoming, South Carolina, Washington, Utah, and Texas; known as Florida v. HHS. Thirteen states filed an "amicus" that supported the Medicaid Expansion which included Vermont, Maryland, Oregon, Hawaii, California, New Mexico, Iowa, Connecticut, New York, Illinois, Delaware, Washington, and Massachusetts. But Florida is the only state that challenges that the expansion is unconstitutionally coercive to the states.
According to the 10th Amendment, Congress has to act within the room of the Constitution by not exceeding its powers over the states. Under the Spending Clause or spending power in Article I, Section 8, Congress may connect certain conditions on federal funds and that is recognized by the Supreme Court. Without these conditions, Congress would have not achieved certain policy objectives just by legislation directly. But this becomes an issue due to the fact that states have been considered by the courts to be autonomous and have been resistant to any coercion.
According to the 11th Circuit of Appeals, the Medicaid Expansion was not unconstitutionally coercive to the states but decided that the states had a choice of whether they wanted to participate in the program and that the expansion is a valid exercise under Congress's spending power. The 11th Circuit gave several reasons to why it is not coercive such as: the government will bear almost all costs, minimizing the costs of the states; a notice of four years was given to the states; Medicaid is voluntary, meaning states can discontinue using the program and develop their own; the states will not lose all the funding if they do not expand, just a portion.
State petitioners believe that the Medicaid Expansion is transforming the nature of the program itself to mandatory instead of voluntary, which was originally declared in 1965. State petitioners believe that the expansion is not severable from the Affordable Care Act and it should be struck down entirely. But the federal government argues that this expansion is an appropriate measure in which they will disburse federal funds. The federal government also argues that no other court has ever had an argument accepted by which the condition that was placed by Congress on grants to each state was unconstitutionally coercive. The government also argues that the purpose of the condition on funding is to encourage states to behave in a particular way. Also, that the states already follow mandatory guidelines including which categories of people need to be covered such as children and pregnant women under certain income requirements.
On June 28, 2012, the Supreme Court limited the Medicaid Expansion because the Seven Justices agreed that Congress had surpassed its constitutional authority of forcing states to participating in the ACA Medicaid Expansion by placing a threat of losing existing payments. The states now had the option of choosing not to increase the Medicaid eligibility within their state. The issue with this decision is that the main goal of the Affordable Care Act was to increase access to health insurance to millions of Americans. Through the new law, 17 million more Americans would've been eligible for Medicaid, but this is no longer the number. So, millions of Americans will still live without coverage, worried about their health and financial capabilities if any illness strike to them or their family member. According to Kaiser, there are 9 million people in the 26 states that opposed the expansion that will not be able to gain access to Medicaid who would otherwise be included if their states didn't opt out.
Hospitals, in particular, were hoping for the Medicaid expansion to happen in their states because they are still forced to care for patients without insurance. Hospitals were hoping that through the expansion, many people would gain access to insurance and their need for charity care and non-payments leading to bankruptcy would go down. In 2008, local and state government spent around $10.6 billion or 20% to cover the costs of the uninsured people who visited hospitals for care. States and local governments would also reduce the amount they spend on mental health services, since approximately $14.7 billion was spent in the U.S. in 2006
alone.
The reason why states are planning to opt out of Medicaid is the future costs that it will be responsible for once the federal government only pays 90% of expenses. States like Mississippi, for example, say that opting in would add 400,000 new individuals to the program that would cost the state approximately $1.7 billion across ten years. Mississippi argues that their taxpayers would not be able to afford the costs to maintain the program.
According to an analysis by the Congressional Budget Office (CBO), the expansion would only add 2.8% -3% to what states already spend on Medicaid between 2014 and 2022, but 17 million more people will gain access to health coverage. Also, the expansion should generate savings in the state and local government levels for the costs of uncompensated care. From 2014 to 2022, the federal government could've paid $931 billion and the states only have to pay $73 billion.
From my perspective, I believe that the challenge to expand health insurance to Americans is unreasonable. It is costing more money to treat patients without health insurance who visit the emergency room than to provide at least basic health insurance for preventative services and disease management. Health care in the United States is going down a route that is unpractical and not focused on patient wellness.
If I were capable of making a change for this issue, I would allow states to expand Medicaid on a sliding scale basis. So for example, for those states with lower per capita incomes, the amount of money that states would have to pay out would pay less than a state with a higher per capita income; two states we can compare would be New York and Missouri. So Missouri would not be able to match to the same standards as New York with how much the states would have to pay out by 2020. The state of Missouri might only have to pay 3% while New York would have to pay a higher percentage. Perhaps this would encourage more states to opt in to the Medicaid Expansion in order to provide more access to health care across the nation. I would also think that if some states decided to opt out, wouldn't residents be able to move
to a state where the state has decided to opt in to the Medicaid expansion? I feel that individuals will travel to different states to be able to be eligible for Medicaid. Wouldn't you? Would states then have to form new laws on new residents coming in the state? These questions become important to consider because of the differences between each states decision in the near future. The challenge still remains under faced for administrator of healthcare providers is how to deal with these vast numbers of population who wouldn't be covered if the states had opted in for Medicaid expansion under affordable care act. I would like to give you a hypothetical condition to better educate my readers. State of Missouri is one of the states opting out for Medicaid expansion that has the population of around 1 million that is completely uninsured. Under the Medicaid expansion, the aim was to create the room of health coverage for all of these, but when state has walked out from expansion, assuming that half of these population would not be qualify to have Medicaid and if any of these meet with a serious accident going to emergency of local hospital. Hospitals still will be treating them even after being aware of no expectation to have a penny back. The number is rising years by years and increasing the possibility for hospitals to get bankrupt. If Medicaid was there, hospitals would have been assured of getting reimbursed and the overall quality of patient care would have been increased by the spending of around 2.8% for expansion after 2020. More strain on treating these patients may lead to reduce the overall hospital budget to diminish other services like inpatient, radiology, housekeeping that are usually revenue producing. So, the ultimate outcome is non-revenue producing care of uninsured is effecting revenue production because of reduced quality and availability of personal healthcare and weakened public health system capacity due to diverted resources for acute care for the uninsured. Another challenge is the damage to population health which is one of the main activities for hospitals and administrators. For example, rates of vaccine-preventable diseases are expected to grow higher which could have been covered under the Medicaid expansion. More diseases lead increase in the patient inflow into hospitals where hospitals are obligated to treat them in emergency department on the cost of charity funding created by local population. Treatment would be curing vaccine-prevented disease and use of the vaccine for any future prevention occurrences of the same disease
while the vaccine could be used for the local population or for someone who is insured and paying tax for the funding of healthcare. Diminishing these abilities to help local community is likely to create negative impression of the hospital to care and eventually reduction in patient inflow and revenue depletion. My opinion is that the states should legislate the expansion and take the offer made by federal government to pay all the cost till 2020. These increases number of population covered for care and burden healthcare organizations not to cover their cost on the basis of total loss which in my opinion is going to encourage them to enhance the standard of quality of care and better healthcare for the community and the country.
Related Topics