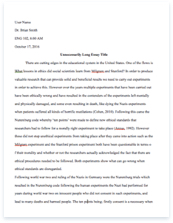 The whole doc is available only for registered users
OPEN DOC
Pages: 8
Word count: 1765
Category: Qualities
A limited time offer! Get a custom sample essay written according to your requirements urgent 3h delivery guaranteed
Order Now
Introduction
Medicaid has been one of the most important programs in providing health care United States. The program is mainly eligible for families and individuals from low income families and resources. These include low income parents, children, old people, and disabled individuals (HHS.gov, 2009a). However, one does not qualify to the program for being poor extremely poor. The program covers more than 60% of those considered poor in United States. The program has been means-tested and is funded by both the federal and the states government, with management left to the states. Medicaid is a complex program with different features but this paper will review only two aspects of the program including Medicaid quality and initiatives and waiver and demonstration projects.
Medicaid Quality and Initiatives
Quality is an important consideration when acquiring goods or services. Quality can be described as the degree to services provided by an organization increasingly lead to achievement of desired health and the quality of life and consistence of these services with the set professional standards. Quality can also be assessed in term of the way meets the expectations of the recipient. Provision of quality services is central to Medicaid (HHS.gov, 2009b). Over the years, the programs have strived to developed quality services to satisfy the need of the clients. Quality services in Medicaid are defined by the principle of provision of the right care for every recipient at every time. The Center for Medicare and Medicaid services (CMS) has been in the forefront in advocating for provision of quality services to clients.
Medicaid has been instrumental in development of quality assurance and improvement systems that have greatly increased the quality of services offered by the program (HHS.gov, 2009d). Quality assurance and quality improvement system have constantly ensured that services offered by the program are tailored towards the needs of the clients. CMS has been committed to assist Medicaid to design and implement initiatives which are geared towards improvement of quality especially in Home and Community Based Services.
The goal of quality improvement in Medicaid has been to improve the quality of life and the well being of the population. Medicaid serves million of low income, elderly and disabled Americans and there has been the risk of dilution of quality of services as the program expands (HHS.gov, 2009b). With such concerns, initiatives aimed at improving quality of services have been emphasized in the program.
The main aim of CMS is to assist Medicaid to come up with strategies to improve the quality of services. CMS has come up with the following strategies:
a) Evidence based care and quality measurement
Under this initiative, CMS offer support to states in order to improve their performance measurement which translates to improved quality of Information technology in health hearth care. This initiative uses evidence based measure sets which have achieved a country wide acceptance in health care settings
b) Alignment of quality with payment
This is an initiative that is aimed at ensuring payment and reimbursement methods in order to create a strong financial support for the patients and a high quality of care. This initiative is also known as pay-for-performance and it tries to come up with and promote reimbursement for quality of care provided. CMS offer support to states in order to implement pay-for-performance program
c) Information technology
ICT has become central to provision of quality services in all sectors in the world. Medicaid has currently come up with a 10 year program that aims at transforming quality health care through building health information infrastructure (HHS.gov, 2009b). This includes implementation of electronic records, network link to hospitals, and many others. CMS strive to encourage states to come up with creative use of health information technology in Medicaid program.
d) Partnerships
Medicaid partners with different stakeholders in order to ensure consistent provision of quality services to the clients
e) Dissemination of information and technical assistance
One of the most important approaches in provision of quality health care is primary prevention. This cannot be achieved without educating the public. Dissemination of information, transfer of knowledge, and offering technical assistance are important initiative in Medicaid program which ensure consistent delivery of quality services. CMS has encouraged states to implement the sharing of practices, lessons from quality initiatives, and other emerging issues in quality of health care that have been practiced and proved in one state (Ross, 2004).
Apart from CMS initiatives, there is also Hospital Quality Initiative (HQI) which comes with different initiatives to improve quality of services in Medicaid. The goal of HQI is to improve the quality of care which is provided under Medicaid program in hospitals through provision of quality information Medicaid consumers. CMS also provide quality information regarding hospitals in the nation with an aim of raising consumer expectation on quality of services (Texas Health and Human Services Commission, 2008).
Waiver & demonstration projects
Under the social security act, there is authorization of multiple waiver and demonstration authorities. States are given a lot of flexibility in operation of Medicaid program with each authority maintaining distinct purpose and the requirements. Medicaid waivers are provided under section 115 of the social security act where the Secretary of the U.S Department of the Health and Human services to provide waivers for some given statutory requirements (HHS.gov, 2009c).
Medicaid waives are important since they enable states to provide services coving a wide range of home and community based services (HCBS) for a given target population instead of institutionalization. However, waivers can also be an optional state plan which may be aimed at enhancing the length of coverage. Waivers can also comprise of services which are not well covered in state plans like respite care, modifications of the environment, training families in some issues, and many others (FAR, 2009).
There are four different kinds of waivers which can be provided by states depending on the targeted population as an alternative to institutionalization. These include:
a. Intermediate care facility mental retardation (ICF-MR) – This is a level of care which is meant for those who are mentally retarded or individuals who are developmentally disabled.
b. Chronic or rehabilitative care – This is a level of care meant for individuals who are fragile medically, with chronic illness, or with severe disability
c. Psychiatric hospital level – This is level of care mainly for those who have severe or chronic mental illness
d. Nursing facility care – This level of care is meant for the elderly, physically disabled or cognitive impaired individuals.
In order to quality for a waiver, one has to qualify medically. One must also be certified by a waiver institutional level of care and must also enroll in the waiver instead of being institutionalized. In terms of cost, the waiver must be cost effective in the sense that it must cost the community less that it would have cost if the individual was institutionalized. Finally one ahs to be financially eligible to the waiver in consideration of their level of income and value of assets held.
Medicaid waiver must also be place by the agency concerned in the state. It must also be approved by the government of the state. However, federal offices can encourage a state to propose some waivers and from time to time the congress can also enacted laws which call for waivers in a bid to demonstrate reforms. Medicaid waivers are however initiated and also designed by the state with help from experts outside the state (The Governor's Coucilon Developmental Disabilities, 2006).
In historical context, it will be understood that policymakers have called for the need to test new initiative in Medicaid programs to enhance the quality of services offered. In these cases, research and demonstrations have been used to come up with model and reforms that have improved the quality of services offered in Medicaid program. Medicaid demonstrations can be initiated by states, researchers, health care provides, state health plans, CMS, congress, and many other agencies which are concerned with provision of health services under Medicaid.
Section 115 of the Social Security Act allows for research and demonstration projects. The section gives the secretary of health and human services the authority to initiate and give approval to projects which are meant to test innovations under Medicaid policy in order to improve the quality of delivery of services under Medicaid. Medicaid wavier projects are mostly oriented on research and mainly intended to look into the advantages and disadvantages of the intended reforms which are not put in place under the existing laws (PiperReport, 2008). Over time, Medicaid demonstration projects emerge as indefinite and alternative model for provision of services under Medicaid.
When approved, Medicaid demonstration projects are then governed by the Medicaid agency in the state. However, there is timely oversight by CMS. This is meant to ensure that there is consistent adherence to quality and meet the goals of the project. This is important since in some cases, the state may decide to contract a third party although the demonstration eventually remains with Medicaid. This means that the state also takes responsibility of the demonstration project even when it is contracted to a third party.
Conclusion
Medicaid is one of the backbones of the U.S health care sector. Over the years, the programs has developed to provide health care services to low income Americans, the elderly and disabled. In order to provide quality services, CMS has come up with different initiatives which ensure adherence to quality of services in the program. There are different initiatives including evidence based quality measurement, payment with quality, technology, information dissemination and others. Under the Social Security Act, there is authority for Medicaid waivers and demonstration projects which can be initiated by different stakeholders in the healthcare sector in order to improve policy under Medicaid.
Reference:
FAR, (2009). What is Medicaid waiver? Retrieved 15th June 2009 from http://www.tash.org/mdnewdirections/medicaid.htm
HHS.gov, (2009a). Center for Medicare and Medicaid Services: Overview. Retrieved 15th June 2009 from http://www.essaywriters.net/sys/index.php?rate=20&order=295212
HHS.gov, (2009b). Overview: Medicaid and CHIP Quality practices. Retrieved 15th June 2009 from http://www.cms.hhs.gov/MedicaidCHIPQualPrac/
HHS.gov, (2009c). Overview: Medicaid state waiver program demonstrations projects. Retrieved 15th June 2009 from http://www.cms.hhs.gov/MedicaidStWaivProgDemoPGI/
HHS.gov, (2009d). Medicaid program – General information. Retrieved 15th June 2009 from http://www.cms.hhs.gov/MedicaidGenInfo/
PiperReport, (2008). Medicare and Medicaid demonstrations waivers: Primer. Retrieved 15th June 2009 from http://www.piperreport.com/archives/2008/08/medicare_and_medicaid_demonstration_waivers_primer.html
Ross, J. (2004). Effects of Social Work Intervention on Non-emergent Pediatric. Emergency Department Utilization. Health & Social Work, Vol. 29(4)
Texas Health and Human Services Commission, (2008). Medicaid quality initiative pilot project primary care case management. Rider 55 Report, August 2008
The Governor's Coucilon Developmental Disabilities, (2006). Understanding the Medicaid Waiver. Office of Developmental Disabilities, 2006
Related Topics