Materialism in the Rocking Horse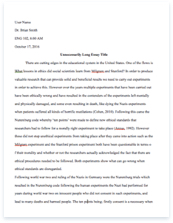 The whole doc is available only for registered users
A limited time offer! Get a custom sample essay written according to your requirements urgent 3h delivery guaranteed
Order Now
The Modern Age of British Literature was in some ways a rebellion against the Victorian ideals of extravagance, a perspective brought on by the harsh reality of World War I. The scarcity of resources combined with stark images of the war influenced writers to condemn the aristocracy for their excessive self-indulgence. In DH Lawrence's "The Rocking Horse Winner" his hatred for the English people's materialism is conveyed through the death of an innocent child. Without a doubt, DH Lawrence views England as a money-dominated society. In fact Koban states, "Lawrence hated money and warping of modern man that scrambling for money caused. But he knew that no middle-class marriage could be successful without it. Money on the other hand must be kept in perspective and not romanticized into a substitute for love, as it is in 'The Rocking Horse Winner'"(391). The parents' delusion about the value of money over love ultimately destroys the family and calls attention to the modern world's lack of values (Thornton 77).
The house in this story symbolizes an obsession with money. It whispers the family secret, "There must be more money" because the parents are accustomed to having wealth, yet they are unable to produce it. They live beyond their means, and the walls of the mysterious house whisper this dark secret. The children hear it and know it, but do not speak of it. The parents feel it and know it, but do not speak of it. The house is symbolic of the insatiable lust for more and sets the stage for Paul's fatal quest toward an unreachable goal. The house serves as a visual to reflect the materialism of its inhabitants. Hester, Paul's mother, is consumed by a desire to have an unsustainable lifestyle. Lawrence describes her as a woman "who started with all the advantages, yet she had no luck. She married for love, and the love turned to dust," so the families' finances are "not nearly enough for the social position which they had to keep up" (1). The mother's focus on money damages all of her relationships, especially with her children.
Though others perceive her as a good mother, "she herself knew that at the center of her heart was a hard little place that could not feel love, no, not for anybody" (Lawrence 1). Her children are aware of it as well because, "they read it in each other's eyes" (Lawrence 1). Hester realizes her children are growing up, but their maturity means that they will become an additional financial burden because they must attend the "right" schools. When she sees them, Hester hears, "There must be more money. There must be more money" (1). She is the most materialistic out of all of Lawrence's characters, yet she is unable to produce any income on her own. Her efforts are a complete failure, yet she must keep up appearances. She illustrates how personal greed destroys a family. The male characters in this story are no better. Lawrence describes the father as one, "who was always very handsome and expensive in his tastes" (1). Like Hester, he is also unable to produce anything, or make any contribution to the family.
Koban focuses on the father meaninglessness saying, "The father in the story has no name, one of many indications that he is a complete failure as a husband and a provider. His inabilities are highlighted by the social position the family tries unsuccessfully to maintain" (382). He is also seen as greedy, yet he lacks the ability to accumulate resources because, "Though he had good prospects these prospects never materialized. There was always a grinding sense of the shortage of money" (Lawrence 1). The wealthy uncle, Oscar Cresswell, only shows interest in young Paul when he learns Paul has an interest in racing and is frequently able to pick a winner. He uses Paul as a means to an end. When Paul dies, the uncle's response to Hester is, "My God, Hester, you're eighty-odd thousand to the good, and a poor devil of a son to the bad" (Lawrence 2). Oscar's "condolences" illustrate his hunger for money and lack of concern for family. Oscar, Hester, and the husband are all three very greedy, insatiable characters that help the reader comprehend the dark side of money. Not all of the characters are evil and greedy.
The protagonist of the story, Paul, the kid who wants to earn his mother's love and relentlessly pursues luck for that very reason. The intensity of his search causes him to become monomaniacal, and Lawrence describes Paul, "Absorbed, taking no heed of other people, he went about with a sort of stealth, seeking inwardly for luck. He wanted luck, he wanted it, he wanted it" (Lawrence 1). Paul's obsession with finding luck mirrors his parents' obsession with materialism. Paul decides that his rocking horse knows where luck can be found, and he commands the wooden horse to take him there, a sure sign of his psychological decline. When the horse disappoints him, Paul dismounts and beats the wooden horse with a whip, "He knew the horse could take him to where was luck, if only he forced it. So he would mount again and start on his furious ride, hoping at last to get there" (Lawrence 1).
Though his riding is obsessive, Paul is not obsessed with having money like his mom, dad, and uncle. "Paul's desire for the money has nothing to do with greed for him; he simply has pity for others. His last ride is selfless, and his death was a heroic act for self sacrifice. Paul's death impacts the reader to free themselves from the chains of materialism" (Turner 104). Paul dies trying to win his mother's love by being lucky. His dying words are, "I never told you mother, that if I can ride my horse, and get there, then I'm absolutely sure – oh, absolutely! Mother, did I ever tell you? I am lucky!" (Lawrence 2). He is killed from a physical illness caused by psychological damage and social pressure (Goldberg 534-535). The horse which propels Paul to his death is a symbolic reminder of the Trojan horse. He receives it as a gift and rides it to his death. "The horse alludes to the wooden Trojan horse, a traditional symbol of deception. Although Paul hopes to use his horse to evade difficulties he is deceived" (R. Lawrence 324).
Though the horse gives him the winning names of race horses, it cannot give him what he really wants, the love of a mother. The symbolism in the story truly reveals the grim realities of self-indulgence. "The Rocking Horse Winner" shows the effects of materialism. Hester gains a fortune but loses her only son. Lawrence writes, "He [Paul] neither slept nor regained consciousness, and his eyes were like blue stones. His mother sat, feeling her heart had gone, turned actually into a stone" (Lawrence 2). Hester now has all the money she needs to sustain the lifestyle she loves, but it has come at a great price, and for the first time she seems to be aware of its costliness. Snodgrass states, "What I would like to suggest is that the story can be read as the climax in the chronicle of the death of love in Hester, the death of the heart, and that as such it ought to be read primarily as an allegory of the child in her, the death of innocence and love. Mystically and allegorically speaking. Paul's death is her death" (3).
The mother begins to care about her children for the first time ever, but it is too late. The parents' delusion about the value of money over love ultimately destroys the family and calls attention to the modern world's lack of values (Thornton 72-77). No amount of money in the world can buy the love and acceptance Hester's children seek from her. "She [the mother Hester], her husband, and their son all deny their emotional needs and withdraw, instead committing themselves to external values: luck and money. Because externals are beyond personal control, pursuing them leads to destruction; money becomes a symbolic substitute for love and affection" (Snodgrass 118). Two characters who appear to learn absolutely nothing from Paul's tragic death are his own father and Uncle Oscar Cresswell. The dying boy lies in bed three days with his mother by his side, yet his father never even makes an appearance.
Lawrence seems to indicate that the father has no concern for the boy whatsoever. Oscar's grief over the loss of the boy is directly connected to the loss of financial revenue at the race track. While Paul is fighting for his life, "In spite of himself, Oscar Cresswell spoke to Bassett, and himself put a thousand on Malabar: at fourteen to one" (Lawrence 2). Oscar's final comment on the death of Paul is, "Poor devil, poor devil, he's best gone out of a life where he rides his rocking-horse to find a winner" (Lawrence 2). All of these characters show the true side of dreadful materialism. Goldberg describes "The Rocking Horse Winner" saying, "Lawrence's story is a social fable that attacks the parental neglect and inhumanity caused by materialism" (525).
Lawrence creates pathetic characters that show disregard for one another and extreme lust for more in order to tell a story that displays his disgust for Britain's greed. The mother's attitude towards her children is inexcusable, and the father is basically absent. The deplorable family dynamics cause Paul to seek his mother's approval by finding luck which ultimately results in his death. Oscar Cresswell uses the boy for financial gain and has little regard for his death. In spite of the house's continuance to whisper its destructive secret, "There must be more money. There must be more money," Lawrence is clearly communicating to his audience that materialism is a destructive force which can ruin the society of Great Britain and the rest of the world.
Works Cited
Goldberg, Michael. "Lawrence's 'The Rocking-Horse Winner": A Dickensian Fable." Modern
Fiction Studies 15 (1969): 525-536.
Koban, Charles. "Allegory And The Death Of The Heart In 'The Rocking-Horse Winner'."
Studies In Short Fiction 15.4 (1978): 391. Literary Reference Center. Web. 24 Oct. 2012. Lawrence, DH. "The Rocking Horse Winner." Dowse Fiction.
Fiction Hub, n.d. Web. 24 Oct
2012. <http://www.dowse.com/fiction/Lawrence
Lawrence, Robert G. "Further Notes on D.H. Lawrence's Rocking Horse." College English 24
(1963): 324.
Snodgrass, W.D. "A Rocking Horse: The Symbol, the Pattern, the Way to Live." In D.H.
Lawrence: A Collection of Critical Essays. Ed. Mark Spilka. Englewood Gliffs, N.J.:
Prentice-Hall, 1963. Pp. 117-26. 1958
Thornton, Weldon, and Harold Bloom. "Weldon Thornton On The Intersection Of "Natural" And "Supernatural." Bloom's Major Short Story Writers: D.H. Lawrence (2001): 108-110. Literary Reference Center. Web. 24 Oct. 2012.
Turner, Frederick W., III. "Prancing in to a Purpose: Myths, Horses, and True Selfhood in
Lawrence's 'The Rocking-Horse Winner.'" In D.H. Lawrence: The Rocking-Horse
Winner. Ed. Dominick P. Consolo. Columbus, OH: Charles E. Merrill, 1969. Pp. 95-106.
Related Topics