Master's-Prepared Nurse Interview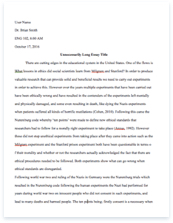 The whole doc is available only for registered users
A limited time offer! Get a custom sample essay written according to your requirements urgent 3h delivery guaranteed
Order Now
Introduction I had the privilege to work for many years with couple of master's prepared nurses and they always inspired me to join master's level program. I interviewed one of my friends [S.V] who is a colleague at the hospital where I work as a requirement for the course and also to get a broader depth and understanding of the Masters in nursing program. That helped me to get more information about the program and also gives more in depth information. It leads to more conversation and to know more other career choices that are available to Master's prepared nurse. Overview of Career S.V grew up in Hawaii and she worked as a patient care technician, she started in medical surgical floor in a community hospital and she worked 12 hour shift for two days and worked part time.
She took care of patient's vital signs and help ambulate patients, maintaining intake and output and diet .She helped them turn and position them and taking care of incontinent patients. She wanted to do nursing as she had seen other nurses working when she has volunteered in the hospital during her high school year. She saw a job that was flexible and is able to balance work and life .She took her prerequisites while attending university of Hawaii. She had joined nursing school and completed her schooling there and graduated as a nurse in Hawaii. She started her family there also and started working in progressive care unit.
Then her husband got transferred and she moved here. She started with us in our cardiac unit and started working with us in a community hospital setting of about 250 patients .She was quick to learn all the critical intravenous drips, taking care of patients with post cardiac catheterization patients and post coronary artery bypass patients who come on post op second or third day from intensive care unit, she was pre-cepting and mentoring other nurses also. She also worked occasionally as a charge nurse during weekends. Graduate education
While working in the hospital full time for 3 days doing 12 hour shifts, she went to school here in Arlington, She chose master's in nursing with emphasis on education with and also a certificate on administration. She took her two classes and it took her about 3 years to complete that program. She was working only on weekends during that time. Our facility had accommodated her needs. She wanted to influence new students and she wanted to teach in a university setting .She chose a conventional program .She chose that school as it was closer to her house and she liked traditional college setting .Some of their classes were online and most of the time she had to travel to class, but the commute took time and that was a challenge for her.
She talked about forums and submitting papers on line .She said her main challenging classes were research papers as it took more time to read books and papers .She taught about medications and cardiovascular classes to new residents as part of her education practicum classes .She was one of the subject matter experts and she taught in a manner that students able to recollect the material later during their course . She brought the story of tin man while she taught about heart rhythms thru Dorothy and Wizard of Oz and about the yellow brick road .She also served in committees for fall prevention .As she was learning about health care policies along with all heath care changes, she shared it with the unit and how as a unit we should be ready to embrace changes and brought evidence based projects.
Her classes in administration and her theory classes and finance classes prepare her for the present position and have a better understanding on Medicare and health care laws. S.V did not stop there, she continued her studies and did her masters in Adult Gerontology program as she is compassionate towards older generation, but she is still thinking about being an instructor or as faculty for the same school where she studied. As she had already completed her master's in education, and administration in 2011, she had fewer classes to take.
She chose the same university and it took her 3 more years. She completed her adult gerontology and her certification in May 2014. I applaud her for her courage and persistence while continuing her studies and she is a prime example to see how learning never stops. I will not be surprised if she joins Doctoral program soon in her quest for learning. Present Position
She started with four physicians who take care of adult gerontology patients, she visits patients in skilled nursing facilities and make arrangements with families and plans their care. She has to travel to four or five skilled nursing units and rehabilitation units on certain days. She sees patients in clinics .She said after her graduation her work has gotten more meaningful as she helps families make decision regarding end of life .She still marvels at the level of tolerance some of these patients have in their old age. Another challenge occurs when she takes time for arranging family meetings especially when there are complex family situations and she spends time with them, where she has to be a patient advocate.
She had received her PCCN certificate after her first masters from AACN and now she has received her ACNP-AG. She said she has advantage as her master's programs helped her prepare for her patient population, critically think and she learnt about Medicare laws. She said still her job is flexible and she is able to have work life balance. Pearls of wisdom S.V is a very motivated and a compassionate nurse, who has completed double master's program and she has motivated more nurses to get certified and to begin their graduate program. Lessons I learnt from her are, go and find your niche and pursue it. I was able to learn from her never to give up, and also about perseverance and persistence.
She has been a great role model for many nurses from our workplace as many of them have started their masters and advance practice nurses and she is helping many newly licensed RN'S how to get for admission to graduate courses and also giving advice for classes. Conclusion When I started talking to S.V as part of the interview process, I was able to understand about the depth of master's program and how it prepares bedside nurses to get a bigger picture of nursing profession and how it changes your outlook and gave me new perspective.
Only when I started looking at curricula for graduate learning, and aging faculty I was able to understand the need to prepare future generation for advanced nursing careers and I wanted to part of education and that helped me to focus on master's program with emphasis on education As part of this exercise, I was able to research articles and how online learning and how curricula is helpful for nurses who work and go to school and what different outcome and career choices are available.
It was while I was talking to S.V, I decided to take online program as it was more conducive to balance my work and home life. S.V even inspires me to look into doctoral education in nursing for my career goal. I consider it as a privilege to get to know people who are dedicated to nursing profession and I was able to get a broader picture of graduate education.
References
1.Denisco, S. M., & Barker, A. M. (2013). chapter2. In A. Harvey (Ed.), Advanced practice nursing: Evolving roles for the transformation of the profession (2nd ed., pp. 20-24). Burlington, MA: Jones &Bartlett Learning. 2.Masters in nursing administration
Related Topics