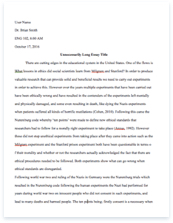 The whole doc is available only for registered users
Pages: 3
Word count: 589
Category: Africa
A limited time offer! Get a custom sample essay written according to your requirements urgent 3h delivery guaranteed
Order Now
Fugard (1982) uses the interactions between Harold (Hally), a white seventeen year old boy and the African men Willie and Sam in "Master Harold" … and the boys as somewhat of an apology for the atrocities caused by apartheid in South Africa. Through these characters and their use of metaphors, Fugard is able to connote feelings of guilt, shame and repentance in the viewers and readers for the injustices in South Africa and for their own aptitude for societal conflict and racism.
            Although the play is set in 1950, a long time after the abolition of slavery, it is clear from the start that life in South Africa is complicated, oppressive and ruled by division and place between blacks and whites. This racial hierarchy, or pecking order is evident when Hally enters the 'The St. George's Park Tea Room'(3) soaked from the rain. Quickly, Sam and Willie take on subservient roles with Sam bringing a towel for Halley to dry his hair, and Willie snapping to attention, saluting and greeting Hally with the words "At your service, Master Harold," (9) connoting an image of slave and owner.
            Fugard provides further comment on racial hierarchy and culturally entrenched racism by having Hally recall the day when Sam had made a kite out of a "tomato-box wood and brown paper! Flour and water for glue!" and "two of [my] his mother's old stockings for a tail." (29). Hally had grown up with Sam and Willie and had even received hidings for hanging around the servants quarters (a place he was able to provide explicit directions to) thus illustrating that the three were able to cross cultural boundaries set by the society in which they lived. Ingrained feelings of racism however, led him to think "the sheer audacity of it took my breath away. I mean seriously, what the hell does a black man know about flying a kite?" (29) Hally remembers that he was frightened they would make fools of themselves and prayed "quietly that there wouldn't be any other kids around to laugh at him." (29) Fugard is showing the weakness of an individual – Hally – to overcome culturally entrenched racism
Fugard also uses Hally to illustrate the shame and guilt of apartheid through Hally's shame of his alcoholic and crippled father; perhaps Fugard's intent is to use Hally's father as a reminder of South Africa's appalling past. When Hally realises that his father is coming home from hospital he vents his hatred, anger and shame by metaphorically degrading his father but when Sam tries to stop him, Hally ironically changes tactics, moves to his father's defence and transfers his shame and hate for his  father onto Sam, by reminding Sam that he "is only a servant" (53) for his family and demanding that he calls him "Master Harold" from now on as "a little lesson of respect." (55) At the end of his tirade he spits in Sam's face, perhaps in frustration to rid himself of his own ignominy.
From the very first to the very last scene, Fugard makes comment on the issues of Apartheid in South Africa, and through the dialogue between Hally, Willie and Sam, the audience is forced to focus on the inhumane actions of the white people towards the black. They are compelled to think about and face the shame of deep-rooted racism and the way it is culturally entrenched not only within the people of South Africa but in all countries of the world.
Related Topics