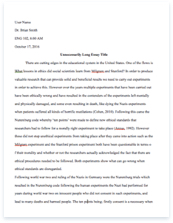 The whole doc is available only for registered users
A limited time offer! Get a custom sample essay written according to your requirements urgent 3h delivery guaranteed
Order Now
Specific Purpose: To inform my audience of the mission that March of Dimes is out to accomplish. Thesis Statement: To discuss the major contributions of the March of Dimes foundation and their mission to help mothers have full-term pregnancies and study the complications that threaten the health of babies.
About March of Dimes
A. Was first established by the FDR to fight polio
B. Original name was The National Foundation for Infantile Paralysis
C. Founded by Franklin D. Rooosevelt, 32nd president of the U.S. in 1938
D. 51 affiliates
E. Focus was shifted to premature birth and birth in defects in 1958
F. Fight to stop premature birth began in 2003 with their Prematurity Campaign
G. Intensive, multi-year campaign to raise awareness and find the cause of prematurity
H. Premature birth and birth defects affect 23 million babies worldwide
I. More than 4 million die from preterm birth and birth defects
J. Those who survive, majority will be disabled for life
II. How it works
A. Promote newborn screening
B. Discover the genetic causes of birth defects
C. Educate medical professionals and public about best possible practices for healthy pregnancy D. They help by providing financial support and sharing their technical expertise and resources E. Global Programs- since 1998, they have partnered with local organizations in 33 developing countries on four continents F. Local Community Grants are awarded annually to fund programs 1) Centering Pregnancy- improve availability and quality of healthcare 2) Other programs help promote the health and well-being of women and couples before pregnancy to increase their chances of having a healthy baby 3) Other programs educate doctors and nurses about reducing the rates of elective labor inductions and c-sections before the 39th week of pregnancy 4) NICU Family Support- provide information and comfort to families coping with the experience of having a baby in a newborn intensive care unit (NICU) G. March of Dimes earns its grants and donations through funded programs, public donations, community activities (walkathons, balls, etc.), fundraising (bracelets, clothing, baked goods, candy bars, etc.)
III. Accomplishments
A. No set amount of money for a general March of Dimes Research Grant B. The average grant is approximately $100,000 per year usually awarded for 3 year term C. In 2009, they invested $20 million dollars in research D. $27 million in grants in 2010
E. $31 million in 2011
F. In 2011, the premature birth rate dropped for the 4th consecutive year G. Over the past two years, Global Network for Maternal and Infant Health (GNMIH) partners have collaborated on the development and implementation of programs in four key areas: 1. research focused on surveillance of birth defects, preterm birth and other adverse outcomes of pregnancy 2. professional training to improve diagnosis and care
3. community education to raise awareness about birth defects and preterm birth and the steps that couples can take to reduce their risk 4. youth activities to engage students and young health professionals in community education H. Researchers on a large-scale national project in China are collecting robust data on the rate of preterm birth and associated risk factors in 52 Maternal and Child Health Hospitals across 13 Chinese provinces. Recent analyses indicate a preterm birth rate of 5.6 percent in the populations studied. I. In the Philippines, the National Birth Defects Surveillance Project established under the GNMIH has collected data on more than 2,000 newborns with birth defects at 18 sentinel sites and 82 health facilities across the country. J. In Lebanon, the principal investigator and his team developed a set of core indicators for surveillance of birth defects and preterm birth.
These indicators and outcomes were added to the existing National Collaborative Perinatal Neonatal Network. K. In the Philippines, primary health care providers have been taught about the care and prevention of birth defects and preterm birth and appropriate referral of affected newborns. L. A manual on identification, diagnosis and referral of newborns with birth defects was developed in Lebanon as an educational tool for nurses and physicians. M. In Brazil, the GNMIH partner who also heads a WHO Collaborating Center for the development of medical genetics in Latin America developed a pilot training program in medical genetics for primary care providers. N. GNMIH partners in China are delivering a series of preconception health courses for women and men of reproductive age and conducting a campaign to raise public awareness of birth defects and the steps that couples can take to reduce their risk. O. ETC. ETC. ETC. !!!!!!!!!!!!!!
Sources
• http://www.marchofdimes.com/
• http://www.amchp.org/AboutAMCHP/Newsletters/Pulse/Archive/2008/November08/Pages/Feature%201.aspx
• http://www.bbb.org/charity-reviews/national/health/march-of-dimes-foundation-
in-white-plains-ny-26/purpose
• http://www.ehow.com/how-does_4572363_how-march-dimes-funded.html
• http://www.marchforbabies.org/why.aspx
• http://www.marchofdimes.com/research/researchgrants.html
• http://www.history.com/this-day-in-history/franklin-roosevelt-founds-march-of-dimes
• http://www.marchofdimes.com/volunteers/careers.html
Related Topics