Managing Human Resource Today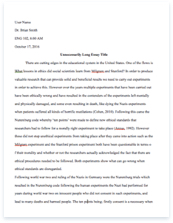 The whole doc is available only for registered users
Pages: 2
Word count: 447
Category: Plan
A limited time offer! Get a custom sample essay written according to your requirements urgent 3h delivery guaranteed
Order Now
1.Explain what HR management is and how it relates to line management. Human resource management refers to the practices and policies we need to carry out the personnel aspect of management job, specifically, acquiring, training, appraising, rewarding, and providing safe, ethical, and fair environment for our company's employees. HR management and line management share responsibility for most human resource activities such as skills training.
2.Give several examples of how HR management concepts and techniques can be of use to all managers. HR management concepts and techniques can help all managers to ensure that they get results through others. These concepts and techniques also help you to avoid common personnel mistakes such as having our employees not performing at peak capacity, hiring the wrong person for the job, having our company taken to court because of our discriminatory actions, and allowing a lack of training to undermine our department's effectiveness.
3.Compare the work of line and staff managers; give examples of each. Line managers are someone's boss. They direct the work of subordinates in pursuit of accomplishing the organization's basic goals. Some examples of the HR responsibilities of line managers are placing the right person on the job, starting new employees in the organization, training employees for jobs that are new to them; improving the job performance of each person, gaining creative cooperation and developing smooth working relationships, interpreting the company's policies and procedures; controlling labor costs, developing the abilities of each person, creating and maintaining department morale, and protecting employees' health and physical conditions. Staff managers assist and advise line managers in accomplishing these basic goals. They do, however, need to work in partnership with each other to be successful. Some examples of the HR responsibilities of staff managers include assistance in hiring, training, evaluating, rewarding, counseling, promoting, and firing of employees, and the administering of various benefits programs.
4.What is meant by strategic human resource management and what exactly is HR's role in the strategic planning process? Strategic human resource management means formulating and executing HR policies and practices that produce the employee competencies and behaviors the company needs to achieve its strategic aims. The role of HR in the strategic planning process depends on the organization's view of HR. There're HR's roles in formulating strategy and in executing strategy. In formulating strategy, it's in a good position to supply competitive intelligence, such as details regarding competitor's incentive plans and information about pending labor laws. It's also in the best position to give advice about the company's internal human strengths and weaknesses. In executing strategy, mergers or acquisitions in which the human resource teams were involved were more likely to succeed.
Related Topics